Visual Wonders of Wener Herzog
View(s):

Ecstasy and Truth-Werner Herzog Documentary Film Week June 24-30, 2013 at Goethe Institute, Colombo. Sri Lankan film lovers and enthusiasts will get a rare opportunity to experience ecstasy and truth through the eyes of Werner Herzog during this week at Goethe institute in Colombo with 'Ecstasy and Truth-Werner Herzog Documentary Film Week'.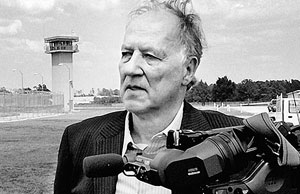 Curated by Anomaa Rajakaruna, this is the first time in Sri Lanka that a large body of work by a documentary filmmaker is been presented as a festival. The festival will be opened with Herzog's first short film 'Herakels' (1962) and will showcase the best documentary work of Werner Herzog during 4 decades. All together 18 documentaries will be screened and screenings are scheduled at 6.00 pm -7.30 pm during weekdays and 10.30am – 6.30 pm during weekends.
Herzog has travelled the world documenting people lives capturing the silence as well as the deep cries. He has climbed snow-mountains in Asia and filmed while volcanoes erupted in Europe. Herzog and his films have won and been nominated for many awards. Herzog's first major award was the Silver Bear Extraordinary Prize of the Jury for his first feature film Signs of Life (Nosferatu the Vampyre was also nominated for Golden Bear in 1979). Most notably, Herzog won the best director award for Fitzcarraldo at the 1982 Cannes Film Festival.
At the same festival, but earlier, in 1975, his movie The Enigma of Kaspar Hauser won the Special Jury Prize (also known as the 'Silver Palm'). Other films directed by Herzog nominated for Golden Palm are: Woyzeck and Where the Green Ants Dream. His films were nominated at many other important festivals around the world: César Awards (Aguirre, the Wrath of God), Emmy Awards (Little Dieter Needs to Fly), European Film Awards (My Best Fiend) and Venice Film Festival (Scream of Stone and The Wild Blue Yonder).
In 2009, Herzog became the only filmmaker in recent history to enter two films in competition in the same year at the prestigious Venice Film Festival. Herzog's The Bad Lieutenant: Port of Call New Orleans was entered into the festival's official competition schedule, and his My Son, My Son, What Have Ye Done? entered the competition as a "surprise film". Herzog also provided the narration for the short film Plastic Bag directed by Ramin Bahrani which was the opening night film in the Corto Cortissimo section of the festival.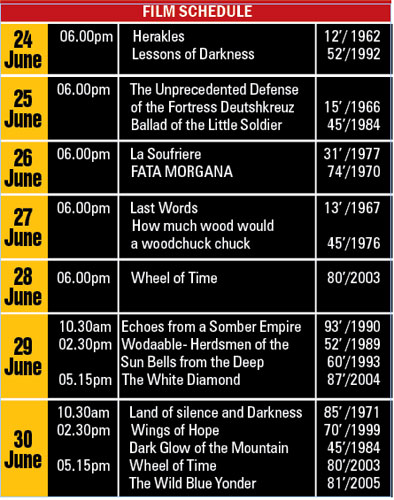 Follow @timesonlinelk
comments powered by

Disqus