World War begins
View(s):

'World War Z' one of the most entertaining epic zombie films is now being screened at Platinum, Majestic Cineplex Colombo.
Set in the year 2154, the film narrates around a period when the very wealthy live on a man-made space station while the rest of the population resides on a ruined Earth. A man takes on a mission that could bring equality to the polarized worlds.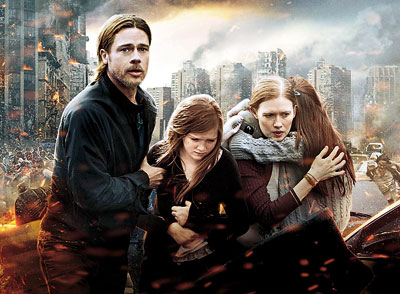 Based off the Max Brooks novel of the same name, the film revolves around United Nations employee Gerry Lane who traverses the world in a race against time to stop the Zombie pandemic that is toppling armies and governments, and threatening to destroy humanity itself. This apocalyptic horror film directed by Marc Forster is played by Brad Pitt as Gerry Lane while other main roles are played by Mireille Enos, James Badge Dale and Matthew Fox.
Gerry Lane (Pitt) and his family were sitting in what appeared to be a typical traffic jam when helicopters began to circle ominously overhead. In the blink of an eye the streets were consumed by chaos.
When Gerry learns that the catalyst for the turmoil is a highly contagious virus that transforms normal people into rampaging maniacs, and that legions of the infected are growing on all continents, he agrees to join his former colleagues in discovering the source of the rampant plague, and prevent it from bringing about the downfall of humanity.
World War Z premiered in London on June 2, 2013 and was chosen to open the 35th Moscow International Film Festival.
Follow @timesonlinelk
comments powered by

Disqus