Casinos: Where wheels of fortune chip away at the gamblers
View(s):

It's win-win for gaming centres as free flowing liquor, food and expat women numb clients into a world of make believe. Namini Wijedasa reports on a thriving business as controversy rages over a govt. move to go ahead with the 50,000 sq. ft. Crown casino in the
heart of Colombo

On a weeknight at an upmarket casino in Colombo, clouds of Asian gamblers pore intensely over gaming tables—blackjack, roulette and baccarat.The ceiling of the sprawling, illuminated hall is peppered with surveillance cameras. Men in black coats mingle unobtrusively with the crowds, keeping close watch. The croupiers, in their salmon pink shirts and bowties, are barred from speaking to customers and cannot accept tips.

"I remember once a customer left a phone number for a croupier in an ashtray," said an ex-employee of the club. "This man collected the number about half-an-hour later, but they still saw it. He was assaulted and sent away."

Inside, the atmosphere is noisy and upbeat, as gamers of multiple nationalities gather around more than 60 tables. There is a sense of community here; people are speaking the universal language of gambling. "I once picked up an Indian gent from a tourist shop and dropped him at that casino," said a three-wheeler driver in Colombo 2. "It was around 5 p.m. The casino gave me Rs 300, five Gold Leaf cigarettes, a 'kolikuttu' banana, bread and sausages for bringing him there!"

The air reeks of fumes from free cigarettes, lighted incessantly by stewards never more than a stone's toss away. There is premium, imported liquor and delectable, round-the-clock meals—complimentary, of course. Though alcohol flows liberally, hardly anybody is eating.

Casinos in Sri Lanka offer 24-hour service. "I have never been here during daytime, but every night is like this," said one gambler, speaking over a burst of shrill laughter and high-pitched Chinese banter. "It gets much busier at weekends."

Some gamblers are affixed to a favoured table for many hours, playing with steely determination, as their money runs out. Others move from counter to counter, trying their luck everywhere. The "Wild, Wild West" themed carpet, with its pattern of dice, chips, horses, lassos and wagons, is well trod.

Then, there are the women; provocatively dressed and heavily made up, Asian foreigners. "You will know who they are the moment you walk in," said the ex-employee. "They don't play at the tables. They just sit around or circulate."

This 18-year-old casino is the largest in Colombo. It is located on D.R. Wijewardene Mawatha, just a few hundred metres from a property on which Australian business tycoon James D. Packer is poised to build a luxury resort with a Sri Lankan partner called Rank Group.

The US$ 350 million project will take 48 months to complete, said Rank Group Chairman Ravi Wijeratne, adding that, they hope to start construction in November 2013. The agreement will be signed "very soon". "We have the Board of Investment approvals," he said. "We have to get a few more clarifications from the Ministry of Finance. We are hoping to get it off the ground in November."
Rank will own 45% of shares and Crown another 45%. The remaining 10% will be private equity held by a Singapore based individual or concern that Mr Wijeratne opted not to name.

The venture, which falls under the category of "Strategic Development Project" (SDP), will receive sweeping tax concessions. The Government defends these benefits saying they are granted to SDP projects depending on the level of investment (very high, in this instance).

The 1 million sq.ft. integrated resort will comprise a luxury hotel of 430 rooms, a conference facility, six signature restaurants, a banquet hall and a designer shopping area. But plans to include a 50,000 sq.ft. casino in the premises have raised a hornet's nest.
The Chief Prelate of the Asgiriya Chapter Most Ven. Udugama Sri Buddharakkitha Thera has threatened to protest on the streets, if the Government allows the new casino to be built. He was particularly irate that the business will be located near the Sambodhi Viharaya in Fort.

"It is not for the public good," the influential Prelate said in televised comments made during a meeting with the United National Party's Nawalapitiya Chief Organiser Mayantha Dissanayake. "Foreigners don't come here to go to casinos. We are completely against this. I have no political affiliations, but if this business is started, we will take to the streets against whoever supports it, be it the government, ministers, parliamentarians or anybody else. We will take to the streets against all of them."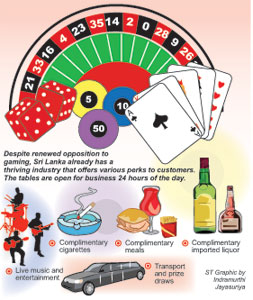 "He was talking of things this Government is doing that he could not support," said Mr. Dissanayake. "And he was annoyed that they were issuing licences for casinos."  There is a real fear that an increase in the number of casinos in Sri Lanka will encourage gambling and ruin the country's social fabric. Detractors question whether the country is so bankrupt of tourist attractions that gaming is the preferred incentive. They warn that promoting gambling on a large scale will further popularise other vices such as drugs and prostitution.
The Government counters, lamely, that it isn't granting any new licences. Instead, Ravi Wijeratne—who already runs a casino called Marina Colombo—will transfer his operation from the Marine Drive in Kollupitiya to the new resort to be constructed by Crown Sri Lanka.
On the one hand, Investment Promotion Minister Lakshman Yapa Abeywardena has emphatically denied that the Government was in a "casino deal" with James Packer. On the other hand, he says the resort will include "entertainment facilities similar to what is currently operated by local and foreign investors, subject to betting and gaming licences".
Indeed, it is unlikely that any resort deal with Packer, anywhere in the world, will exclude a casino. His profile on Wikipedia says, "Since his father's death, Packer has moved away from the family's traditional media businesses, and focused on creating a worldwide gambling empire, Crown."
The Jathika Hela Urumaya has also growled against the proposed casino, but mildly. While stressing that Sri Lanka did not need casinos to attract tourists, party representatives have opposed the expansion of the industry. They have not protested against or demanded the closing down of existing gaming centres.
"This is nothing but a fight between two powerful, competing businessmen," said a senior Government aide, requesting anonymity.
"Yes, they are both our men," he admitted, referring to the fact that both leading casino operators are backers of the United People's Freedom Alliance. "But the Government is also aware that, if Ranil is in power, they will be Ranil's men. And if Chandrika is in power, they will be Chandrika's men."
The other businessman alluded to was not contactable last week. However, informed sources commented that the vast array of concessions granted by the Government to Crown Sri Lanka would be unfair to local operators who have paid massive gaming levies over the years. The fear is that it will kill the competition. And that Packer, in the end, will funnel most of the money back to Australia.
Still, the Government seems determined to go ahead. Minister Abeywardena has said he will meet Ven. Buddharakkitha Thera personally, to educate him of the project.
Upmarket and Exclusive for Stakes Unlimited
"It took me a long time to convince James Packer to come here," says Ravi Wijeratne, seated in his Kollupitiya office, in a crisp, monogrammed white shirt. His negotiations with the Australian tycoon took more than two years.
He was introduced to Mr. Packer through one of his friends. When he came to Sri Lanka, Mr Wijeratne took Mr Packer on an aerial tour of the country. And the Australian—whose father, Kerry Packer, already had ties with Sri Lanka—was reportedly enthralled.  "Our project is not mainly concerned with gaming," he stressed. "Even today, the gaming industry exists in Sri Lanka. But I want to attract high net worth individuals. Normal tourists come only for tourism purposes. When high net worth people come, if we give the right information and, if they like the place, they will invest."
There are now nine casinos in Sri Lanka, eight of them in Colombo. However, only four of them—three owned by Dhammika Perara and one by Ravi Wijeratne—are registered with the Department of Inland Revenue to pay taxes.
Mr Wijeratne said that, notwithstanding all the tax benefits Crown Sri Lanka will receive, the casino operation within the resort will pay the annual gaming levy of Rs 100 million from the start. He said the objective was to attract rich Indians and Chinese, among other Asians.
"Rich Indians and rich Chinese want super luxury," he explained. "If we want to go to the next level of tourism, we must have something extra." The Government plans to issue visa on arrival to Chinese tourists, Mr. Wijeratne said. "The Maldives completely relies on Chinese tourists," he noted. "We want to encourage them to stop in Sri Lanka for one or two nights on the way to or on the way back."
After Singapore built its two resorts—Marina Bay Sands and Lucky Sentosa Resort—its tourist industry boomed, Mr. Wijeratne said. "What we are going to do is the same thing," he asserted.
There is potential also in the Middle East market, because people are no longer able to go to Egypt and Lebanon. The idea now was to go to the "next level of gaming" to attract a different clientele. "We need an international brand," Mr Wijeratne said.
James Packer's interest is in the hotel, he claimed. As for casinos, "The Government policy is to have them all on one street. I think they are seriously looking at D.R. Wijewardene Mawatha, as there are no side roads. What I will do is shift my existing operation to the new resort."
"My plan is to close down Marina," he said. "If the Government says casinos can only be located in D.R. Wijewardene Mawatha, I will have to close it down. According to information, then there will be only two casino operators, my company and Dhammika Perera's company."
Nevertheless, the law related to casinos remains vague. There is no regulatory mechanism and the registration process is weak.
Mr Wijeratne said the critics need not worry that the new casino will lead thousands of Sri Lankans to their damnation.  "The way we style it, we are only concentrating on people from outside the country," he said. "We will allow Sri Lankans, but in very limited numbers. There will be a screening process, or we won't be able to go to the next level of gaming."
Follow @timesonlinelk
comments powered by

Disqus