Misery confronts orphans of the storm
Nadia Fazlulhaq reports from Balapitiya
View(s):
Grieving families in stunned fishing viallges wait on empty shores for men who won't come home, while minister says Met Dept. warning too little, too late. 
Thirty-two-year-old Renuka Peiris stares at the ocean as she ponders an uncertain future with four children and an unborn child following the death of her fisherman husband whose boat was swamped by the devastating storm that killed 51 fishermen.
The heavily-pregnant widow and her children are temporarily housed in a small room meant to store fishing equipment in the fishing village at Auburn Place, Dehiwela.
"Our house was mortgaged to settle the loans and borrowings. But now my husband has died and we have no way of finding Rs.150,000 to get back our house. All my children are girls and I am worried about their future. I hope my husband's wish for a son comes true," she said.
Beloved husbands, fathers and brothers were lost to dozens of families in the havoc resulting from the severe storm on June 8.The drowned fishermen came from Balapitiya, Dehiwala, Moratuwa, Beruwala, Kosgoda, Angulana, Mount Lavinia, Payagala, Maggona, Negombo,Moragalla and Maha Induruwa.
Of the 51 confirmed deaths, 30 were from the Galle district, 10 each from the Colombo and Kalutara districts and one from Gampaha, according to the Disaster Management Centre.  Eight fishermen are still missing at sea from the weekend storm, and 22 have been left injured.
The number of day-trawlers damaged reached 160, out of which 84 were fully damaged. In Balapitiya, where most of the deaths were reported, the town was seen still mourning the deaths of their native sons. Angry fishing folk blamed the authorities for their failure to inform fishermen of impending danger.
Fishing stalls lay empty and streets were covered with while flags. The beaches were empty but for a few families waiting for the body of their loved one to be washed to the shore. Jayakanthi de Silva, 55, and her son, Nimantha, walk to the beach every morning and evening since the tragedy, looking for the body of their beloved husband and father, Jayaratne, who is still missing.
"Out of three in the boat he was in, one managed to survive while the other was dead. Now 72 hours have passed and believe he is dead too. We hoped at least the body will wash to the shore," said Nimantha. Rasika Rasanji of Walagedara, Balapitiya is left with seven children after her husband Wedage Hatter, famously known as "Skipper", became a victim of the storm.
"If there was some warning, I wouldn't have sent him," she said. "He usually goes to sea in the evening and come home by dawn. Even the Rs. 50 per day he brought home was so valuable to us," she said. Silton Peiris, 59, a fisherman from Moratuwa Modera area was known as "Kaalagune" (Weather Man) among his colleagues. But despite his accuracy in predicting the weather both by observing changes in the ocean and sky and listening to news on radio and television, this time he failed.
"He was watching the news in the morning. If there was such a warning he wouldn't have gone fishing," said his wife, Rani Piyasili, sitting next to her husband's body. She said strong winds were felt at about 12 midnight on Friday (June 7). "If we were informed earlier, these fishermen would have stayed away from fishing. My husband's body was found on Sunday and the post mortem revealed that he had died on Sunday. We are doubtful about the search operations," she said.
"The Meteorology Department, should give the forecasts to the radio and television channels – no fishermen refers to the internet," she said. Fishermen said that this had been the worst disaster for fishermen at sea. Susantha Fernando, 40, from Beruwala swam for eight hours after the gale force winds toppled their boat and his fellow fisherman went missing.
"I was so lost and did not have anything to hang on to. The thought of my two-year old daughter made me swim. The first two hours I managed to swim, but the next few hours were painful. I felt my muscles giving away and experienced severe cramps. Sharp rocks bruised my whole body," said Susantha, recalling his struggle to live.
After eight hours, he reached the shores of Payagala. "There was no electricity so it was all darkness. For fishermen at sea, this is the worst disaster – more than the Boxing Day tsunami," he said. W.O.J. Fernando, another fisherman from Beruwala, survived due to the fuel barrel that was in his boat; he reached shore after 12 hours.
"My friend Upali went missing. For almost an hour I shouted and looked for him. But he had been thrown out when the boat toppled. The waves were too strong. I hugged a barrel and swam. My eyes were getting blurry and suddenly I was blind. After I reached the shore, I was rushed to the hospital and given treatment," said Fernando, whose eyesight is improving.
A.D. Harrold, 30, from Balapitiya, who survived after a six-hour swim, had to witness the deaths of five colleagues, including his uncles. "Most of the fishermen are uneducated. The maximum we can earn on the land is about Rs.700. But when we go to sea, we can earn even up to Rs.5000 for two-three days if there is a good catch," he said.
Fishing community expressed their anger and displeasure over the behaviour and measures taken by authorities on this issue.
"It is unfortunate that the Fisheries and Disaster Management ministries are blaming each other. After all, the Meteorology and Fisheries departments are all government institutions. If the US Weather Service was able to give a warning, why weren't our authorities vigilant? They should take the blame and work together to prevent future disasters," said Aruna Roshantha of the All-Ceylon Fisher Folk Trade Union.
He said that if the Meteorology Department or the Fisheries Department had sought immediate help from the air force to use helicopters to warn the fishermen or throw lifebuoys or life jackets, it would have saved more lives. "Ministers use helicopters to travel to political meetings, all at the public's expense. Why cannot they use helicopters to warn fishermen when trouble comes late in the evening and they are already at sea? A loudspeaker or warning light would have helped. All the fishermen were at about 10km from shore in shallow seas," he said.
Ajith Fernando, former Secretary to the North Payagala Fishing Society, said fishing families had no other means of income during the monsoon season when it was risky to go out to sea. "Welfare Ministry and Education ministry officials should visit fishing villages – there are many children who are school dropouts. Women can be given training. But we are a neglected community," he said.
Due to the prevailing weather causing poor catches, fishermen are now struggling.
M. Niyaz, a fish vendor from Beruwala, said that there was a severe shortage of fresh fish and most sold these days are frozen fish, with some even brought from the northern and eastern seas. Beruwala Harbour Manager R.P. Wanniarachchi said authorities should prevent future delays in delivering the weather forecast and also to create awareness among the fishermen on the importance of life jackets.
"The traditional fishermen avoid wearing the life jacket thinking that it gives an impression that the fisherman cannot swim. Training could have prevented such disasters," he said. On Friday, Fisheries Minister Dr. Rajitha Senaratne said a Cabinet proposal was approved to provide Rs. 100,000 for each of the families of the dead and missing fishermen. All fully damaged boats will be replaced, together with fishing nets, and a 50 per cent assistance to fix partially damaged boats.
In the search and rescue operations, the Navy's Rapid Response Rescue and Relief squadron were deployed, with a number of fishermen being rescued and fishing trawlers towed to safety. "The Navy deployed four ships – SLNS Sayura, SLNS Samudura, SLNS Suranimala and SLNS Jayasagara – along with 10 FACs for the SAR operations continued throughout the adverse weather conditions," the Navy said.
The Air Force also deployed two Bell 412 aircrafts and rescued two fishermen by airlifting them. Throughout the week, the blame game continued. On Tuesday, Disaster Management Minister Mahinda Ameraweera said that if he were found guilty, he would be ready to step down from his portfolio. The Minister also said that an internal inquiry would be held, to find what went wrong.
The Meteorology Department Director-General, S.H. Kariyawasam, said the department issued the warning about strong winds on the evening of Friday, June 7. "It is difficult to forecast tropical weather conditions. We are in need of technology to improve weather warning system," he said.
The Fisheries Minister said the Met Department had not acted in time, stressing that "usually, fishermen do not go to sea if the wind is about 80 kmh". "The Friday (June 7) report said that the winds will be 50-60kmh. It was not a serious warning, it was a request to be vigilant," Mr Senaratne said.
The department's warning about cyclonic winds, sent out on Saturday morning at 6.06am was "too late". The Minister said there were plans to purchase a Vessel Monitoring System (VMS) in a few months. "I made the proposal two years ago; the proposal went through the Technical Evaluation Committee and is now with the Cabinet-appointed Negotiation Committee. The VMS is based on satellite images and it would help to monitor vessels," he said.
The fisheries operation centres around the island do not monitor international weather warnings, the Minister said.  "According to our laws we have to only depend on weather forecasts by our Meteorology Department," he added. The former director of the Meteorology Department, Mr K.R. Abeysinghe, said it was important to analyse data obtained from esteemed international weather forecasting sites and to be vigilant during those times.
"This is the monsoon season, and critical weather conditions can occur at times. Therefore it is important to have senior forecasters along with juniors, especially during nights. Usually seniors are those who have obtained a Masters in Meteorology and have experience in warnings," he said.
Mr. Abeysinghe said that the State was reluctant to buy forecasting equipment as it was costly. "During my time, 15 years ago, we made a request to purchase a Doppler radar and a Lightning Detection System. A Doppler radar can detect storms and other weather conditions at a distance. Though they are expensive, this equipment can help prevent loss of lives," he added.
A three-member Committee of Inquiry led by former Director General Dr. A. W. Mohattala has been appointed on instructions given by President Rajapaksa.  "We are continuing with the inquiry. The report will be submitted soon," Dr. Mohottala said.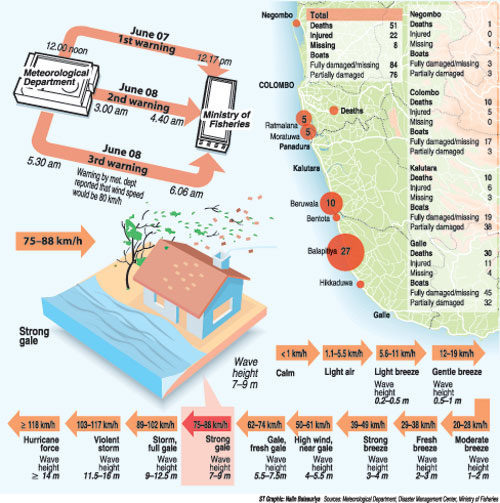 Minister wants Rs. 700 m for VMS to monitor boats at sea
By Nadia Fazlulhaq
Fisheries Minister Rajitha Senaratne wants Rs. 700 million to buy a vessels-monitoring system (VMS) to track down fishing craft at sea after more than 51 fishermen died in what is regarded as Sri Lanka's worst ever fishing disaster in recent times. The Fisheries Ministry is to seek approval from both Parliament and the Treasury to allocate the Rs 700 million to purchase the system.
A VMS system uses electronic transmitters placed on fishing vessels that transmit information about the vessel's position to enforcement agencies via satellite. The minister said the proposal for a VMS was submitted two years ago but the technical evaluation committee took more than a year to study it because Sri Lanka did not have experts. He said he would seek parliament's approval for the allocation of funds to buy the system.
The VMS would also help monitor Sri Lankan vessels illegally entering other countries' territorial waters, ensure safety of fishermen and identify fishing locations and species of interest, he said. "The purchase of a VMS will definitely encourage the European Union (EU) to issue a 'Green Card', which is under consideration," the Minister said.
Sri Lanka, along with seven other countries, was issued a 'Yellow Card' warning last year, over Illegal, unreported and unregulated (IUU) fishing. EU is Sri Lanka's leading partner for fish and fisheries product exports.  The death toll from the mid-sea havoc during last week's storm rose to 51, with eight fishermen still reported missing. Of the 160 trawlers damaged, 84 were totally damaged.
Cabinet has approved a Rs. 100,000 compensation for the families of each victim, and agreed to replace the damaged boats and equipment and meet 50 per cent of the cost to repair partially destroyed boats. It will also be made compulsory for all fishermen to obtain insurance by January 2014, for an annual fee of Rs. 750.
"Only four out of 51 dead fishermen were insured," the minister said.
Follow @timesonlinelk
comments powered by

Disqus