More dengue victims: Staff shortage, ignorance of people, poor garbage management to blame
By Kumudini Hettiarachchi, Shaveen Jeewandara, Ayuni Munasinghe and Sandarangi Perera
View(s):
No one is responsible or accountable while some people are ignorant of the deadly pest's breeding habits
All talk at top level meetings but no action due to a severe dearth of staff and poor garbage management at ground level — this is the malaise gripping the prevention programme, as dengue continues to claim more victims.
The national need, if Sri Lanka is to curb the onslaught of the dengue mosquito, is an astute 'Dengue Force' comprising officials and a heavy presence of 'foot soldiers' in the form of ground-level workers and public who will be the guardians of each street and each home throughout the year, the Sunday Times understands.
On Thursday, it is learnt, the Defence Ministry, called a meeting of top officials, school principals and university Vice Chancellors to direct them to carry out massive cleaning campaigns in a bid to infuse some energy to the prevention programme even now.
A many-pronged investigation by the Sunday Times found that zeroing –in on dengue breeding areas is not happening in a methodical and systematic manner. For the whole country, there are only 1,900 Public Health Inspectors (PHIs) who are tightly stretched with not only dengue work but also several other tasks at grassroots level. These PHIs come under the direction of Medical Officers of Health (MOH) in more than 330 areas.
A tragedy that caught the attention of the people this week was the death of Colombo Law Faculty student Nisansala Priyanthi Samarasinghe, 21, from Kegalle. Nisansala who had been having fever for several days had collapsed in the bathroom of the Colombo University hostel at Havelock Road and was rushed to the National Hospital with head trauma. Tests had found that she was suffering from dengue.
Within the last five months, there have been 13,900 cases of dengue in the country with over 40 deaths, Chief Epidemiologist Dr. Paba Palihawadana said, pointing out that the major problem is in the three districts of Colombo, Gampaha and Kalutara in the Western Province as well as in Kurunegala.
As rains lashed the country and just last Sunday the stakeholders of the powerful Presidential Task Force on Dengue went on record with all what they have supposedly done to prevent dengue, the Sunday Times investigation came up with a grim picture. There were strong protests by many that the authorities are complacent until the rains come and then rush around pretending to take action, even then not as a cohesive whole.
No one is taking the responsibility and no one is accountable. Everyone tries to apportion blame to the other, sources said, about the stakeholders of the Task Force. The two crucial issues of dengue are prevention and, in case prevention fails and people get dengue, reduction in the number of deaths through good treatment in hospitals, the Sunday Times understands.
The number of dengue cases and the number of deaths would be the yardstick for how effective the dengue prevention and treatment programmes has been, a source said, pointing out that the sharp rise in dengue numbers in 2012 and in the first five months of 2013 shows how shallow the talk of the Task Force stakeholders has been.
The stakeholders talk of the numerous "public awareness programmes", checks for dengue breeding sites, early notification of patients and quick mopping up operations to curb the spread, but where are the results, asked many sources. The fact that some people did not know much about the breeding habits of the dengue mosquito and a "No" being the answer when asked whether PHIs and Environmental Police visited their homes in recent times were evidence that dengue prevention is not happening.
Non-collection of garbage is also playing an important role in the spread of dengue, another source stressed, reminding that the dengue mosquito is a container breeder. Awareness campaigns are damp squibs, a source told the Sunday Times, if such campaigns have caused no changes in the behaviour of the people as well as the community they live in.
Have people and their communities been asked, after all these awareness programmes, what they have done in their homes and surroundings and how often, to prevent dengue? Declining to be identified, this source pointed out that "essential" changes in the behaviour of the people would include household water management with basics such as clearing all containers and areas of water collection including containers, plants, pots, gutters etc., every three days.
What do they do if there are large trees with bena (holes) in their gardens or plants which tend to have a collection of water drops at the joint between the leaves and the stem? Do people even think about these potential breeding spots and treat water in tree holes with salt, he asked.Other sources questioned the validity of comments of the Health Services Western Provincial Director Dr. Amal Harsha de Silva that after SMS and e-mail notification by hospitals about dengue patients, mopping up took place quickly. That does not happen as efficiently as they say and when they do the mopping up the dengue mosquito which may have spread the disease is dead while other infected mosquitoes have moved elsewhere, they pointed out.
What of household garbage management, ensuring the proper disposal of containers which give ample opportunity to turn into mosquito breeding sites? A house-to-house survey in two areas under the Dehiwela-Mount Lavinia Municipal Council (DMMC), done as a test case by the Sunday Times indicated the abysmal failure of the prevention programme, the norm most probably rather than the exception in most areas across the country.
In many homes just opposite the Kalubowila Hospital, there was serious concern that no one from the DMMC including PHIs had visited the area for nearly one year. This was the area where a little boy died of dengue recently and it is only then that the PHIs came, said Kumudini Priyangika, (31), Shehana Deen (42), W.A. Hemaranjani (53) , Padmini Silva (56), W. Premathi Silva (53), W.A.P. Madumathi (23) and G.A.N.K. Abeywickrema (65) in one voice.
Mrs. Abeywickrema said that about five years ago her grandchild was affected by dengue and the PHI visited their home only a week later.
A few said that some Samurdhi Officers had come earlier to spread awareness, but others were not aware of such a visit.
Not much awareness has been carried out in the area, they alleged, pointing out that even when the PHIs came recently they only checked for breeding grounds and water-clogged places, but did not explain how to prevent mosquito breeding.
Garbage is not much of an issue in the area, they added. Chandana Guruge, 23, whose family faced court action and a fine of Rs. 3,000 some time back due to a bucket of water containing rusty nails being found on the premises, said they were not given a chance to get rid of the so-called breeding spot before punitive action was taken. The most recent visit by the PHI only followed the death of the child in this area.
Not so far away, Raymond Road residents K.H. Mallika (46), Prof. K.U. Sirinanda (73), Piushani de Silva (37) and Rosemarie Doll (64) said that PHIs and Environmental Police came a month ago.
However, H. Akberally (73) and F.C. Wijesekera (67) said they came only about two-three months ago, Ranjith Bibile (65) that it was one year ago and L. Kathmarachchi (74) that it was two years ago. One resident said that the team which came for inspection informed them in advance that they were coming, which was ironic, as it prompts people to clean up just for their visit only.
Some complained that an international school close by is littering the drains and a culvert with polythene and plastic bottles. One resident complained that even though he had informed the DMMC about the blocked drain and officials visited the area, no action was taken. The Sunday Times was told that many children in this school had got dengue in recent times but could not confirm whether it was true.
In several homes people had got dengue within the last year and some said the visits by PHIs came between a week and a month after hospitalisation of the patient. One resident was furious that even though her daughter had got dengue about eight months ago and was admitted to a private hospital, no PHI visited her home to check for mosquito breeding sites. Garbage was a huge problem for the residents of Raymond Road. Usually garbage is collected only once a week but even that is irregular, they said.
The marshy area along Raymond Road was of much concern to the residents as it could harbour breeding sites. The finger-pointing, however, continued with the authorities reiterating that dengue prevention must come from within the homes and the people themselves. While the authorities have to do their part, the major responsibility is on the part of the people, officials said, adding that the community at large should take up this collective responsibility.
Invited by Local Government and Provincial Councils Ministry Secretary R.A.A.K. Ranawake to discuss the dengue issue with Local Government Commissioners from all provinces, the Sunday Times was told in no uncertain terms about the public's role.When questioned specifically about garbage collection, they said that each province along with the relevant local government body has to come up with a garbage collection and disposal plan. They conceded that there was no uniformity in the systems throughout the country.
With regard to PHIs, though they did not come under the Commissioners, they were quick to point out that some Pradeshiya Sabhas (PSs) didn't have any.  Explaining that the amount of garbage generated has increased by leaps and bounds, Mr. Ranawake said ideally only 10% of garbage should be disposed of, while 60% should be made into compost and the balance 30% recycled.
Of the 335 local government bodies (Municipal and Urban Councils and PSs) only about 60 carried out the garbage disposal well. The others were not so effective. Some Commissioners pointed out that the local government bodies were "self entities" with a political will of their own and it was their duty to handle the garbage problem. Others stressed that people must do their own garbage management in their homes themselves.
Referring to the role of the Epidemiology Unit, Chief Epidemiologist Dr. Palihawadana said they give out guidelines on handling dengue. Everyone has a role to play including the public.
When a patient is being treated in hospital for dengue, a notification goes to the MOH who in turn sends a PHI with a team to carry out mopping up operations to prevent the spread of the disease. The MOHs come under the provincial health authorities. Asked who will monitor the activity of both the MOH and the PHI, she said that it was the duty of the MOH to supervise the PHI while the MOH would be supervised by the provincial health chain of command.
However, according to her, the PHIs have a heavy workload of which dengue is just a part. Currently some PHIs have to look after about 30,000 people and the Epid Unit is attempting to reduce this to a 1:10,000 ratio. Conceding that there was a dearth of grassroots-level staff, Dr. Palihawadana said that they are training new batches of entomological assistants, 50 currently, to ease the dengue prevention programmes. Presently there are about two for each district. Recent visits by these trainees had found severe breeding grounds in many homes in Colombo including the prison quarters.
Contrary to the views of the Raymond Road and Hospital Road people, the Superintendent of the Environment Protection Division, Quintus Raymond said 44 breeding sites were detected in the Kohuwala Police area recently and action filed against the people. In Dehiwala, 1,632 houses were searched and 69 identified as having potential breeding sites. The searches followed the identification by health authorities of dengue high-risk areas.
With the death of the Colombo Law Faculty student, when the Sunday Times contacted Higher Education Ministry Secretary Sunil Jayantha Nawaratne, he said that they are issued a weekly circular on dengue prevention by the Health Ministry. But this applies only to his ministry premises, he said, washing his hands off the universities.
Lectures at the Colombo University have been suspended after an inspection of the roof. The university administrations should take responsibility for these premises, he added. Colombo University Vice Chancellor Dr. W. Kumara Hirimburegama was at a meeting and was not available for comment.
With dengue looming as a major threat in schools in Colombo and other areas, several attempts to contact Education Ministry Secretary Gotabaya Jayaratne were futile.
Make dengue test affordable as a social service – Dengue expert
A strong plea came from dengue expert Dr. LakKumar Fernando to private hospitals and laboratories to cut down the cost of the Dengue NS1 Antigen Test so that it would be affordable to the people and prevent dengue deaths.
Stressing that this test can possibly indicate dengue in more than 90% of patients tested within the first day of fever (24 hours), he said it is an important tool in preventing not only complications but also deaths due to dengue.
If the Colombo Law Faculty student had been able to do the test, she would have known that she was having dengue and been more careful. This would have prevented her fall in the bathroom and unnecessary death, lamented Dr. Fernando who is the Consultant Paediatrician of the Negombo Hospital.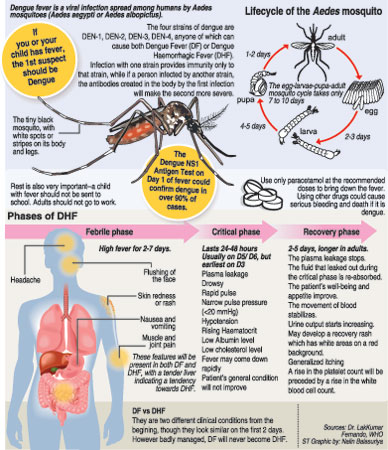 Dr. Fernando has persuaded a major private laboratory in Gampaha and two in Negombo to perform the test at Rs. 1,000 and urged other private hospitals and labs to do social service in the form of slashing the price to help the numerous dengue victims.  "Bring the cost down and you will be saving lives," he added.
High cost of the Dengue NS1 Antigen Test 
The Dengue NS1 Antigen Test is an early detection test which can be done in the first 24 hours of fever, the Sunday Times understands.
The sole distributor of the Dengue NS1 Antigen Test in Sri Lanka is George Steuart Health (Pvt) Ltd., and the wholesale price is Rs. 18,500 per pack which includes 25 test-kits. The price works out to Rs. 740 per test, it is learnt.
However, the Sunday Times found that many private hospitals and laboratories charged prices ranging from Rs. 2,820 per test to Rs. 1,250.
Colombo District: Durdans — Rs. 2,820; Nawaloka – Rs. 2,750; Central Hospital – Rs. 2,600; Asiri Surgical – Rs. 2,300; Asiri Medical – Rs. 2,300; Ceymed Kohuwala — Rs 2,300; Hemas — Rs. 2,100; and New Delmon – Rs. 2,000.
Kandy District: Kandy Private Hospital – Rs. 1,925 and Durdans lab – Rs. 1,925.
Gampaha District: CR Medictech lab – Rs. 1,800.
Kalutara District: New Philip Hospital – Rs. 2,250 and Medihealth Horana – Rs. 1,750.
Galle District: Durdans lab – Rs. 1,930.
Matara District — Durdans lab – Rs. 1,930.
Ratnapura District — Ratnapura Lab – Rs. 1,250.
Inform police or PHI about dengue spots
If you are concerned about dengue mosquito breeding sites near your home, workplace or the school or institution that your child attends, call the Police Station in that area or the Public Health Inspector attached to the Municipal or Urban Council in that area.
Follow @timesonlinelk
comments powered by

Disqus