Determined monks raid illicit slaughterhouse
By Aanya Wipulasena
View(s):
Law looked the other way for 12 years but police now claim initiative
An illegal slaughterhouse that operated for 12 years close to Colombo despite continued protests to local police has been shut down following a raid by Buddhist monks. Monks from the Nandagiri Viharaya in Nathuduwa, Kelaniya, claimed the slaughterhouse, in Enderamulla, Wattala had operated without a valid licence.
"I got a tip-off a week back from one of the residents of the area about the slaughterhouse," Ven. Dandeniye Samithananda Thera told the Sunday Times. "We decided to raid the place ourselves because the residents said that they have made series of complaints to the area police but action wasn't taken to stop the operators."
He had received information that animals were butchered every day, including Poya days and, after informing the head monk, had gone with other clergy and some villagers to secretly reconnoitre the illicit abattoir just after Vesak Day on May 24.  "We went around 5.30-6 a.m. on May 26 to the place and hid to see what was happening there. When we saw that cattle were being slaughtered we sent a message to the police asking them to arrest the butchers," Ven. Samithananda said.
"Even the Muslim people living in the area condemned the slaughter of animals on Poya days," the chief monk of the temple, Ven. Kiwuldeniye Gnyanananda Thera, said.  Ven. Samithananda said three cows had been killed that day, including a pregnant animal whose foetus was clearly visible.
"The meat is produced there in a very unclean way. When we went in the place was covered with blood," said Ven. Gnyanananda.
The meat yielded on the day of the raid came to 360kg, worth Rs.288,000. Ven. Gnyanananda said the meat was sent to be sold in meat shops that did not possess licences for the sale of beef.
He said a court order was obtained stating that the illegal meat had to be destroyed. A villager who lives just a couple of kilometres away form the slaughterhouse said that he had seen lorries loaded with cattle going into the establishment, and no animals returning alive. "It has been going on for many years, and the residents of the area made complaints at the police numerous times but no one took any action to stop them. It was only after the monks got involved that the police actually did something about this," he said.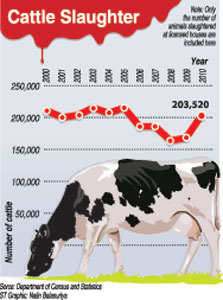 At least four animals had been slaughtered every day in the illegal abattoir, he said. Enderamulla Police OIC Quintus Perera claimed that the monks had not been involved in the raid and that it was the police who had carried out the operation. He declined to elaborate and said that all details had been passed on to the police spokesman. Police spokesman G.M.H.B. Siriwardena said those arrested had been released on bail on Thursday.
The Wattala slaughterhouse is just one of many illegal abattoirs that send meat to be sold in markets, including in Colombo city. Around 5000 head of cattle are slaughtered daily, with a large percentage of the butchery being illegal. "Cows cannot be slaughtered unless they are above 12 years of age or certified as incapable of breeding or unfit for agricultural purposes. It is also an offence to slaughter pregnant or lactating cows. There is a total prohibition on the slaughter of female calves," animal rights activist, Lalani Perera, told the Sunday Times.
"Cattle cannot be slaughtered without a permit from the relevant local authority. Nor can they be slaughtered in any place other than a licenced slaughterhouse. Slaughter is prohibited between 6 p.m. and 6 a.m. Cattle to be slaughtered must be exposed for public view, at a convenient spot identified by the local authority, at least for 24 hours previous to slaughter," she said.
Permits were required to transport the animals.  "There is a series of conditions for the transport of these animals, such as having the prescribed space for each animal, having a ramp to load and unload the animals in a humane manner, a vehicle floor which is free of holes and cracks likely to cause injury to the animal, appropriate covering to protect the animal from environmental factors such as weather and temperature and a conspicuous board indicating that the vehicle is transporting animals," Ms Perera said.
"It is also an offence to slaughter animals in the presence of other animals and before all signs of the previous slaughter have been removed."
Ms. Perera said violation of these stringent requirements was rife and there were many illegal slaughterhouses. Permits were issued on forged certificates and on the basis of false information. A ruse used by butchers to overcome the need to obtain transport permits for the live cattle was to slaughter the animals illegally and transport the flesh.
She said that it is unfortunate that weaknesses and ignorance in the enforcement of the relevant regulations, and external pressures, allowed the illegal operations to flourish. "A case filed in the Court of Appeal by a group of animal rights organisations and activists in 2010, calling upon the court to direct the relevant law enforcement officers to fully and effectively enforce the law, is still pending," Ms. Perera said.
Colombo Municipal Chief Municipal Veterinary Dr. I.V.P. Dharmawardena said a series of safeguards were imposed before meat was transported into Colombo. Butchers had to obtain a licence from the Colombo Municipal Council (CMC). "These places are regularly checked by our veterinary surgeons," Dr. Dharmawardena said.
There are around 120 meat stalls in Colombo, including private establishments which have to obtain a special licence guaranteeing that the origin of the meat and its hygiene levels had been checked.  About 100 inspections were made around Colombo to maintain meat standards, Dr. Dharmawardena said.
"Meat that is transported from other areas should be certified by the Public Health Officials (PHIs) or the Medical Officer of Health (MOH) of the areas from which where they are brought, then a police seal should be branded on the meat and on the padlock on the vehicle in which the produce is transported," he said, adding that the padlock was opened only by the vets. "The vehicle should also have a certificate that says that it is suitable for the transportation of meat. "We inspect the documents and issue a pass for them to take the meat to the meat stalls in Colombo."
Dr. Dharmawardena said in Colombo a veterinary surgeon carried out checks on cattle to ascertain that they were in good condition prior to slaughter but in other parts of the country these checks were done by PHIs or MOHs who lacked expertise in animal health.
Some 203,520 cattle were slaughtered in 2010, the last year for which statistics are available, according to the Department of Census and Statistics of Sri Lanka. The amount of butchery has risen steadily: in 2009, 168,002 cattle were slaughtered, and in 2008, 163,716. Most of the slaughter takes place in Batticaloa, Amparai and Trincomalee.
Just one vet to check all Kandy meat
Kandy's municipal veterinarian, who is in charge of checking all beef brought into the city for sale legally, said meat is also being brought in illegally and sold without official quality assurance.
The Kandy Municipal Council in March banned the slaughter of cattle within city limits given Kandy's sacred status as the repository of the Tooth Relic. Now cattle are slaughtered outside the city and the beef is brought into the municipal area by four registered meat transporters.
This meat is checked and approved by the sole municipal veterinarian, Dr. Vasantha Kumar. He has no staff to check all the meat sold in the Kandy Municipal Area, and can only rely on police checks to make sure meat is not brought in by unauthorised means.
Dr. Kumar says all cattle meat brought in legally is checked by him, even in food outlets, so that there was no cause for worry that unhealthy meat would reach consumers. The registered transporters had the requisite permits and their lorries were locked and sealed until his checks were carried out.
In the early 1990s, a modern slaughterhouse was planned and constructed for Kandy in Gohagoda. This massive building was used as emergency centre for displaced families and is now is being used as a shelter for stray dogs.
Follow @timesonlinelk
comments powered by

Disqus