Five star adventures without the price tag
View(s):

Young volunteer Jamie Snedden recounts some unforgettable moments as he and his friends set out to discover Pigeon Island

Working for twelve months as a volunteer English teacher in Sri Lanka has given me brilliant opportunities for travelling, and exploring this beautiful country. Crucially, however, as a volunteer I am without a salary and so I have done all this on a budget and as cheaply as I could possibly manage. Through my journeys I hope that I can offer some practical advice and inside tips to other no-frills travelers and prove that five star adventures don't have to come with a five star price tag.

Recently, my colleges and I undertook a four day trip to Trincomolee, and set out in search of the famed Pigeon Island.  As a means of getting from Colombo to Trinco we opted for the overnight train which leaves Fort station at 9pm ( meaning we wouldn't lose any time during the day). Reservations for 2nd Class sleeperettes, and 1st Class berths open 10 days before the train departs. My advice would be to really plan ahead for this, because even at 7 days in advance, the single carriage of 1st Class beds were entirely sold out. You cannot reserve seats online; it must be done in person at Fort station, Colombo.

1st Class berths cost around Rs 800, with second class reclining seats at Rs 450. Providing you can get to Colombo early enough in advance to book, this makes even 1st Class astonishingly good value, especially considering the Expo Rail rate of Rs1900. None of the classes are air conditioned.

Falling victim to poor planning, we travelled in 2nd Class. Tip – Take earplugs and a blanket. The journey of 8 hours gets you into Trinco at around 5am. Due to the town still being relatively under visited, and with the proximity of accommodation at both Uppuveli and Nilaveli beaches, prices in Trinco town are refreshingly low. We found a clean and tidy A/C room for Rs 1500 at the Sunflower Guest House, with non A/C room costing Rs1000.  Typical roadside cafes and hotels offer tempting thosai and other treats, making food alone a good reason to visit the area.

The main attraction in Trinco town is Fort Frederick. This fort was originally erected by the Portuguese and later strengthened by the Dutch. For me the star highlight within is the Koneswaram Kovil, which occupies the highest point of the Fort and offers breathtaking views out to sea, and back to the town itself. The temple access is free, and while the building itself is fairly uninspiring, the prominent position and stunning vista makes it well worth the effort. The Fort is easily walked to from both the Central New Bus Stand, and the town centre itself.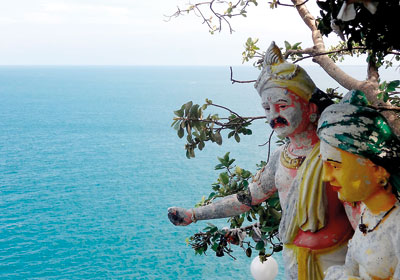 However, for us and for a lot of visitors to the area, the main attraction is not the town itself but the nearby unspoilt, beaches of Uppuveli and Nilaveli. Both can be reached easily by bus and three wheeler from Trincomalee, with fares between Rs. 100 and 200. Although many would disagree, I personally found Uppuveli to be the more alluring beach, with shallow warm water free from currents, and a wide, rugged strip of sand.
Accommodation can be found inexpensively at both, but our real gem was to be found at Uppuveli. French Garden Pragash Guest House lies amid the palms, set right behind the beach. Double rooms can be found for less than Rs 1000, with triples costing a little more. All rooms come with an attached bathroom and fan, and food is available providing you give advance notice. I highly recommend this quirky little establishment.
Pleasant hours can easily be spent on both of these beaches, but the biggest attraction still lies just off Nilaveli beach; a tiny island famed for its coral and aquatic wildlife. Boat trips to Pigeon Island can be arranged from most of the bigger hotels at both beaches, but the trip is far shorter – and consequently cheaper – if done from Nilaveli, as supposed to Uppuveli, which is further along the coast. As we were staying at the latter, our time on the boat was longer and so the cost slightly more.
For Sri Lankan nationals and foreigners holding a resident visa, the cost was around Rs100, and for holidaying tourists without residence an Rs 3000, had to be splashed out. This fee obviously will vary from boat to boat, so negotiate hard and you can get a good deal. The Sri Lankan Navy also offers a service.
As with the boat, snorkelling and diving gear can be rented relatively inexpensively from most of the bigger hotels. Take snacks for the day, as the island is totally free from any form of shop.  Once on Pigeon Island, there are two main places to swim and snorkel. The far side of the island offers an abundance of fish, making snorkelling magical. Parrotfish, triggerfish and numerous smaller shoals of life swam past. The bay is also sheltered enough to allow for calm water and safe swimming.
However, if it is coral that you are after, then the near side of the island is a better bet. Immediately to the left as you leave your boat there is a pristine white beach, with a forest of coral starting just under the waves.  As well as coral, this side of the island offers the chance to see sharks. I managed to see two black tipped sharks; an unforgettable experience to round off a pretty action packed day.
Return travel operates roughly the same as arrival, with overnight trains being possibly the best way to minimise loss of travel time. Again, plan ahead.
The trip to Trincomolee and to Pigeon Island was wonderful, offering the chance to see different landscapes, culture and sights. I hope I've proven that all this can be experienced for a very affordable price, making it not only a great fun trip, but a great value one too. It's one that I would recommend wholeheartedly.
Follow @timesonlinelk
comments powered by

Disqus