Accountability in Kerry's New Year message
View(s):

Accountability in Kerry's New Year message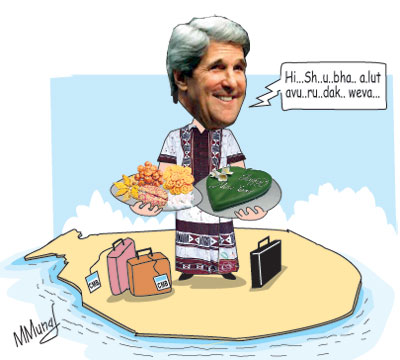 The new US Secretary of State, John Kerry has sent Sri Lankans an avurudu message. He states: "I congratulate Sri Lankans around the world as you celebrate Sinhala and Tamil New Year, and offer my warmest wishes for a happy holiday and a prosperous New Year.
"Every year this celebration brings the hope of new beginnings and fresh promise. The New Year brings with it a new opportunity for all Sri Lankans to join together in the spirit of peace and reconciliation.
"On behalf of President Obama and the American people, I am eager to support the Sri Lankan people in this journey as you work to make progress on reconciliation and accountability four years after the end of the conflict which divided your country.
"The United States stands ready to partner with Sri Lanka and all Sri Lankans as you deal with these important issues."
Pyongyang like BBS: Dilan
Foreign Employment Minister Dilan Perera, whose ministry has to overlook the welfare of more than 25,000 Sri Lankan workers in South Korea, says he is not worried over fears of a war breaking out in the Korean peninsula.
He told journalists this week that such threats from Pyongyang were mere rhetoric and not real.
He was of course sharing the same sentiments of most western countries. However, Minister Perera did not stop there. He likened the North Korean threats to that of the Bodu Bala Sena (BBS).
Big housing scheme in place of house of ill fame
The old Lunawa Rest House was known in the 1970s for the many newspaper headlines it made. That was after repeated Police raids on a brothel there. Now, the 260-perch land is to become a multi-storied housing scheme consisting of 356 units.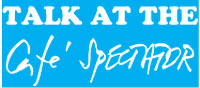 The project costing Rs. 875 million was approved by the Cabinet on a recommendation by Housing Minister Wimal Weerawansa.
The housing complex will be designed and built by the State Engineering Corporation (SEC). Minister Weerawansa has said these houses will be for "underserved families" in the area. The project, he has said, will be completed in three years.
Ganja surprise for Gajadeera
Army officials sprung a surprise on Prisons Reform Minister Chandrasiri Gajadeera. He had gone there to open an avurudu pola and was walking around the precincts of the prison.
Army men who are on duty saw a parcel being thrown into the compound alongside the Magazine Prison. They picked it up and examined it. That contained a kilogramme of Kerala ganja. Police who were called in later estimated the street value of it to be more than Rs. 100,000.
The Army personnel produced the skyfall ganja before Minister Gajadeera to show how goodies arrive in the prisons.
Diplomat learning diplomacy
A Sri Lankan envoy in a foreign capital much in the news has gone to college. He is now learning the elements of diplomacy during a week-long course.
Lankan gives up US citizenship for embassy post
A Sri Lankan, son of a Colombo academic, received United States citizenship after he pursued a career there. Last week, he renounced his citizenship. This was to enable him to join as the newest counsellor at the Sri Lanka Embassy in Washington DC.
There have also been other recruitments recently. A Congressional Affairs officer draws US$ 4,000 a month whilst an executive assistant to the ambassador also gets the same amount. Both are recruits from the US.
Special lunch in Parliament for birthday boy Namal
Hambantota District Parliamentarian Namal Rajapaksa celebrated his birthday last Thursday.  Since Parliament was sitting that day, lunch was organised in the guests' canteen.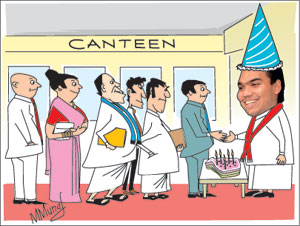 Planning for that lunch took place the previous night at the Madiwala residence of Lohan Ratwatte with a group of MPs attending. It was decided that the venue should be Parliament since having the party elsewhere would lead to no quorum in Parliament.
The lunch served was strictly vegetarian. A cake was brought from Colombo Hilton. Instructions had gone out that not even eggs should be used in the cake. The guest canteen in Parliament was decorated with blue balloons.
A surprise for Namal Rajapaksa came earlier at midnight. It was brother Yoshitha who telephoned him around midnight and invited him to come over to Kingsbury Hotel. He said he and a few friends were there. When Namal arrived, he realised it was a surprise birthday party for him. He told Yoshitha that he would not remain for too long since he had a bhavana class the next morning and he needed some sleep.
Namal turned up at a bhavana centre on Thursday morning and spent more than an hour there. There was excitement as the MPs gathered and waited for the birthday boy. He arrived and one after another queued up to wish him many happy returns.
Even Speaker Chamal Ra japaksa turned up to say 'happy birthday.'
Mihin Lanka deals with bribe-paying company
Officials of a subsidiary of a German company — Lufthansa Technik — that is undertaking an engine overhaul of Mihin Lanka aircraft is facing charges in the United States for "scheming to bribe government officials in Latin America." A US Justice Department report said, "The Justice Department revealed late Friday that two of those executives had pleaded guilty in January, while the other two defendants were believed by the Justice Department to be abroad.
All four men worked for Oklahoma-based BizJet International Sales and Support Inc. Bizjet, which outfits luxury jets, agreed to pay an $11.8 million criminal penalty last year for its role in the bribery scheme. Prosecutors agreed not to prosecute Bizjet's parent company, Lufthansa Technik AG, the maintenance and repair branch of the German Lufthansa Group, citing the company's cooperation with the investigation.
"Lufthansa is fully aware of these events and we fully cooperated with the authorities on every aspect of the investigation," a Lufthansa spokesman said in an e-mail. "In addition, the company has instituted numerous processes to promote compliance with all laws and help prevent any such occurrences in the future."
"In court papers filed in federal court in Oklahoma, prosecutors alleged the executives paid bribes directly to officials in Mexico, Panama and Brazil to secure contracts. In one instance, one of the executives wrote in an e-mail he would pay a Panamanian official $10,000 and provide him with a cellphone for the official's instrumental assistance in securing the contract' with the Panama Aviation authority, according to court documents. The defendants also allegedly funneled bribes to officials through a shell company operated under the pretence of providing aircraft maintenance brokerage services."
The overhaul deal with Mihin Lanka involves US$ 1,821,755.
Follow @timesonlinelk
comments powered by

Disqus