Mattala Rajapaksa International Airport opens tomorrow with pomp and pageantry
View(s):

Tourist hotspots easily accessible from Hambantota, says SriLankan CEO 
By Chandani Kirinde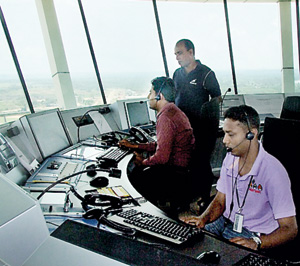 Sri Lanka's second aerial gateway to the outside world, built at a staggering 26 billion rupees, will be opened with pomp and pageantry tomorrow. Built with Chinese assistance, the Mattala Rajapaksa International Airport (MRIA) is situated close to an elephant infested jungle stretch. It is 43 kilometres from Hambantota.
At the auspicious time of 9 a.m, President Mahinda Rajapaksa will declare open the airport in the presence of dignitaries from China as well as members of the diplomatic corps based in Colombo. Among the flights scheduled to arrive and depart on the first day of the opening of Sri Lanka's second international airport are a specially chartered aircraft carrying passengers from the USA as well as an Air Arabia flight from Sharjah and a Fly Dubai flight from Dubai, Airport and Aviation Services (AAS) Chairman Prasanna Wickramasuriya said.
SriLankan Airlines has scheduled flights to four destinations to operate from the MRIA. Mihin Air will also operate a weekly flight to Buddha Gaya from MRIA starting this week.SriLankan Airlines Chief Executive Officer (CEO) Kapila Chandrasena told the Sunday Times that SriLankan flights to and from Beijing, Shanghai via Bangkok, Riyadh and Male will operate from the MRIA.
"We have done our market valuation and found that flights to and from these destinations are viable," Mr.Chandrasena said. He said the two Chinese destinations had been picked as 90 per cent of passages from China are headed for Male and hence transiting at Mattala would be a more convenient option.
The Middle East flight is to attract Sri Lankan workers, particularly from the Southern and Eastern Provinces who go to Saudi Arabia for employment, while the Mihin Air flight is for the convenience of Buddhist pilgrims who visit the city of Buddha Gaya in northern India.
Initially eight SriLankan flights will operate from Mattala, twice weekly to all four destinations. Over 530 members of the AAS have been transferred to Mattala to man the new airport but the entire staff members to be recruited to Mattala Airport will exceed 2,000, the AAS Chairman said.
The airport has been built in an environment-friendly manner incorporating the natural beauty of the area while the interiors are based on local architecture, he said. It is expected to be popular with foreign tourists. "Some of the tourist's hotspots such as Nuwara Eliya, Arugam Bay and other areas in the Eastern Province and Yala are all easily accessible from Hambantota," he said.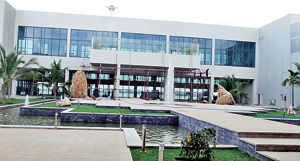 The other groups the airport hopes to attract are Sri Lankans leaving for employment in the Middle East. "More than 90 per cent of Lankans who go to the Middle East come from the Southern, Eastern, Uva and Sabaragamuwa Province and for them departing from and arriving at Mattala will save on travel time to their homes," Mr.Wickramasuriya added.
SriLankan Airlines flights to several destinations including Shanghai, Riyadh, Beijing and Male will be stopping over in Matala while Fly Dubai and Air Arabia will also operate flight to and from (BIA) through Mattala.
However Mr.Wickramasuriya denied there are any moves to close down BIA. "We are nearing the completion of the Katunayaka –Colombo expressway and once that is done, it will take only 33 minutes to get to the airport from Colombo," he said. The long term plan, Mr. Wickramasuriya said, is to link BIA to MRIA by road via the expressway and once this as done, the travel time between the two international airports would be three and half hours.
Meanwhile Civil Aviation Director General H. M. C. Nimalasiri has notified that every aircraft operating into and out of MRIA should conform to the applicable national laws, regulations, rules and implementing standards and also the established procedures relating to entry and departure of aircraft, entry and departure of persons as well as baggage.
The applicable screening processes will be performed by the respective Government authorities in charge of Customs, immigration and emigration, aviation security, public health and plant and animal quarantine.
Discount for airlines using MRIA
International airlines operating in and out of the Mattala Rajapaksa International Airport (MRIA) will be given up to 50 per cent discounts on landing and parking charges for one year, Civil Aviation Minister Priyankara Jayaratna has said.
He said the discount would be reduced to 25 per cent next year and this rate would continue till 2017.Airlines using the new airport would also be offered a 60 per cent discount on ground handling charges this year. In 2014, they would get a 50 per cent discount and from 2015-2017 a 40 per cent discount.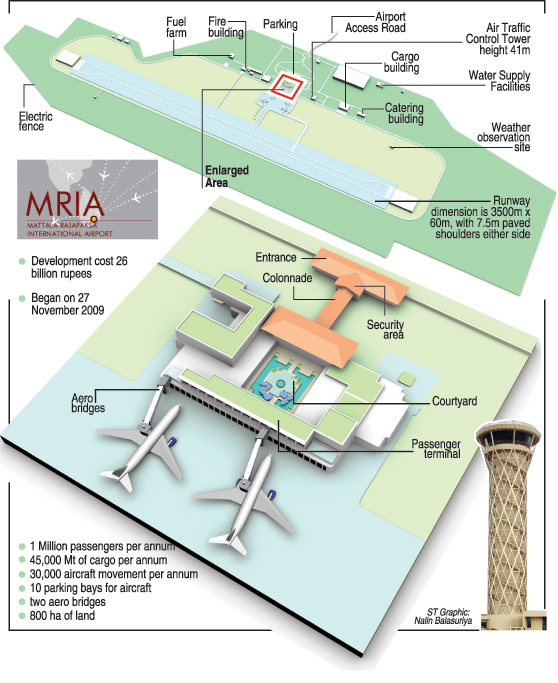 Follow @timesonlinelk
comments powered by

Disqus