Wycherley commemorates the 131st birth anniversary of the late Dr. R. L. Spittel
View(s):

A very memorable and poignant date in the history of Wycherley International School and the breath-taking building in which it is housed – WYCHERLEY – is December 9th which is the birthday of the late Dr. R. L. Spittel. He was the owner of this heritage building where Wycherley International School has made its name over the past 28 years.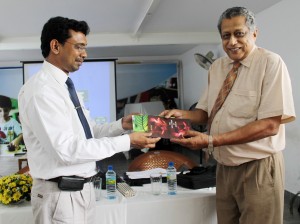 The Management and the Interact Club of Wycherley held an event on January 23rd to revere this simple yet illustrious personality. Mr. Kingsley Jayasinghe the Principal of Wycherley, gave an introduction to the audience on the life and work of Dr. R. L. Spittel. He said that he was indeed proud to be the Principal of the School which is housed in Dr. Spittel's heritage home. The Chief Guest for the occasion was Mr. Chandana Dissanayake, Senior Lecturer in English and former Head, Department of Languages of the Sabaragamuwa University in Belihuloya. He was the perfect choice for this solemn occasion as he is currently conducting a research on the writings of Dr. R. L. Spittel at the Sabaragamuwa University, University of Peradeniya and the Durham University in England. Mr. Dissanayake has been in touch with the granddaughter of Dr. Spittel on various occasions, in order to gain an in-depth knowledge on this wonderful personality, his work and his house which is a legend of our time. Dr. Upali Mampitiya of the Management of Wycherley International too graced the commemoration ceremony. The event was compered by Interactor Shahal Yaseen. Excerpts from the works of Dr. Spittel were recited by Interactors Kevin Fernando and Acushla Wijesinghe.
Dr. R. L. Spittel was born in Tangalle on 9th December 1881 to Dr. Fredrick Spittel and Mrs. Zilla Spittel. His father educated him at Royal College, Colombo. In 1905, Dr. Spittel graduated from the Ceylon Medical College as a doctor. When he joined government service his salary was just a bare Rs. 750/-. He proceeded to England, completed his Conjoint Diploma in 1908 and his FRCS in 1909. On his return, he was appointed the 3rd Surgeon at the General Hospital Colombo. In 1935, when he retired from Government Service, he was a Senior Surgeon and a Lecturer at the Medical College. He continued his services to the people as a Consultant Surgeon. His invaluable services towards surgery earned him the honour of being made a Commander of the Most Excellent Order of the British Empire (CBE) in 1942 and a Companion of the Order of St. Michael and St. George (CMG) in 1950. He was so humble that he felt undeserving of the latter award. It took a lot of persuasion by the then Prime Minister Hon. D. S. Senanayake, to coax him into accepting it. He was the President of the Ceylon Branch of the British Medical College from 1940 to 1946.Despite being a medical doctor, he had a deep love for the wilds and a huge leaning towards anthropology. An avid nature lover, Dr. Spittel's love was the jungles of Ceylon, gaining a vast knowledge on its fauna and flora and also the indigenous people of Ceylon, the Veddas.
He authored many books of which some of the well known and well read ones were 'Wild Ceylon', 'Wild White Boy', 'Vanished Trails', 'Where the White Sambhur Roams' which graphically describe jungle adventures and 'Savage Sanctuary' which is a biographical novel based on facts on the Vedda outlaw (and later Vedda chief) Tissahamy. When he retired from government service at 54 years of age, he ventured out to run his own nursing home called WYCHERLEY. This, his own building, which is a sprawling mansion, took two years for completion by 1922 and it is of enormous heritage value today. Dr. Spittel was helped by his wife Dr. Clarie who incidentally was the fourth woman physician in Ceylon. He passed away on 3rd September 1969, listening to the sounds of the birds in his aviary.
Wycherley International School was founded in 1985 and has been housed in this heritage building from that year onwards.
The Interact Club of Wycherley annually honours this great man to whom the students owe the building they are housed in. Students who enter the Junior School at 232, Buller's Road (Bauddhaloka Mawatha), Colombo 7, will always know the value of this multifaceted personality who created a haven for successive generations to be educated at. A portrait of Dr. R. L. Spittel was done by David Paynter in 1937. After the passing away of Dr. Spittel, his daughter Christine Wilson gifted it to the Art Gallery in 1991 where it still stands as a tribute to this honoured personality.
Follow @timesonlinelk
comments powered by

Disqus