Climb up in your career ladder with the MBA Kelaniya Programme
View(s):

Understanding the higher demand in the fields of Business and Management in the economy of Sri Lanka, the faculty of Commerce and Management studies placed the first step to commence the MBA Kelaniya programme in 2006 by which was promoted through the India-Sri Lanka Foundation with academic support from Indian Institute of Management (IIM), Luknow, with the purpose of creating superior managerial education as the solution to the thirst of corporate sector population who are working in a dynamic and competitive global business environment.The Master of Business Administration is a program providing a comprehensive education for expanded managerial roles in a variety of organizations. Specific learning goals articulated for the MBA degree program include Cross Disciplinary Competence, Critical Thinking and Decision Making, Effective Communication, Corporate and Social Responsibility, and Teamwork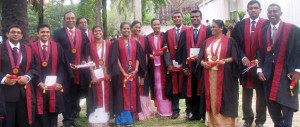 Hence the core business functions of accounting, economics, finance, operations, marketing, human resources and organizational behavior, management information systems, and corporate strategy are taught with a focus on problem solving and practical application in the workplace with critical thinking. Apart from the well experienced and high esteemed teaching faculty, Virtual learning systems, Foreign industrial training, Assortments of Skill building progarmmes such as outbound training programmes, and Supreme research module with several research colloquiums are some of the divergent features of MBA programme. These will lead to enhance the skills needed to be successful managers and leaders in a competitive global business environment.The MBA capitalizes on providing students with the opportunity to network with one another face-to-face, and share their experience and knowledge. With this aim number of seminars, work shop, and role-plays are armed with the programme. Furthermore case studies attached to the MBA programme provide an opportunity to conduct in-depth research on a selected company as professional assessmentUnder research component a project that is both original and pertinent to current global business theory and practice is carried out and it demonstrates student›s understanding of how conceptual knowledge or academic theory applies in specific contexts.
With all of these, Foreign Industrial Training is the great opportunity, which MBA students are privileged to experience. A foreign tour to country like India, Malaysia, and Thailand gives the opportunity to participate in workshops, forums and discussions with experts which will create competent leaders.
Thus MBA – Kelaniya is for real practitioners in the business field who are looking to advance in their own field or change careers paths to move forward.
Follow @timesonlinelk
comments powered by

Disqus