A rebel takes-off on Air Ceylon
View(s):

By Sunimalee Dias

In the early years of flying when taking wing was a magical ambition Sri Lanka welcomed onboard "rebels" of the likes of Dharma Canagasabai who on Wednesday celebrated her 85th birthday.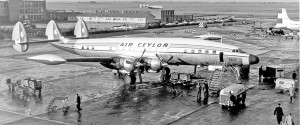 Knowing very well that opposition would abound back home, Dharma sent in her application one among about 500 for the position of Air Stewardess at Air Ceylon.
Selected for the first batch of the national carrier's air stewardesses, Dharma never looked back since then. "I thought I would be full-time working with Air Ceylon," Dharma told us when we met her at her Mt. Lavinia residence prompted along by her daughter Ms. Prabha Doolwela since the former is suffering from Alzheimer's.
Dharma was the first to find employment towards which her family was firmly against in fact; when she first touched down at the Ratmalana airport she was given one tight slap in public by her father who was awaiting her return. Then, Dharma had bent down and begged forgiveness from her father, who then softened, hugged her and then gave his approval for her to continue flying.
But her daughter Prabha said it was Ms. Clara Motwani who was resident in Jaffna and a neighbour to the Canagasabais' that convinced Dharma's father Dr. Canagasabai to allow her to move ahead in her career to which he agreed.
Initially, flights that Dharma would take were mainly Madras – Colombo and later to the then Bombay (Mumbai), Karachi and Sydney.
Dharma had the opportunity to also be part of a crew that flew key officials from Colombo on a chartered flight to London. Part of the other crew they used to fly with was Captains Peter Fernando and Emil Jayawardena.
Prabha related to us tales her mother told them about flying with these veterans observing that Capt. Emil Jayawardena was a jovial personality. And how renowned actress Rukmani Devi had asked her for "pink powder"!
Recalling the days of Air Ceylon, her daughter told the Business Times of the instance when Dharma had readied to participate at the Air Ceylon Dance to which the others challenged her on how she would take to the floor.
But Dharma was not one to be challenged or put down in fact she took the matter to heart and learnt the fine art of dancing from Ms. Yvonne Gulamhussein and she would look over her shoulder at her other friends when Sir Kotelawala had asked her for the first dance.
Reminiscing her flying days Dharma referred to it as a "quite nice" experience clad in the striking dark blue sari with a thin silver border with wedged high heels and a double-winged pin on her person.
During this time she would reside at her sister's home in Colombo since Dharma found it difficult to be accepted back home who resisted her career questioning her "why do you have to work?"
Starting out on a salary of Rs.200 she was paid additional for some of the extra flights that would earn her about Rs.700 more per month. But these veterans are left with nothing not even gratitude today as they were not even granted a pension in their old age for services rendered in the days when flying was new to all.
During her nearly three year career she found her life partner when she dined with friends at the Free China Hotel in Fort that was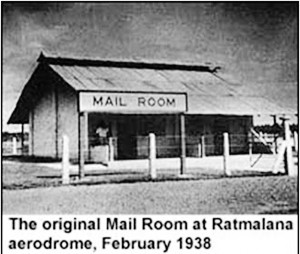 within close proximity to their Colombo office on Lotus Road. As manager of the hotel, Mr. Doolwela had only taken a liking to Dharma but not her career and one which she was forced to give up at the time of her marriage as only single women were given the opportunity to take up flying as an air stewardess. But marriage was not something that she had found favour with her family back in Jaffna who ostracised her one year for accepting a Sinhala lover as husband. This did not deter the adamant Dharma who was quite strong-willed and was even forced to be rejected by relatives. Later, both the Doolwelas' and the Canagasabais' accepted the couple.
Asked if she had an opportunity to explore the destinations she would fly to, Dharma recalled it was possible and they "had plenty of time to walk around and had stayed at the best of hotels."
As badminton pro Dharma earned the championship title for ladies singles in the 1950s, her daughter Prabha recalled.
Dharma remembers the Air Ceylon family as being "extraordinarily nice" as all officers were known to her.
Backed with a knowledge of Sanskrit and trained in the art of reading horoscopes by Velupillai Master which she even does very well today Dharma was unique in that she broke family tradition despite hailing from an affluent family with 10 children at their Jaffna home 'Mangalagiri'.
Little would her family have thought that some day the Malaysian-born girl educated at Jaffna Holy Family Convent and a strict vegetarian would be so daring to defy the norms she grew up with and someday take wing on Sri Lankan skies.
The Business Times continues its series of articles on a bygone era when being welcomed aboard Air Ceylon as an airline
stewardess was considered rebellious and speaks with veterans in aviation as Sri Lanka marks 100 years since it ventured into clear skies. The series coincides with the opening of Sri Lanka's second international airport at Mattala.
Follow @timesonlinelk
comments powered by

Disqus