Letters to the Editor
View(s):

Mischief-makers using Internet to spark hate and disrupt harmony in the nation

Living in peace and harmony was the norm in Sri Lanka and this goes back to ancient days, until foreign influences cast their shadow on the beautiful island, once known as the Pearl of the Indian Ocean. It is believed that the first human being, Adam, stepped into this serene part of the globe. So why is peace and harmony being disrupted in this beautiful motherland of ours?

Sri Lankans were once considered exemplars of tolerance and understanding in relation to all religions – Buddhism, Christianity, Hinduism and Islam. Hinduism was the major religion practised in the island prior to the introduction of Buddhism in the third century AD, while Islam and Christianity came later. Members of all communities worked together to obtain freedom from foreign occupancy in 1948. 

In the mid-Fifties, when Buddhism was made the state religion and Sinhala the national language, the seeds of mistrust were sown, and these began to grow in the hearts of the Tamil people. That was the root cause of the ethnic conflict, resulting in the migration of the minorities and a three-decade war.

Unfortunately, some people, aided and abetted by certain foreign countries, called for separatism and took to terrorist tactics. The present Government took unique and bold steps to clear the country of the separatist menace, but roots of the original separatist agenda still remain, causing continuing disruptions to peace and harmony.

Following the world trend of Islamaphobia, parties who wish to cause chaos in Sri Lanka have embarked on a mission that is very obvious: to set Muslims against Buddhists. Fortunately, both peace-loving communities have identified the threat and are taking all precautions to avoid being provoked.
Mischief-makers have attempted to turn minor day-to-day differences and disagreements into major issues, but these troubles have been eliminated in a timely way by the authorities.

This approach is not welcome to those who are intent on creating problems in the country. These groups with hidden agendas have failed miserably to achieve what they wanted. Shamelessly, they are now using social and digital media to rouse the people, inject venom and stir the emotions. They are using the Internet and social media to promote hatred and spread misleading stories.

A major step to promote a positive dialogue between Buddhists and Muslims was initiated in the Forum for National Amity and Understanding, convened by the Islamic Secretariat and attended by the Ven. Kamburupitiya Vajira Mahanayake Thera. The Buddhist prelate emphasised how the Buddhist and Muslim communities have lived in harmony, and pointed out that some mischief-makers want to spark hatred and create another conflict in the country. He recalled the unfortunate days of the war on terrorism and urged all to be cautious and work towards peace and harmony.

Recognising the online threat, both co-chairmen, the Mahanayake Thera and Minister M. H. Mohamed, issued the following statement: 

"Sri Lankans are perturbed and distressed at the growing hate campaign being promoted by some individuals through their websites. This is being done to provoke the Muslims, with a hidden agenda of creating chaos in the country, especially after having just emerged from three decades of a war on terrorism. Therefore we urge both communities, Buddhists and Muslims, to not be misled and fall into their trap and we urge the entire Sri Lankan population to continue to live in harmony."

AGA Barrie, Ontario, Canada

Don't cry Rizana

One brutal blow
With a sharp edged sword
Severed your innocent life
That sought greener pastures
To tide over poverty
In a country that knew not
The difference between
An accidental and an intentional deed
You fell prey
To an intentional fraudulent misdeed
Of a greedy job agent
That snatched away a beautiful life
Which would otherwise have blossomed
With fragrance and colour.
None will know
The myriad of thoughts
That flashed through the mind
In your final moment of life
They are sure to be embedded
In the strands of your last breath
Seeking justice on the last day of judgment.
Don't cry Rizana
A whole nation is crying for you

Nimal Jayasinghe, Maharagama

Lanka's Middle East diplomatic service not up to the job

I have worked in several Middle East countries. The officials working in our embassies have scant regard for Sri Lankans working in those countries. Let alone cases like Rizana, they don't even help to get us a translation of a document. The embassy officials say they have no time. Would such people fight for a case like Rizana's?

Housemaids who escape their houses because of harassment come to the embassies to complain only to be sent back to their sponsors after they have taken money. Some housemaids are sold to other sponsors. If our embassy really fought the case of Rizana from the start, we could have saved that poor girl.

M. Wijesekera

Galle Fort Library: 180 years old not 132

We as members of the Galle Fort Library Committee thank the Sunday Times for publishing the story of our historical library with great prominence, with supporting colourful pictures.

However the library was started in 1832 and not in 1932 as mentioned. It is 180 years old and not 132 as mentioned in the headline.

The article omitted to mention the name of our Hony President Dr. Hemakumara Nanayakkara who is the main architect of the current set-up of the library. He is greatly responsible for its current refurbished condition. It was he who took the initiative to organize a massive fund-raising project that strengthened our coffers and put the library on a sound footing.

We would be grateful if you could mention these facts.

A.M.W. Aiyoob, Vice President, Galle Fort Library

Fireworks and firecrackers should be banned

We have been celebrating a lot recently, with Christmas and the New Year and so on. But instead of bringing joy, we cause headaches with the loud noise of firecrackers. Must we show our joy by being noisy, wasteful, and indifferent to how others feel? What is happening to our country?

The New Year dawned with the noise of firecrackers going off and disturbing everyone. Children and infants were terrified. What sort of pleasure do we draw from making such horrendous noise? 

It was a great relief when Thai Pongal was celebrated without the din of fireworks. Fireworks are dangerous and a waste of money, and they leave behind a mess.

On New Year's Day, I was driving along the Galle Road when I saw a young man in a Wellawatte shop lighting firecrackers and throwing them into the middle of the Galle Road. What a foolish and dangerous thing to do! What if a car drove over the crackers when they were exploding? Sometimes there is a delayed action, and a firecracker may go off when no one expects it to explode. What if someone stepped on the firecrackers just as they went off? 

We should ban firecrackers and fireworks. Or these should be enjoyed only in controlled situations. Instead of selling fireworks to the public, we could have a big fireworks display in a public place where safety measures are in place. In many countries, the lighting of fireworks is forbidden, because they can cause fires and great destruction.

Dr. Mrs. Mareena Thaha Reffai, Dehiwela

Drivers manipulate meters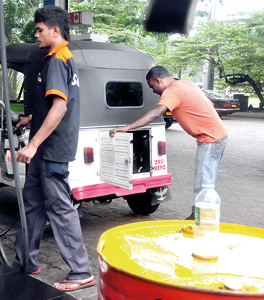 Thsi refers to the article, "Taxi drivers absorb petrol price increase" (January 6). Last year I sent a letter to a newspaper on this subject, informing readers that a meter taxi can take you for a ride. It certainly took me, an 81-year-old, on a ride that was no joy ride, but a ride that hit my hip pocket.
All the drivers mentioned in the article say they have not increased their rates, despite the Rs. 10 increase on petrol. 
I frequently travel in a meter taxi. These taxi drivers can manipulate their meter because most passengers are thinking about their own problems, and not about the meter.
They take it for granted that a trip from Mount Lavinia junction to the Dehiwala junction would cost about Rs. 70 at the rate of Rs. 32 per kilometre. But on reaching their destination, charges come to about Rs. 80 or Rs. 100.
Nihal, Mount Lavina
Follow @timesonlinelk
comments powered by

Disqus