Meet Martin Wickramasinghe, the film critic
View(s):

Kala Korner by Dee Cee

"Fifty years ago, youths acted in the role of queens and princesses in John de Silva's plays. It made me angry to watch them speak words of love, like women, or put their heads against the chest of the chief males. At times one reacted as one would to some foolish clowning; the film image of a singing woman displeases me even today."

A new publication by the Martin Wickramasinghe Trust titled 'Sinhala Cinema Sittam' – a collection of Martin Wickramasinghe's articles on cinema, carries this observation in an article he wrote to the 1964 Sarasaviya Annual. An English version of the article was published in the Daily News on December 2, 1964 under the title, 'Thoughts on Gamperaliya – the Book and the Film'. Incidentally, 'Gamperaliya' was first screened a year earlier – on December 20, 1963.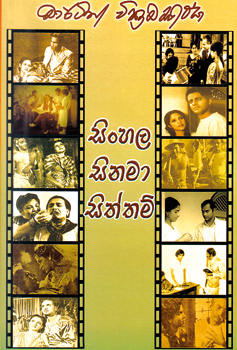 Confessing that in his youth, he went to see silent films at least once or twice a week, Martin W says that he always preferred the silent films to the talkies. He compared the latter to puppetry. He enjoyed Tarzan films. "Even now I can enjoy seeing Tarzan grabbing a lion by the tail and throwing it away after turning it round a few times. He treated women in a casual manner.
I used to think he resembles an ancient saint."  As for the film 'Gamperaliya', he was pleased with its artistic form in spite of "inessential portions, repetitions and extraneous decorations". "This is proof that Lester Peries is an artistic producer of films and that Reggie Siriwardena in writing the film script has preserved its artistic unity and form. It is in the second part of the film that this unity and artistic forms begins to unfold itself quickly. Here it reaches the climax. The funeral with the bhikkhus obstructs this somewhat, I think," he wrote.
Making a general comment on film appreciation, he wrote: "A person goes to the cinema to enjoy. What they will like in a film is the story, characterisation, the mindset of the characters and a moving end. When the cumulative effects of all these are taken together the pattern of each one's reaction will change with each one's capacity to understand and his capacity to enjoy. A person will dissect a film into good and bad aspects after enjoying it." 
Referring to a favourable review on 'Gamperaliya' by Dr. Ediriweera Sarachchandra, he said the praise came because he had enjoyed it.
In a preface to the book, A. D. Ranjit Kumara, senior journalist and one-time editor of Sarasaviya refers to the days when Martin W reviewed Sinhala films when he was editor of the 'Silumina'. He wrote these reviews under the pen name 'Mayurapada'. He was very critical of the early films.
Reviewing the first Sinhala film 'Kadavunu Poronduwa', he had said that rather than portraying Sinhala life the film turns it into a mockery. "… The film didn't become an annoyance only because of Eddie Jayamanne's 'comit keli', as some calls it, and his partner (Gemini Kantha)…..Many went to see the film because of these two. " – Silumina May 4, 1947.
Describing Rukmani Devi as an actress with a good voice, he believed that producer-director B. A.W. Jayamanne did not make use of the potential of both Rukmani and Eddie.
He described 'Asokamala' as a film which corrupts history and called it a joke to get the players to be dressed in gaudy costumes and cheap jewellery available at the time the film was made. He, however, found the acting of some players at a much higher level than in 'Kadavunu Poronduwa'. Emaline Dimbulana (Asokamala), Shanthikumar (Saliya) Michael Sannas Liyanage (Seneviratne Vipula) & Don Edward (Rankira) were among them.
Ranjit reminisces of his meetings with the great author which is interesting reading. Ranjit met him once at Koggala when Lester was shooting 'Madol Duwa'. He recalled his young days. "It's the naughty things I used to do which formed the basis for Upali's character in 'Madol Duwa", he had said. He was very happy when Lester was going to film 'Madol Duwa' capturing the beauty of the little isle – one of 18 in the Koggala Oya. When he went to see the filming he was reminded of those days. He saw the old teacher in the village school in Joe Abeywickrema and enjoyed seeing children watching the filming. "I went back to my school days and felt the child in me," he said.
The book edited by Nuwara Eliye Hemapala – diligent researcher attached to the Martin Wickremasinghe Trust contains 14 articles related to Sinhala cinema written by Martin Wickramasinghe. Many never realised that he had written such articles. The collection is a most useful publication for students of cinema.
This is yet another laudable publication by the Trust which, over the years, has been regularly releasing publications related to Sri Lanka's outstanding literary figure of the 20th century providing a wealth of material of immense literary value.
Follow @timesonlinelk
comments powered by

Disqus