Heritage under the gavel
View(s):

As a privately-owned British auction house, Bonhams, prepares to auction what is believed to be a moonstone from the Anuradhapura era, found in the garden of a Devon bungalow, leading archaeologists here share their views on bringing it back

By Kumudini Hettiarachchi and Shaveen Jeewandara

Bring it home, is the plea from one and all in Sri Lanka, as the intricately-carved and uniquely Sri Lankan sandakada pahana (moonstone) believed to be from the time of the ancient Anuradhapura kingdom is to be put under the gavel in London on April 23.

The rightful place of this sandakada pahana (three quarters of a ton measuring eight ft by four ft and six inches thick) is in Sri Lanka and we should leave no stone unturned to get it back, said many experts, pointing out that it is very much a part of our heritage.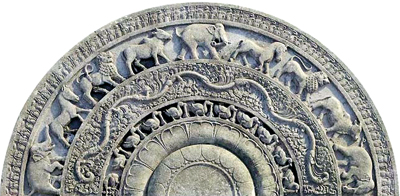 "The decorated moonstone is unique. It is one of Sri Lanka's particular contributions to the art of Asia," stressed eminent archaeology expert, Prof. Senake Dias Bandaranayake when contacted by the Sunday Times. "If this is in real granite, kalugal, it could well be a genuine carving. It's in first-class condition and I can't imagine a modern copy done to this quality in a one-ton block of granite in the 1930 or 40s," said this Emeritus Professor of Archaeology of the Post-graduate Institute of Archaeology, University of Kelaniya, adding, "I think it could be dated to the Late Anuradhapura Period, probably between 850-950 AC".
Prof. Bandaranayake pointed out that if it is a genuine piece, it could well be covered by international law (or current trends in professional ethics) regarding the restitution of cultural property removed under conditions of colonialism.
Explaining that some countries will not agree with this, Prof. Bandaranayake cited the example of Britain in the issue of the Elgin Marbles. "It's also difficult to enforce," he conceded. A privately-owned British auction house, Bonhams is making ready to auction the sandakada pahana. (See box)
Reiterating that "it is an outstanding sculpture", Prof. Bandaranayake pointed out that if it is an original piece, many museums in the world would be ready to buy it. Sri Lanka should have a Plan B to acquire it in advance of the auction, he urged, explaining that buyers would like to avoid legal, diplomatic, professional and ethical pressures.
Underscoring that "culture has no value" and it is priceless, another veteran in this field who declined to be identified said the sandakada pahana looks like an original as the carvings are so accurate, sharp and clear. It must have been taken out of Sri Lanka before 1954 when the United Nations Educational, Scientific and Cultural Organisation (UNESCO) Conventions came into being.
The value of cultural property is conjectural, he said, citing an incident in 1981, when Sri Lanka took the Avalokiteshvara statue for the Commonwealth Exhibition in England. The mythological wife of Avalokiteshvara is Tara, the statue of which had been taken to England as far back as 1836 and not moved from the British Museum ever. Paying insurance of £ 200,000 (Rs. 2 million which gave an indication of its value) to exhibit it out of the British Museum for two months, Tara had been kept side-by-side with Avalokiteshvara at the Commonwealth Exhibition.
When the foreign experts admiring the two statues were jokingly asked which they would prefer to take home, the majority "choice" had been Avalokiteshwara taken from Sri Lanka as opposed to Tara with an insurance value of Rs. 2 million at that time. The one from Colombo was deemed more valuable by these experts that is why the value of the artefacts is conjectural, he said.
Recalling the returning of such artefacts, the expert said Sri Wickrema Rajasinghe's throne was brought back by the British in the 1930s as a measure of goodwill as well as the mace when Sri Lanka gained independence in 1948.
In the case of the sandakada pahana, the Sri Lankan authorities should make a strong appeal to the auctioneers to give it back to us, he said, adding that as nothing can be done legally, it must be an appeal to the heart and not to the head.
This was the view of many other experts and also the public. In 'The Cultural Triangle' published by UNESCO and the Central Cultural Fund of Sri Lanka, T.G. Kulatunga and Athula Amarasekera calling the moonstone "a unique creation of Sri Lanka sculptors" states that the best example can be seen at the foot of the steps leading to the Pancavasa commonly known as Mahasena's palace. "A smaller example, just as exquisitely carved, was found nearby at the Queen's Pavilion.
According to Paranavitana (Dr. Senarath Paranavitana was a pioneering archaeologist and epigraphist), the moonstone symbolises samsara, the endless cycle of rebirth, and the path to freedom from the samsaric process leading to nirvana. He interprets the pattern of the outermost ring as flames, and the various animals shown in the other concentric circles as successive phases of man's passage through samsara," they state.
The sandakada pahana and Sri Lanka's early history are obviously intertwined and very much a part of the country's heritage.
The story of 'The Pebble'
A carved granite temple step (Sandakada pahana) similar to those found in the ancient city of Anuradhapura in Sri Lanka will be sold in Bonhams Indian and Islamic sale in London on April 23, states a press release on the auction house website on January 10.
Titled 'Rare Buddhist Anuradhapura period (377 BC-1017 AD) Indian carved stone temple step discovered by Bonhams in a Devon garden will be sold in London', it states that "this magnificent work of art featuring a cow and other animals has come to light in the garden of a Devon bungalow. It is estimated to attract bids in excess of £30,000" (Rs. 6m).
Adding that the beautiful 1,000 year old pre-Hindu stone step is one of only six examples known to date from this period, the press release states that a client mentioned in passing that she had a large slab of carved granite that had come from her mother's house in Sussex and that she had known and loved it since she was four years old. "She loved running her fingers around the animals carved in stone."
The house in Sussex had been bought from a tea planter in the 1950s and the stone had been moved six times and according to the press release the client's brother had seen similar stones in Sri Lanka whilst on holiday.
She explained that she could not bear to leave the stone behind after her father died and the house was sold. It has been known affectionately in the family as 'The Pebble', it added.
UNESCO convention on cultural property
To address situations of pillaging and illegal trade of cultural artefacts, the Convention on the Means of Prohibiting and Preventing the Illicit Import, Export and Transfer of Ownership of Cultural Property was adopted by UNESCO on November 14, 1970.
Sri Lanka and Britain are among the 123 countries which have ratified it. The convention which calls for greater co-operation between nations in ensuring that the cultural artefacts of origin be returned to the country of origin, states in Article 7 (i) that the States Parties to this Convention undertake: To take the necessary measures, consistent with national legislation, to prevent museums and similar institutions within their territories from acquiring cultural property originating in another State Party which has been illegally exported after entry into force of this Convention, in the States concerned. Whenever possible, to inform a State of origin Party to this Convention of an offer of such cultural property illegally removed from that State after the entry into force of this Convention in both States.
Article 7 (ii) adds that "at the request of the State Party of origin, to take appropriate steps to recover and return any such cultural property imported after the entry into force of this Convention in both States concerned, provided, however, that the requesting State shall pay just compensation to an innocent purchaser or to a person who has valid title to that property. Requests for recovery and return shall be made through diplomatic offices".
However, as the moonstone to be auctioned by Bonhams had reportedly been taken out of Sri Lanka before this convention, many are of the view that goodwill should be used as an instrument to get the sandakada pahana back.
Follow @timesonlinelk
comments powered by

Disqus