Grand folklore opera to ring out first anniversary of Nelum Pokuna
View(s):

'Mahasamayama', a Sinhala opera written and directed by Professor Ariyarathne Athugala will debut on January 30 at the Nelum Pokuna to mark the theatre's first anniversary.

Mahasamayama is woven around Sri Lankan and Indian mythology and folklore based on ancient legend. The play begins with the tussle between God Eeshwara and Basmasura over a deadly power known as the 'Isuru Dehana'. Basmasura has manipulated Eeshwara's wife Umayangana into stealing it from Eeshwara and now has control over the destructive power which enables the bearer to kill someone by placing their hand over the victim's head. Eeshwara turns to God Vishnu for help, who assumes the form of a beautiful woman and seduces Basmasura who falls head over heels in love. In declaring his love, Basmasura places his hand on his head by mistake and disintegrates into ash.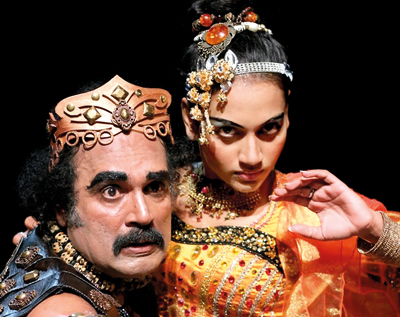 Out of the ashes rises Mahasona, early Thambapanni's most fearsome monster. Mahasona happens across the beautiful Sona one day and determines to make her his wife. Sona is the wife of Gotaimbara, one of King Dutugemunu's most formidable warriors. Gotaimbara challenges Mahasona to a duel and the monster, confident in his own invincibility, agrees. In the great battle Gotaimbara dismembers Mahasona's head from his body in a single strike and the monster is resurrected with a bear's head in place of his own. Legend has it that Mahasona, a haunting union of man and bear has walked the land since.
Professor Athugala, who began writing the opera almost a year ago will direct this major production. The 150 strong cast comprising some of the country's leading thespians have been rehearsing for almost six months now. Touching on the folk tale aspect of the play Professor Athugala said, "Folk tales are very much underrated in theatre. Many say that these tales don't possess the necessary theatrical qualities to be adapted onto stage but I disagree. Folk tales are perhaps the most communicative form of expression in theatre. They're essentially very human in nature, and the form really does justice to the characters.
"Sri Lanka has a rich heritage of story telling and we have so many ancient myths and legends to draw on. If you look at theatre today you'd notice that most are adaptations of stories from other countries," he added. "With Mahasamayama I hope to bring in the best of both worlds-the beauty of ancient legends and the flexibility of the modern theatre.
I want the audience to view our culture from a global perspective."  Nissanka Diddeniya, Jackson Anthony, Sriyantha Mendis, Ravibandu Vidyapathi, Channa Wijewardena, Indika Upamali, Madani Malwatte, Sandun Wijesiri, Janaka Ranasinghe, Kumara Thirimadura and Chathurika Peiris will be joined by the cultural troupes of the Army, Navy and the Air Force. On the household names that he will be working with, Professor Athugala is quietly confident. "I would have loved to work with the newer names, but I felt with the weight of this play it was important to utilise the best of our talented pool of thespians. For example, Jackson Anthony is Mahasona-having worked with him I cannot imagine another person who can replace him in this character."
There is a vast majority of actors in Sri Lanka with a thirst for quality productions, he added. "It's up to writers and directors to make sure that their work is nothing short of the best. Entertainment is well enough, but only when you combine it with food for thought will you have a production worthy of the hallowed halls of theatre."
Samantha Perera directs the sweeping scores of Professor Ariyarathne Athugala's Mahasamayama while Channa Wijewardena, Ravibandu Vidyapathi and Dharshana Priyarathne have choreographed the production.
The public shows will be held on February 1 and 2 at 6 p.m. at the Nelum Pokuna Theatre. Tickets for the show can be purchased at Sarasaviya, Salaka, Nelum Pokuna and Sams and online at www.mahasamayama.org 
Follow @timesonlinelk
comments powered by

Disqus