Appreciations
View(s):

A great jurist and cultured gentleman, he was a cut above the rest

Dr. A.R.B. Amerasinghe

With the death of a towering figure in the arena of justice, it may be difficult for many to ignore drawing a symbolic parallel in these troubled times when the death knell tolls for the Sri Lankan justice system itself. But for me, and even more so for my mother, Lalani, the death of a great mentor, Dr. A.R.B. Amerasinghe, former judge of the Supreme Court, is more than symbolic. By recalling and sharing a few memories of our experiences with Dr. Amerasinghe, I wish to express appreciation at a personal level.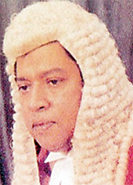 I first knew Dr. Amerasinghe simply as my mother's boss, when he was secretary to the Ministry of Justice. To this day, my mother holds the highest respect for him. She regards him as one of those few who moulded her as a public officer, instilling in her and her peers the qualities of the civil service – high standards of professionalism, an absolute commitment to the job and, above all, integrity over servility to politicians. However, being an exemplary public officer was only one of the many grand hats that Dr. Amerasinghe wore.
As a prolific writer, Dr. Amerasinghe's best contribution is undoubtedly in the field of legal academia, where he remains an intellectual of international acclaim. Therefore, when he was appointed Judge of the Supreme Court, from outside of the judiciary, there was no room for anyone to challenge his place on the bench, unlike in the case of some appointments which have followed.
He, along with his friend and peer, Justice Mark Fernando, another distinguished judge of the time, revelled in fierce judicial activism. For those of us in the legal profession, those judgments continue to be our guiding companions although their writers may no longer be with us. But I am especially privileged because Dr. Amerasinghe frequently gifted many books to me and, some years ago, part of his own vast library collection as well.
Those books hold a special place on the shelves in our home. Among them is also an encyclopedia of music, for Dr. Amerasinghe's interests extended well beyond the territory of law to the arts. Perhaps it is this all-round knowledge, particularly of music, literature and history, which made Dr. Amerasinghe a cultured individual, a cut above the rest. In an era where the grasp of the English language, lateral thinking and genuine expansion of the living organism that is Law are becoming rare features in judicial dictum in Sri Lanka, the sense of loss is intensified. 
We were extremely happy to hear Dr. Amerasinghe's lovely daughter Melina fondly reminiscing how they celebrated their last family Christmas, only a few weeks ago. Her father had made sure that his nearest and dearest, who include talented young musicians, came together for a performance of classical music.
I can think of no better place for an evening of chamber music than the stylishly beautiful home that both Dr. Amerasinghe and his gracious wife, Yvonne, cherished and enjoyed hosting parties in. They remained true friends to the last, never failing to send us one of their customised Christmas cards. In this moment of grief, last year's card is all the more precious as it bears Dr. Amerasinghe's by then shaky, but still distinguishable handwriting. We cannot believe that this is the last we will see of that remarkable writing, but are grateful to have something so recent. I am also grateful that both Dr. and Mrs. Amerasinghe attended the reception that my husband and I held to celebrate our wedding, remarking that, despite his failing health, he could not have missed it.
My mother and I last saw Dr. Amerasinghe in hospital, where he was the one (as always) who steered the conversation, bravely fighting the shadow that throat cancer had cast on his voice. He kept writing to the end, and, during that visit, presented us with a copy of his delightful account of the history of Bagatelle Road. Over our deep sadness, my mother and I find comfort in the inspiration he has given to both of us as lawyers and public officers ourselves.
Sri Lanka has surely lost one its greatest jurists and the Amerasinghe family a loving and loyal husband, father, grandfather, brother and uncle. However, Dr. Amerasinghe's strong imprint will live on in all of our memories and, most importantly and more permanently, in his writings. We are thankful for the life and legacy of an exceptional Supreme Court Judge and a supreme gentleman.
Dr. Avanti Perera
A man for all seasons, he will win the respect of many generations
My earliest contact with Dr. Amerasinghe was in the early 1970s. I began my legal career at the Insurance Corporation of Sri Lanka, where Dr. A Ranjith B. (as we fondly called him) was our chief legal officer and general manager.
How fortunate I was to have worked with him; he was an excellent administrator, had a sharp and brilliant mind, and despite being rather young for his position, he easily won the respect and admiration of everyone at the Insurance Corporation, especially within the legal department. He worked diligently, and his decisions were apolitical, humane and kind. Those of us who knew him knew him to be an extraordinarily humble and humane person who treated everyone equally. At the same time he was quick to recognise hard work, talent and commitment, and was always a willing and inspiring mentor. 
His attributes were many and varied: Judge, jurist, academic, philosopher and writer. He brought credit to Sri Lanka by his many overseas assignments. His interests were not limited to the legal field. Classical music, nature, literature were some of his other interests.
Later on in his career, Dr. Amerasinghe served as the Secretary to the Ministry of Justice and brought about revolutionary changes in just the five-years he served in that capacity. He was the man behind the construction of the Superior Courts Complex and the Ministry of Justice buildings. 
In the article titled A Matter of Self Esteem – A Retrospective View of A.R.B Amerasinghe, former Justice Ministry Secretary Dhara Wijayatilake discussed his remarkable contributions to the administration of Justice. He was of such calibre that even after he became a Supreme Court Justice (after declining prestigious job offers overseas), he was deeply respected by everyone, including political leaders.
Perhaps he was one of the few personalities in this country who managed to win the respect of colleagues and politicians alike, simply by living his life with dignity and integrity.
As much as those in the legal field – colleagues and mentees alike – are grief-stricken and share this great loss with his wife Yvonne and family, we must remember that his life was truly a celebration of all things that are good about the legal profession in particular, and humanity in general.
My fervent hope that this country will be blessed with more sons of his calibre, to serve the legal field with impartiality, loyalty and true commitment. Dr. Amerasinghe, you will be missed dearly, but celebrated with deep affection and respect for many generations!
Nelum Gamage
She was the perfect wife to a Chief Justice 
SEMITHA TENNEKOON
Mrs. Semitha Tennekoon, wife of the late Victor Tennekoon, Queen's Counsel and former Chief Justice, was known to me from my youth as Semitha Aunty, along with Tony Alles, Anil Weeratunge, Kamalaharan and Dion Peries.
The dignified mother of Asita was always elegantly dressed in Kandyan saree. She entertained us every weekend with sumptuous meals at her home, after cricket with son Asita and ping-pong with daughters Dayanthi and Priyani. 
I happened to have a special connection because Sir Edwin Wijeyaratne, with my father C.R. Gunaratna PC, encouraged Victor Maama as a budding lawyer in Kegalle before his meteoric rise in the AG's Department as SC to prosecute the coup case; later as AG, he served with honour as Chief Justice, ably supported by Semitha Aunty, who nurtured all three children herself.
Asita became a senior engineer at Hayleys, Dayanthi married aeronautical expert Dayantha Athulathmudali, and Priyani, the Oxford law professor, married Harendra Abeysekera and is now the Legal Officer to SriLankan Airlines.
Semitha Aunty was the elder daughter of my mother's good friend Muriel Wijeyawardene, as classy and elegant a Kandyan lady as you may find in the good old days. Semitha Aunty followed her mother in every respect, with grace and elegance.
I may add that Justice AC Alles and Victor Maama were best pals throughout their careers, both in the AG's Dept and on the Supreme Court bench. 
May Semitha Aunty attain the Supreme Bliss of Nibbana.
 Mithila Gunaratna
Intellectual colossus will be remembered by many 
Rev. Fr. TISSA BALASURIYA
Rev. Fr. Tissa Balasuriya was no ordinary man. He was an intellectual and moral giant, and his death signals the end of an era, for both the country and the Roman Catholic Church.
Fr. Tissa will be remembered by the thousands who received their higher education at Aquinas University College. His was the second of two great names associated with that celebrated institution of learning, the first being Fr. Peter Pillai. 
To say that Fr. Tissa was a controversial figure is no overstatement. He lived in an era when everything in politics labelled "left" was taboo to the Church. This turned Fr. Tissa into a loner among his peers in the sacerdotal ranks. He was looked upon with suspicion. Fr. Tissa, with his penetrative insights into the nature of Ceylon politics drew a line between the "left movements" and religion. One of the great moments of Fr. Tissa's life was when he opened the doors of Aquinas to leftist speakers during the 1970 election campaign that ushered in Mrs. Sirimavo Bandaranaike as Prime Minister. Fr. Tissa's action was praised by the great leftist leaders of the time, people like Dr. Colvin R. de Silva and Peter Keuneman. They called Fr. Tissa a man of prophetic vision.
Fr. Tissa was not concerned with the election results. He acted democratically in giving the left leaders a platform at the premier Catholic seat of learning. By his action on that occasion, Fr. Tissa paved the way for Catholics who supported the school takeover and consequently the culmination of the movement for free education. 
The SLFP returned Fr. Tissa's compliment by taking the unprecedented step of inviting Pope Paul VI to this country. All the great political leaders of the time, headed by Prime Minister Sirimavo Bandaranaike, were there to greet the Pope on arrival and departure.
To our Buddhist leaders' credit, the monks wholeheartedly endorsed the Government's action. Fr. Tissa's life was filled with controversy. His lifelong endeavour was to bring about a rapprochement between all sectors, especially the intelligentsia, religious or civil. As rector of Aquinas, he wrote an article titled "Buddhism and Christianity" that caught the public eye like a forest fire. No one thought there could be similarities.
On leaving Aquinas, Fr. Tissa founded The Centre for Society and Religion. With his retirement, the Centre lost its lustre and impact.
Mario Perera
Follow @timesonlinelk
comments powered by

Disqus