The waters go down, but the woes continue
View(s):

Residents affected by floods and landslides want government officials to do more to help them pick up their lives.

Aanya Wipulasena reports

The floods in most areas of the country have receded, but the impact of it continues to cause hardship to thousands of affected people with charges that compensation and relief were trickling in slowly. Some 300,000 people were hit by floods, landslides and adverse weather conditions in several parts of the country, with some areas still under water.

In Puttalam District over 30,000 people were affected by rains that lashed the area since December 10 last year and residents complain that relief measures have been inadequate given the large scale of destruction to house, property and livelihood. As this was the worst rain that caused much disruption in the district after 40 years the residents weren't prepared for the inconvenience it caused. Arachchikattuwa, Pallama and Chilaw were among the divisions which were mostly affected. 

Suranjith Idunil a 54 year-old father of three is from Pallama, Ambakele where over 100 houses were damaged. When his house got caught up in the floods, along with his family he had to leave the village with his family to a relative's house. "We were helpless. As this was the first time it happened we didn't know what to do. The only place we felt safe was at my relative's place where I took my wife and children to," he said. However, the ordeal didn't end there. His house was partially damaged and almost all the furniture and electrical items were affected by flood waters.

"We didn't get compensation on time and we faced many inconveniences as we had to go several times before we got the basket of dry rations distributed by officials," he said. 

According to the Disaster Management Centre (DMC) statistics over 16,000 people were hit by the rains while nearly 650 houses were damaged in Polonnaruwa. V. Bahal (45), a resident of a small village in Manampitiya, Polonnaruwa had to seek shelter in a relief camp with 71 other families from his village on December 27 and once again last Friday (January 11).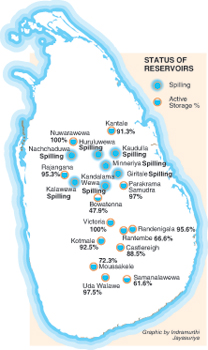 "Nobody came to look into our needs. I was left desolate with my wife and four children like other families in my village. Now the officials have asked us leave for our village because they believe that staying back may be risky, but we refuse to go because we don't have a place to go to and the officials have failed to provide us with an alternative," he said.
Meanwhile the heavy rains that lashed Panama area in Ampara last week destroyed 200 houses and thousands of acres of paddy cultivation. However the people were not provided with food relief Panama, Sri Bodhirukkaramaya, Chief Priest Ven. Shri Sangarakhitha Thera said.
He said Panama Batagedara, Panama North, Shasthrawela and Peellagala villages were flooded and other alternate routes were also under water making it difficult for villagers to get food and other necessary items from outside the affected villages.
The Sunday Times learns that more than 400, 000 houses were damaged countrywide and that the government had failed to provide financial assistance in many areas to rebuild the houses.
However, according to our Matale correspondent the DMC had provided Rs. 25, 000 to rebuild 142 fully damaged houses and Rs 15, 000 to repair 321 partially damaged houses in the Rattota, Ukuwela, Matale and Naula areas in the district.
Over 5,500 people were affected in the district with nine deaths being reported. Seven people were reported missing, six of whom were from one family.
The Sunday Times also learns that 147 families were still residing in the district in areas identified as risky as officials have failed to provide alternate resettlement areas.
Akila Kumara whose house was fully damaged said the authorities identified his land as risky and assured he would be given another plot of land to build his house. But it's been almost one month and no steps have being taken to provide the villagers alternative land on safer ground, he complained.
"We get dry rations but this is not what we really need. Almost a month has passed since we were badly affected and now we need land which were subjected to land slides and sinking," said a villager from Rattota. 
Meanwhile, Disaster Management Minister Mahinda Amaraweera said his Ministry has till January 7, provided food worth Rs. 211 million to affected people .
Additional reporting, by our area correspondents
Met. Dept. says rainy days are not here to stay
By Sonja Candappa
The rains experienced in many parts of the country in the past couple of days should cease by tomorrow, a Meteorology Department official said.
Deputy Director Anusha Warnasuriya said the cause of the inclement weather was the low atmospheric pressure experienced over the country.
The National Building Research Organisation of the Ministry of Disaster Management issued landslide warnings in vulnerable areas too. The areas included Medadumbara, Patha Hewaheta, Gangawata Korale areas of Kandy, Walapane, Nuwara Eliya and Kotmale Administrative Divisions of the Nuwara Eliya district, all divisions except Mahiyangana region in the Badulla district and Rattota, Ukuwela and Matale areas of the Matale district. 
In the hydro catchment areas most of the reservoirs were full and some tanks including Kandalama, Kalawewa, Nachchaduwa, Huruluwewa, Minneriya and Kaudulla have spilled over while sluice gates of some reservoirs were opened resulting in flooding of villages and destruction of crops.
Rs 61m renovation for  landslide battered A5 stretch
By Shelton Hettiaarachchi
The A5-Road between Manik Wanguwa and the 75th-milepost, that has been subject to frequent landslides, is to be renovated at an estimated cost of Rs 61 million, Nuwara Eliya District Secretary, D.P.G. Kumarasiri said.
The tourism industry has been affected as this road is used by local and foreign tourists to visit Ella via Nuwara Eliya, which is a major local tourist attraction.
Residents of the area say there was a rock embankment on this location during British times. It was removed when the road was widened, causing frequent landslides. 
Pictures show the road renovation in progress..
Follow @timesonlinelk
comments powered by

Disqus