Dengue: Take it more seriously, say health officials
View(s):

Eleven year-old Sanduni Apsara from Borelesgamuwa was excited about getting back to school on January 2, the first day of term for the New Year. She wanted to show off the new pencil case she got during the school break to her class mates.

However, this was not to be. On December 28 (Friday), Sanduni was rushed to hospital where she breathed her last, the latest victim of the killer dengue disease that claimed at least 200 lives last year.

Both Sanduni and her brother had contracted a high fever that day and their mother had obtained medicine from a neighbourhood medical practitioner. But when the fever showed no signs of abating the worried mother had rushed them to the Colombo South Teaching Hospital (Kalubowila) where the siblings were admitted to the same ward.

"The doctors assured us it was a viral fever. My husband had to take the blood samples to a private laboratory, as the hospital did not have the facilities," a grief-stricken Ms. Perera recalled.

After hours of battling for her life, Sanduni was transferred to the ICU where she was pronounced dead. Her brother Rashika recovered after two days of treatment.

According to the Health Ministry Epidemiology Unit 44, 214 cases of dengue were reported from various parts of the country last year, compared to 28,473 cases in 2011. The number in Colombo district exceeded 10,000 last year with most of them being reported from suburban areas such as Dehiwala, Borelesgamuwa, and Wattala.

Gampaha, Ratnapura and Kurunegala districts too recorded a high number of cases and deaths.Health Ministry Chief Epidemiologist Dr Paba Palihawadana said the incidence of dengue showed an increasing trend throughout the year.

The growing population density in urban and semi urban areas increased the risk of infection, she warned, adding that around 46 per cent of the cases reported last year were from the Western Province.

More disturbingly, Dr. Palihawadana charged that some of the ministries within the Presidential Task Force for Dengue Control extended very little support to curb the disease.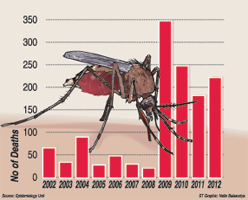 "People need to take dengue more seriously. It should be treated as a serious threat to health. Treat every mosquito as a potential killer," said Western Province Health Director Dr. Harsha de Silva. He added that under the new dengue control statue enacted under the Public Nuisance Ordinance, health officers could be deployed in Colombo, Gampaha and Kalutara and they could impose a spot fine ranging from Rs. 500 to Rs. 3,000 to owners of properties that had potential mosquito breeding sites. 
If the matter goes to court the guilty party could even face fines ranging from 25,000 to Rs. 50,000, especially for repeated offences and even face a maximum six month prison term.
"These kinds of policies have worked well in Singapore and Australia," said Dr. de Silva, who hopes the severity of the punishments will result in citizens being more diligent about preventing the spread of this potentially deadly disease.
Commenting on a government initiative to spray larvicide BTI bacteria over high-rise buildings, to be implemented later this month, he said, "It is a good approach and it can prevent mosquito larvae development for up to a month, but nothing can supersede physical cleaning of the environment."
Colombo Municipal Council Chief Medical Officer (CM0) Pradeep Kariyawasam said his officers were working hard to clear mosquito breeding grounds in Colombo city but with only 300 personnel available it was proving to be increasingly difficult to thoroughly inspect the 120,000 residencies in the city.
"The number of dengue cases in Colombo has increased over tenfold in the past 10 years, but my staff numbers have decreased," he said, adding that as a result it was difficult to sustain dengue control programmes throughout the year and the rise the number of dengue patients could very well be due to 'end of the year' lethargy.
The CMO stressed the need for a collective effort among the CMC, the government and the general public. "Government institutions need to look after their own land as they generally have large land parcels, and residents need to take care of their homes, leaving roads, parks and other common areas for us," Dr. Kariyawasam said.
Be alert to signs of DHF
Most patients recover from Dengue fever in about three-to four days but some may contract the more dangerous Dengue Haemorrhagic Fever (DHF), which can even lead to death.

A person suffering from DHF would show normal symptoms of a dengue fever in addition to other symptoms such as bleeding from the nose or gums, brown or black vomit or faeces (stools), severe stomach ache, coldness of body, paleness of body, restlessness and drowsiness. 

If a person shows these symptoms he/she should be taken to hospital immediately.
Dengue symptoms
High fever

Headache

Rash

Muscle and joint pains

Vomiting
Treatment
Consult a qualified doctor

Take a lot of rest

Drink plenty of fluids 

Take a nutritious diet

Do not go to school or work with dengue fever
Follow @timesonlinelk
comments powered by

Disqus