O.M.G.: No standing still
View(s):

Bringing together musicians, artists, designers and producers, Oh My Goat 2012 promises to be an audio-visual haven for EDM enthusiasts.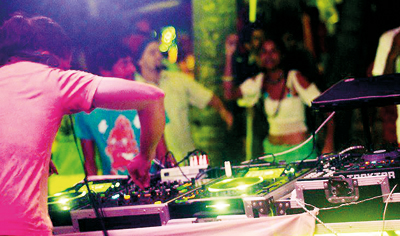 IOh My Goat 2012 will be a collaboration of musicians, artists, designers and producers, bringing EDM enthusiasts the most up-to-date- music in an amazing location – Vihara Mahadevi Park.
Starting at 11 a.m., the morning/afternoon session will allow you to kick back and get into the groove of things with the soothing chill-out tunes of a selection of artists – from TypeB, playing deep, tech and bass; and Rudiculous, featuring Maria on vocals; to Daham, who will get you up to speed with psy-bient and lounge music and live drumming. The sundown session – from 4 to 7 p.m. – will feature DJ Tareeq (drum and bass) and Sunara (glitch hop, nu-jazz, funk and breaks) to provide an eclectic warm-up as we head into the night.
O.M.G.'s peak-time session (from 7 p.m. to 12.30 a.m.) will feature some of the best DJs in Sri Lanka, in addition to guest performances. Asvajit and Shiyam will take things to the next level with explosive electronic dance grooves, . Supporting them will be Geve and Twigs who will also take to the console to mix it up with tech-trance, psy-grooves, techno and dubstep.
O.M.G.'s much anticipated guest performance features BLOT. An acronym for 'Basic Love Of Things', BLOT is a Delhi-based live performance audio video ensemble by Gaurav Malaker and Avinash Kumar, supported by a network of artists. Blending their sound and music, BLOT's visual experience is a mixture of film-making techniques and stop-motion animations and graphics.
O.M.G is on at Viharamahadevi Park on December 21. Tickets will be sold at the gate as well as beforehand, so watch Bang Bang's Facebook event page for ticket availability, special deals and other information look up their FB page.
Follow @timesonlinelk
comments powered by

Disqus