'Ini-Avan' on screen
By Susitha R. Fernando
View(s):
Asoka Handagama's latest movie Ini-Avan (Him, Here After) which has already won rave reviews in international circles will be released from December 21, 2012.
Having screened at prestigious international film festivals such as Cannes, Toronto, Tokyo and many more the film will be widely released island-wide including Jaffna. Ini Avan will be the first movie made in Sri Lanka to be released to theatres without language distinction ; Sinhala- Tamil. The film has been critically acclaimed in the festivals at which it was shown.
In the aftermath/hereafter of the war, the titular "Avan" ("Him"), an unnamed LTTE soldier, comes home from a government rehabilitation camp hoping to find meaningful work, reconnect with his lost love, and create a new life as an "iniavan" in his old village. But the village has turned against Avan and the separatist cause he fought for.
From the first moments in the film, his old neighbours, all believably portrayed by amateur actors, stare at him in disapproving silence, and a child runs away from him. An old man comes to shout that Avan "killed" the man's sons by luring them into the LTTE; we learn that he recruited everyone in the village who supported the cause, and they all died in the war. It was only Avan who survived to return and face those who were left behind to mourn their relatives while living in fear of LTTE extortion and government violence. He doesn't want to face them, though. When anyone tries to talk to him, he replies, "piraiyosanam illai": "no point".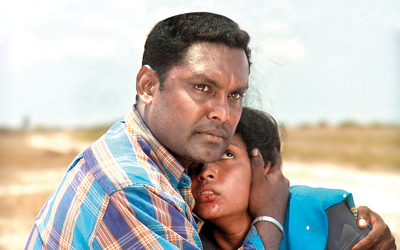 The film was earlier screened at the Contemporary World Cinema section of the Toronto International Film Festival (TIFF). Ini- Avan is one of the five films selected for in-depth discussions with the audience conducted by the University of Toronto. A scholar from the university's Munk School of Global Affairs will have an expanded conversation about the film.
'Ini Avan' cast includes Darshan Dharmaraj, Niranjani Shanmugaraja, Subashini Balasubramaniun, Raja Ganeshan, Malcolm Machado and King Rathnam. Cinematography is by veteran Channa Deshapriya, music by Kapila Poogala Arachchi, art direction by Sunil Wijerathne. For E-Culture Productions, Ini Avan is co-produced by Jagath Wellawatte and Anusa Fernando.
Follow @timesonlinelk
comments powered by

Disqus