EAM leaves President in the cold
View(s):

Leave alone major diplomatic issues, the fact that the External Affairs Ministry has sunk to such low depths in efficiency, is no secret.

Minister G.L. Peiris or his mandarins there were able to correctly advise President Mahinda Rajapaksa that he was arriving in the Kazakhstan capital of Astana in below zero temperatures. That was during the three-day official visit to that country, once a part of the now dismembered Soviet Union.

The discomfort of Rajapaksa was noticed by none other than the Kazakh President, Nursultan Nazarbayev. Just hours after arriving in Astana, Rajapaksa and his entourage were at a cultural show to mark 20 years of diplomatic ties between the two countries.

President Nazarbayev hurriedly looked for Sri Lanka's Moscow ambassador who is also accredited to Astana, restaurateur turned diplomat, Udayanga Weeratunga. It was not difficult for his aides to locate him. Weeratunga had worn a flame red national dress and stood out in the crowd like a performing artiste. "When I saw your President's dress, I thought he was feeling the cold. We should not allow him to be uncomfortable," Nazarbayev told Weeratunga.

Not surprising, since the temperature by then was a minus 10 degrees Celsius. The Kazakh President asked Weeratunga for the size of Rajapaksa's clothes. Even without measuring, the Sri Lankan envoy knew the size and rattled off.

The next day, Rajapaksa received three different, finely tailored winter coats and matching head gear. Kitted in the gear, Rajapaksa met Nazarbayev the next morning. The Kazakh President asked, "Your Excellency, what would you like to have for lunch." Rajapaksa replied "I am vegetarian this week." President Nazerbayev assured that his wish would be granted and there was indeed a spread of Kazakh vegetarian specialities.

For the others in the entourage, there was a choice of meat. There was even yak yoghurt though it was not known whether it was the same quality an expert offered to Nazarbayev to stay younger for several more years.

Be it below zero temperatures or burning heat in one country or the other, the EAM is unable to brief the President, when he plans a visit. As one wag in the EAM remarked, other than the media statements, there is little else in the form of reports that are being distributed.

Whilst Rajapaksa was in Kazakhstan, the Janatha Vimukthi Peramuna (JVP) leader, Somawansa Amerasinghe, was in Azerbaijan — another former State of the Soviet Union. He is attending an International Conference of Asian Political Parties which are holding their seventh meeting in the Azerbaijan capital of Baku. In his absence, party secretary Tilvin Silva chaired a meeting of the political bureau in Sri Lanka.

Hair-raising joke at Sajith's expense

Beneath the bitter rivalry between Government politicians and those in the Opposition, there is also some camaraderie.

UPFA Parliamentarians Namal Rajapaksa, Udith Loku Bandara, Shantha Bandara and Minister Mahindananda Aluthgamage were at a table in the Parliament canteen. They were engrossed in a conversation after lunch when UNP Deputy Leader Sajith Premadasa happened to pass by.

Bandara told Premadasa there was a blond strand of hair on his back. "Vihilu karannethuwa inna (Don't joke), replied Premadasa. Namal intervened to say "Nehe nehe, athathatama thiyenawa (Seriously, there is one).Then Namal took the hair from Premadasa's back.

Holding the hair by his thumb and index finger, Minister Aluthgamage walked towards Rosy Senanayake (UNP) who was having lunch in another table. He asked her "Mey oba thumiyage da? (Is this yours?).
Premadasa, Rosy and the foursome at the table had a good laugh, but the question remained unanswered.

Security scare over CJ's lawyers

The lawyers accompanying Chief Justice Shirani Bandaranayake to Friday's first hearings of the Parliamentary Select Committee unintentionally caused a security breach in Parliament.

As they walked through the public entrance accompanied by two suitcases full of law books and reference material, they went unnoticed. They had even got into the lift to go to the upper floor where the committee rooms are located.

A police officer who noticed it a bit too late literally gave chase. He had it opened on the upper floor and found to his amazement that they were bagful of briefs. The suitcases were security-cleared immediately.

Ghosts after Welikada gun battles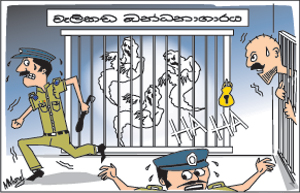 The spectre of ghosts seems to be haunting prison staff working on night shifts at the Welikada Jail.
This was after the prison mutiny that ended with 27 deaths. One of the jailors has complained that he heard screaming sounds in the cells where shooting took place.
A second said he was "touched by a headless ghost." A third complained that a killed inmate, familiar to him, had asked for a lighter.
Prison authorities are now planning a pirith ceremony.
Laptops, loans and white vans
Some media personnel recently received free laptops and Rs 1.2 million interest-free loans each to purchase vehicles.
A witty politician in the main opposition United National Party (UNP) told journalists who did not seek the two giveaways from the state that there was more on offer. If he was interested, the politician said, "There were white vans on offer."
Toughies wanted to send CJ in bus
Saner counsel prevailed when some ruling party politicians wanted to give Chief Justice Shirani Bandaranaike a rough ride when she arrived in Parliament.
It was to attend the Parliamentary Select Committee meeting probing allegations against her.The suggestion was to make her to travel in the bus once she arrives at the main guard point to cross the roadway that divides Diyawanna Oya. The bus service is operative for the media, officials and visitors. Only MPs or special invitees are permitted to take their vehicles in, a security procedure in place since the 'war years'.
More responsible among the lot said they should not do anything that would devalue the office of the Chief Justice and bring disrepute to the Government. Bandaranayake remained the Chief Justice of the country and was entitled to all the respect that went with that office. The toughies could not have their way.
Three-hour drama outside Parliament committee room
As the Parliamentary Select Committee probing Chief Justice Shirani Bandaranayake was gathering in Committee Room One of the Parliament complex, media personnel were having an altogether different experience.
They waited for almost three hours in a waiting room outside watching the goings on. Curious Government and Opposition Parliamentarians swung by the area.
One was the former Tiger guerrilla eastern commander, Vinayagamoorthy Muralitharan. Asked to comment on Chief Justice Bandaranayake, he quipped "everybody loves her".
Minister Jagath Pushpakumara was generous enough to order tea for the waiting media. Then came another scene in the drama.
UNP Parliamentarians Sajith Premadasa, Rosy Senanayake, Palitha Range Bandara and Sujeeva Senasinghe made a beeline to wish the Chief Justice. That was just before the PSC sessions began.
2012 deadliest year for journalist
During a United Nations-led meeting in Vienna last week, the world body and its partners renewed their pledge to improve safety for journalists and prosecute those who commit acts against them through a new plan to protect media workers.
The UN Plan of Action on the Safety of Journalists and the Issue of Impunity follows two days of discussions by UN agencies, independent experts, governments, media groups, and civil society organisations on the most pressing issues facing freedom of expression, during the 2nd UN Inter-Agency Meeting on the Safety of Journalists and the Issue of Impunity.
More than 100 journalists have been killed so far this year, making 2012 the deadliest year for media since the UN Educational, Scientific and Cultural Organisation (UNESCO) began keeping records on the issue.
The new action plan outlines more than 100 areas of work that different UN agencies and civil society groups intend to contribute to securing the safety of journalists, and will operate at the national and global level.
Activities that will be implemented as a result of the plan include: helping governments develop laws on safeguarding journalists, raising awareness so that citizens understand the damage done when a journalist's rights to freedom of expression is curtailed, providing training courses for journalists in safety and safety online, establishing real-time emergency response mechanisms and strengthening the safety of journalists in conflict zones, among others.
The plan also calls for enhancing protection for women journalists in response to the increasing incidence of sexual harassment and rape, decriminalising defamation offences and encouraging adequate remuneration for full-time and freelance employees.
Wedding brings UNP rivals to common table
If a political round table of the trio to resolve differences was not possible so far, there was a social one where they engaged in light hearted banter. UNP leader Ranil Wicremesinghe sat at the same table as his deputy, Sajith Premadasa and erstwhile deputy Karu Jayasuriya. The occasion was the wedding of Bandarawela Urban Council Chairman W.A. Premachandra  at the Bandarawela Hotel on Friday.
Sports Minister and Harsha in cake play
It was Sports Minister Mahindananda Aluthgamage's birthday last Wednesday. His ministerial and Parliamentary colleagues arranged a party in the Parliament Canteen.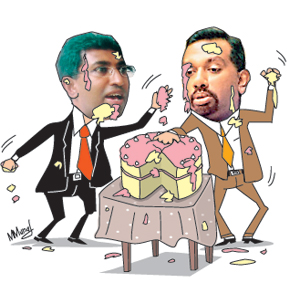 Also invited was UNP Parliamentarian Harsha de Silva, a classmate of Aluthgamage at Royal College.
As the party was underway, Aluthgamage shouted "Mehe vareng ombata cake kallak kavanna (or come here, I want to feed you a piece of cake).
As de Silva went closer, Aluthgamage put his arms around him and rubbed a piece of cake all over his face. A while later, de Silva had the opportunity of returning the favour on the birthday boy, much to the amusement of all those present.
A wag at the party cracked paraphrasing Queen Marie Antoneitte's infamous words that led to the French Revolution; "paan naththam kayk muney gaapan" (If there's no bread, rub cake all over the face).
Follow @timesonlinelk
comments powered by

Disqus