CJ steals the show in Parliament
By Chandani Kirinde, Our Lobby Correspondent, Pic by M.A. Pushpa Kumara
= SB, 'co-conspirators' of CJ's impeachment want their say with the PSC while Opposition stresses on independence of Judiciary
View(s):
The first week of Committee Stage debates of the Appropriation Bill, where Government policies and plans for several important ministries for next year were discussed, were largely overshadowed by the visit to Parliament of Chief Justice (CJ) Shirani Bandaranayake on Friday, to appear before the Parliamentary Select Committee (PSC) set up to probe several charges against her.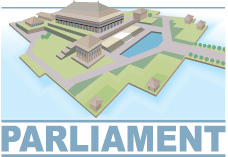 Looking unruffled and confident, CJ Bandaranayake, accompanied by six lawyers came to the Legislature.
Among those awaiting her arrival at the Parliament's public entrance, were a large number of journalists, to cover the day's Parliamentary proceedings.
The 11-member PSC, headed by Minister Anura Priyadharshana Yapa, began at the scheduled time of 10.30 am. It was held behind closed doors and restricted to a few members of the Parliament staff assigned to assist the Committee.
While the Committee concluded the day's sittings by 1.00 pm, and fixed December 4 for the next meeting, there was an unusual development later that day, with several Government members hurriedly organising a press conference at the Parliament complex.
Higher Education Minister S.B. Dissanayaka, speaking on behalf of the 117 members who signed the motion to impeach the CJ, said that, they too needed an opportunity to appear before the Committee to state their case. "We believe the Committee will conduct itself in an impartial and independent manner. Those of us who signed the motion, should also be given the opportunity to go before it," he said.
The press briefing was held despite a request made previously by Speaker Chamal Rajapaksa, for all MPs to refrain from making public comments related to the PSC sittings. Minister John Seneviratna speaking at the briefing, said that, while ruling party members have been asked not to comment on the Committee's proceedings, there were members of the Judiciary and legal fraternity making comments, holding protests etc., and these too need to be stopped.
"The Supreme Court should not interfere with the ongoing process, as it is being done constitutionally," Minister Lakshman Seneviratne said at the briefing.
On Monday, when the votes of the President, as well as the 20 other government institutions including the Supreme Court, were taken up for debate, several Opposition legislators spoke on the need to ensure that the Judiciary is allowed to function independently, without political influence.
Opposition Leader Ranil Wickremesinghe emphasised the need for the Executive, the Legislature and the Judiciary to work in unison. "If we do not work in harmony, people's confidence in these institutions will be eroded," he said.
Chief Government Whip Minister Dinesh Gunawardena winding up the debate, however, said that, the Government was ready to resist any challenge to the supremacy of Parliament. "The supremacy of Parliament is important to all of us here, and we have to resist any attempts to devalue it," he said.
Follow @timesonlinelk
comments powered by

Disqus