Letters to the Editor
View(s):

Bread and circuses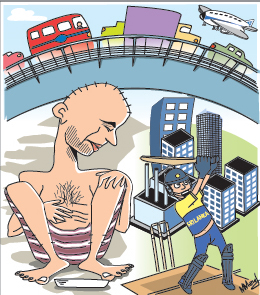 Rome with bread and circus-shows,
Distracted citizens from their woes.
Our rulers employ the ploys of Rome,
To beguile the hoi-polloi at home
With cricket, rugger, racing-cars,
Lavish pageants and Bollywood stars.
Highways, freeways, their priority need,
To travel fast at breakneck speed,
Harbours, airports, stadiums, what not,
At god-forsaken Hambantot.
Slums and shanties demolished,
Colombo beautified, neat and polished.
Five-star hotels, apartments- high-rise,
Posh boutique-chalets at a price.
Lanka, touted 'Island Paradise',
'Millions' of tourists will entice.
The helpless taxpayer pays the price,
With tightened belt and self-sacrifice.
Lanka's leaders go on blundering,
The nation's wealth keep plundering,
Crime and hunger are widespread.
We have the circuses, not the bread !
Derrick Mendis, Negombo
Thank you for giving us this freedom    
A prayer for our War heroes on memorial day, Poppy day- November 11 dedicated worldwide to remember soldiers who died in the line of duty.
" Wars may be fought by weapons but they are won by men"
They didn't wish tributes or songs, monuments or poems"; their wish was simple:
"Remember why we died."
We give thanks to You Lord, for the gift and blessing of the freedom we enjoy in our great nation.  For the courageous self-sacrifice and generous spirit of countless soldiers who have given their life's blood in the defence of freedom and for the pursuit of justice in Sri Lanka.
Heal those whose heroism has cost them in mind and body. Give your eternal peace to those who have gone from this life. Bless them and their families for the selfless acts they performed for us in our time of need.
We thank you for the heroes in this nation.  They remained true to their ideals, during their service to Sri Lanka.
They represented what our country stands for, their uniform was a symbol of duty and valour both in peace and in war. They took up arms to defend what all Sri Lankans hold dear: life, liberty.
They had the strength to live according to these ideals, the courage of their convictions and they resolved to endure whatever dangers that threatened them. With you, Lord by their side they feared no evil and resisted every enemy. They leave for the next generation a better world.
Elizabeth Jayasekera, Via email
Deserting our motherland in droves
It seems most of the skilled and educated people in Sri Lanka are weighing the options of leaving the country–some for higher studies, others for employment. Either way a large number of talented people are contemplating leaving the country for good.
The most popular destinations appear to be Australia, the US, and Middle East and of recent times Korea. A majority are in search of employment as the job market in Sri Lanka is saturated or the pay is poor. The majority of the students go for higher education. They consist mainly of children who were unfortunate not to make it to local universities.
Of recent times even the ones who do get adequate scores to enter here apply to foreign universities as they feel local universities take up too much time of their adult life. Why waste four to five years here when you can get a degree in three years abroad, they argue. Especially with strikes and sudden closures the stay at a local university can be prolonged. By the time they graduate the best years of their lives would have passed.
This is a dilemma that the country faces as given the opportunity most would gladly take the trip without a second thought. If this trend continues Sri Lanka's future development appears bleak. The government spends millions on free education and social welfare hoping to raise intellectuals and skilled professionals who will take the country forward. But when those individuals leave the country in droves and provide their service elsewhere it does not augur well for the motherland, especially when those who leave are reluctant to return.
Jayanka De Silva, Moratuwa
Insurance companies must do their bit for indigent elders
In the aftermath of the recently held National Insurance Congress with its commitment to professionalism, I would like to invite Insurance Companies to focus also on further widening and making ethical the end results of their professionalism.
It is natural that for advancement of their public business and earnings, professionalism is a key factor, but what about those outside the pale of insurance and whose lives are ebbing away? I refer to our indigent elders in a fast ageing population, many of whom have given yeoman service to the community and to the nation but seem to be now relegated to the shelf as it were and have little to look forward to in the twilight of their lives even in terms of a modicum of health.
I append a simple, modest scheme which I have recommended to several Insurance Companies as well as to the Ministry of Social Services to which I have also suggested ways and means of raising support funds from both the public and private sectors. I believe that the proposal can be converted into a scheme to fill the lacuna in respect of elders which would at the same time earn Sri Lankan Insurance a well deserved moral image which will not only boost their business but also bring happiness to our elders who, together with children, form the two ends of the spectrum of life.
Politicians would do well to remember that elders, unlike children, have a vote! Let professionalism prevail and expedite action on a scheme which will bring a light to the eyes and a smile to the lips of elders which will be a worthy and immeasurable reward that would promote Insurance as a Business with a Heart.
Addressing a media conference in anticipation of World Health Day on April 4 this year, the WHO Country Director in Sri Lanka, Dr. F.R. Mehta, stated that between 2000 and 2050, the world's population over 60 years is expected to increase from 605 million to 2 billion and that one of the decisive transformations during this period was population ageing. Dr. Mehta explained that the elderly, if not seriously protected, socially accepted and psychologically confident, would see their lives reduced to existence without purpose which he likened to be tantamount to a vegetative existence or social death. With their best years gone, companions departed and no one to share and care, they would tend to consider themselves as of no use to society.
With such a dire prospect facing Sri Lanka as a fast ageing country, the least our society could do for them, many of whom have rendered yeoman service to it, is to at least offer them a special Health Insurance Scheme as many of them have neither pension nor are beneficiaries of an Insurance Scheme and are overage to start contributing to one. Therefore, State / CSR funds should be used to start off a Special Health Insurance Scheme so that they could live out the few years left to them in good health.
The Scheme could be limited initially to about a 1000 elders in which hospitals, which are healthcare providers should join in offering their services, in a dual way:
[i]monthly for prescribed needs, such as drugs, in a modest sum and
[ii] a generous sum annually for meeting an ad hoc expensive medical need and/or requiring hospitalization.
Manel Abeysekera, Founder member, NGO Forum on Ageing
Follow @timesonlinelk
comments powered by

Disqus