Letters to the editor
View(s):

A few commonsense solutions to traffic congestion

Traffic congestion along main arterial roads –A1, A2, A3 and so on – especially at peak hours, has reached unacceptable levels. The average income-earner who commutes to work and back home using public transport spends hours on the road. Those who live 20 to 30 kilometres outside Colombo spend between five and six hours a day on the road.

There are studies to show that people suffer daily economic losses because of road congestion.The negative effects of urban motorised mobility growth should be addressed in any country with a large population that commutes to work.

A well-thought out strategy for managing and mitigating these negative effects should run parallel with development and other economic activities. If we can find economically affordable and sustainable options for most things, why shouldn't we find such solutions to mitigate congestion?

There are several problems that await immediate action. For example, consider the traffic inflow on A1 and A3. Are we effectively using the available corridors to distribute incoming and outgoing traffic flow (see Diagram 1)? We can easily siphon off traffic along the A1 and A3 into available transport corridors. We could also use a high-speed passenger boat service along the Dutch canal to ease motorised traffic congestion.

The accompanying photographs show that bridges 1 and 4 are under-utilised. They carry less than 20 per cent of their capacity, even at peak hours. The new rail bridge that was completed in 2006 remains unused because there are no approaches.

An alternative approach to mitigating urban congestion is to go for affordable intelligent transport demand management strategies.

Once the Colombo-Katunayake expressway is completed, the state of congestion we experience today at the New Kelani Bridge will remain unchanged, but timely completion of the affordable options suggested here will reduce congestion at the Kelani Bridge to some degree.

My next concern is why professional organizations with so many transport planners, economists and designers cannot develop a country-specific integrated transport development strategic plan and a prioritized action plan.

Professionals are being henchmen to politicians, bending in all directions to please, saying "yes" to anything a politician says.

It is high time our so-called professionals, public and private sector, got real.

Tharaka Uduwithana, via email

If Kandy is our 'second capital', why do we have to come to Colombo to get things done?

Kandy, or "Mahanuwara", or "Senkadagala Siriwardhana," is the so-called second capital of the Democratic Socialist Republic of Sri Lanka. The name means "great city of Senkadagala, growing in resplendence."
I was born in Kandy and have lived there all my life, for the past 23 years. If Kandy is the country's second capital, I have never felt that way.

Kandy has not lived up to its second-capital status. Kandy is backward, in the sense that its infrastructure is old, even ancient, and the available urban facilities are very limited.

All my life, to get any piece of official work done, whether it be private or government-related, I have had to come down to Colombo to get it done. I could never get it done in Kandy. This is indeed very inconvenient for us Kandy citizens. If Kandy is to be declared the country's second capital, it should possess at least some major government offices, with all the facilities.

Kandy should have the one-day services you have in Colombo, in order to obtain a passport or education certificates, or other vital documents.

Kandy's image as a "second capital" is demolished with a single visit to the bus stands or the vegetable market. These places have not been developed in the last 15 years. The presence of trishaw stands in and around the city has resulted in more traffic congestion in an already congested city.

A recent survey conducted by the Sri Lankan Tourist Board suggests that Kandy has "overtaken Colombo" by earning the title "Most Favourite Destination of Tourists." Yes, it is the best city in Sri Lanka, but only because of its natural beauty. Tourists exclaim over the breathtaking views in the hill capital.

We applaud the idea of moving Kandy's administrative work to Pallekele, leaving the heart of town less congested, and transforming the prison in the middle of the town into a urban multipurpose complex. We also appreciate the transformation of William Gopallawa Street into a four lane highway, and the construction of the Katugasthota Bridge. It is good to see road construction under way between Getambe, Katugasthota and Gohagoda.

I studied the massive Kandy development plan, but it looked more like an election gimmick. The brochure made no mention of launch dates.

Rome was not built in one day, and we don't expect Kandy to develop overnight, but the fact is that an incalculable number of nights have passed and there has been no major development of Kandy. Although I have focused on Kandy, I would like to see the entire country developed as a whole. I am Kandyan and I love Kandy very much, but my Motherland, Sri Lanka, comes first.

It is great to see the vast development of Colombo city. All credit goes to the Government and the Colombo Municipal Council. The state should simultaneously develop other parts of the country. Colombo, Kandy, Galle and other big towns should all be simultaneously developed. The overall development of the country would be a big boost to the nation's morale.

Chinthana S Thanthirige, National Institute of Technology, Jamshedpur, India

Halloluwa tunnel needs safety check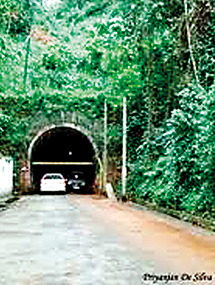 This inter-monsoonal season has brought very heavy rainfall to Kandy, where enormous trees on hillsides have been uprooted and earthslips dot the water-logged landscape.
The Halloluwa tunnel, which goes back to British times in the 1800s, continues to provide access from Kandy town to Anniwatte and Dodamwela. A recent earthslip blocked access to the tunnel.
I believe this facility comes under the Kandy Municipal Council. Has the KMC employed any geologists or rock engineers to conduct modern compression testing of the rock, or measured its weathering qualities?
During a recent visit, I noticed that there is perennial water seepage through the natural rock and concrete-reinforced centre from the mass of soil of the wooded hill above.
It would be wise to study the structural stability of the rock body, and to look for any cracks, folds, faults or chemical deterioration. A certification notice posted at the entrance would do much for the commuters' peace of mind.
Lasantha Pethiyagoda, Australia
Follow @timesonlinelk
comments powered by

Disqus