Reuniting under the 'Power of One'
By Shalomi Daniel
The fifth Unity Camp will bring together 500 former participants in the mission team's ongoing quest for reconciliation

View(s):
For the first few hours, shy glances are exchanged and awkward silence is the order of the day. However, very soon the ice is broken and on the last day, tears flow freely as the campers are loathe to leave, having forged strong bonds and lasting friendships.
"You go to camp not knowing what to expect and thinking you are in for a very hard three days. By the end of camp however, you feel you have known each other for years," shares Mihiri Weerasekera speaking of her experience at the Ekamuthu Oray Makkal Unity Camp.
The Unity Mission Team, formed in 2009, comprises a group of professionals and young volunteers, who on a voluntary basis and on an inter-faith platform, work towards achieving unity and reconciliation especially amongst Sri Lankan teenagers and young adults. Four successful unity camps have been held so far, bringing together youth from various parts of the island.
Now, they are all set for the fifth Ekamuthu Oray Makkal Unity Camp to be held from October 26 to 29 in Kandy.
"We seek to build bridges and cultivate leadership and confidence amongst the youth," says co-coordinator, Bertal Pinto-Jayawardena adding that the camp had received the blessings of various religious leaders.
From sports events to drama, speech and singing competitions, the camp has not only fostered unity, but has also unearthed the immense talent and potential found in Sri Lankan youth.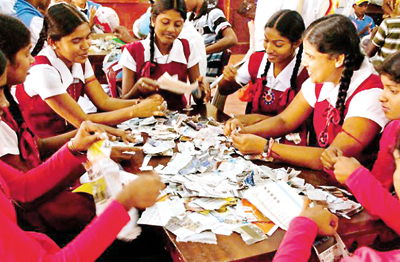 Unity Camp Five, under the theme – 'Power of One' – will see the participation of approximately 500 young people. This time, the participants will mainly be former campers, as well as those who have just completed their Advanced Level exams and outstanding students with a desire to contribute towards fostering unity and reconcilliation.
"It is more of a reunion this time as former campers will be participating," says a member of the organising committee, Dushanthi Weerasekera, adding that guest speakers are being invited to address and motivate the youths.
"We are including those who have just completed their A'Ls, so that they have the opportunity to grow into youth leaders before they step out into the world," adds Bertal.
The Unity Mission Team will be reaching greater heights this time – literally. As the previous camps except the very first one were held in the North, those from the North wished to visit other parts of the country and asked if the camp may be held elsewhere.
"I was really happy participating in the camp last time and I will be attending the camp in Kandy too," says 15-year-old Kuveniya Kumaraswami from Mullaitivu, who stunned others with her musical talents composing two songs which were performed at the camp.
Lasting friendships are forged and even when the camp is over, the campers keep in touch with each other and even visit those who live nearby. In an effort to take this network of friendship one step further, 'Zoom-In' was initiated recently, with the aim of enabling past campers in different regions to get together to help and support each other as well as the Unity Mission Team in general.
"We started in Colombo and hope to initiate 'Zoom-In' in the other regions too following the upcoming camp," shares Dushanthi.
Want to help?
Conducting a camp of such magnitude inevitably means high expenses. The estimated cost this time is approximately Rs 2 million.
"This is an investment in Sri Lanka's future and well-wishers can lend a hand by sponsoring either the whole or part of the expenses of one child which amounts to Rs 4500," says Bertal.
The funds will be used to sponsor children for the camp, identify students for scholarship programmes, building up hope and a positive mindset for the future while fostering unity, healing and reconcilliation.
For more information on the Unity Mission and how you can help, log on to www.unitymission.lk or mail info@unitymission.lk or visit 'Unity Mission Trust' on facebook.
Follow @timesonlinelk
comments powered by

Disqus