Sacred moments
By Shalomi Daniel, Pix by Indika Handuwala and N. Kumarasinghe
People flock to pay homage to the venerated Kapilavastu Relics that are being taken to 7 places around the country
View(s):
Clad in white, bearing flowers, hundreds of men, women and children gathered in large numbers to pay homage to the Sacred Kapilavastu Relics, which were brought to Sri Lanka from India on August 19. It is 34 years since the Sacred Relics were last brought in 1978 and made headlines here.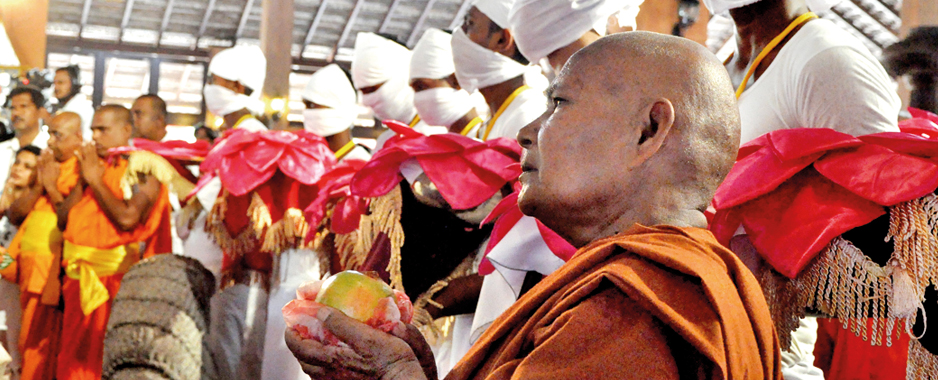 The Sakyas of Kapilavastu had been among the eight recipients of the Relics of Gautama Buddha. Scholars including Buhler, Barth and Rhys Davids are of the opinion that the stupa at Piprahwa in the Basti District, Uttar Pradesh is one and the same as mentioned in the Buddhist text, Mahaparinibbana sutta, that the Sakyas of Kapilavastu erected over their share of the Sacred Relics.
In 1898, a casket had been discovered by W.C. Peppe bearing an inscription which was considered to be one of the earliest in Brahmi script. According to Rhys Davids the inscription referred to the Relics of Gautama Buddha and his community. Subsequent excavations by the Archaeological Survey of India from 1971 to 1977 led to the discovery of two more caskets containing 22 Sacred Relics which are now preserved in the National Museum in New Delhi.
"Four of these 22 Sacred Relics have been brought to Sri Lanka," said Buddha Sasana and Religious Affairs Ministry Coordinating Secretary U.M. Ranaweera explaining that the Relics were brought after a request by President Mahinda Rajapaksa to Indian Prime Minister Manmohan Singh in connection with the 2600th Sambuddhathwa Jayanthi.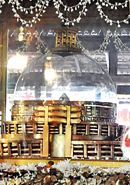 "The Relics need to be kept under specific humidity and temperature controls," he said, adding that much thought and hard work went in to making the arrangements.
When asked why the Relics are not being taken to the Dalada Maligawa which enshrines Lord Buddha's Sacred Tooth Relic, Mr. Ranaweera explained that there was no custom to do so.
The Sacred Kapilavastu Relics are being taken to seven places across the island during the 15 days here. They have already been taken to Kelaniya and Pelmadulla.
The Relics will be at the Sambuddha Jayanthi Viharaya in Anuradhapura till today (August 26), with the next stop being the Agrabodi Viharaya in Kantalai on August 27 and 28; the Sri Sambudda Jayanthi Temple, Naranwita, Gampola on August 29 and 30; the Sri Sumangala Pirivena, Wariyapola, on August 31 and September 1; and the Kotikagoda Rajamaha Viharaya, Matara from September 2 to 4.
The Relics were brought to Sri Lanka under the patronage of the Presidential Secretariat, the Defence and Urban Development Ministry and the Indian High Commission in Sri Lanka and the guidance of the Buddha Sasana and Religious Affairs Ministry.
In the past, they have also been taken to Mongolia, Singapore and South Korea for Buddhists in those countries to pay homage.
Follow @timesonlinelk
comments powered by

Disqus