Mediated: Come, see, observe and engage
An exhibition of pairing and creative collaboration among people in different fields curated by Sanjana Hattotuwa

View(s):
Can art engage those otherwise uninterested in vital social and political issues by creatively depicting hard data and theory? How would power sharing look through an architect's eyes? How would a graphic designer see youth unemployment? How would a DJ and visual artist see Sinhala and Tamil perceptions on peace and democracy? How would a celebrated artist depict religious tension?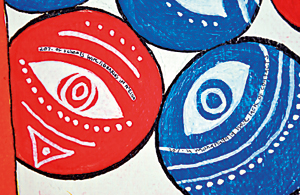 'Mediated' pairs four subject matter experts with three artists and a professional architect. Each of the subject matter experts is widely published, but has never worked with artists or recognised art as a medium through which to communicate their ideas.
Each of the artists is well known, but has never focused on the hard issues presented to them and in the manner they were asked to.
The architect involved had never worked before on the representation of power relations in a state through a plan drawing.
The exhibition is a result of this pairing and creative collaboration and is really a work in progress. What you see on display is a dashboard, the proverbial tip of the iceberg. If one chooses to read into the art, and in some cases, literally read what is embedded in the art, there are pathways to learn more.
Even from a distance however, Mediated presents an aesthetic deeply shaped by the content it is derived from. How and how far one chooses to engage remain a personal choice.'Mediated' is an invitation to see, observe and engage.
This is the first exhibition at Saskia Fernando Gallery by a guest curator. Sanjana Hattotuwa has, over the years, become an integral part of the local art scene, through his interviews with artists, review of exhibitions, honest criticism and generous support.
This is not Hattotuwa's first project; the web-based Moving Images Asia in 2011 was an effort to present through photography and video, people and communities rarely acknowledged in Sri Lanka.
'Mediated' which opened at Saskia Fernando Gallery on August 23 will go on till September 20. For further information or an e-catalogue contact info@saskiafernandogallery.com. The gallery is open to the public daily.
Follow @timesonlinelk
comments powered by

Disqus