Could we have our peace and quiet back, please?
View(s):

My day used to start quietly. Until that eco-friendly multinational company sold its ice cream brand to a local supermarket chain. And their erstwhile ice cream vans went to the noisy street-stalking vendors who fondly imagine that suburban denizens begin their daily grind with a Cornetto or whatever it's called now.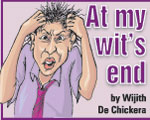 Actually sounds like a cross between a hornet in heat and a mosquito on steroids. The vans, dears, not the ice cream. At least to me, at six of the punctilious rooster's clock.
Which is when one stirs abed, shakes a leg or two there, and rises and shines – fully expecting to find that joy cometh in the morning. But no. Tum-te-tum, TUM-te-tum, tum-TE-TE-tum! (Repeat ad nauseam, ad infinitum…) Ho hum.
If it's not the ice cream man, it's the blessed baker's van. Taking a blue note out of the jazz trumpeter's scorebook, some enthusiastic neighbourhood bakery has invested in a hybrid vehicle (part trishaw, part torture chamber) to wake the dead in my southern borough. And to prove that imitation is the sincerest form of flattery, the other confectioners in the general area have cottoned on to the idea of rousing the hungry hordes with their own versions of loud blasts of singularly unmusical jingles. No less than five mini-juggernauts sound their stentorian clarion calls as they scurry along our lanes, avenues, and byways, like so many scurrilous heralds. The day the butcher and the grocer get in on this diseuphonious act, I'm moving to more peaceful surrounds.
But woe betide the common or garden ratepayer desirous of some peace and quiet! P&Q used to be the holy grail in pursuit of which we galloped at a canter or a trot out of the busy thoroughfares of our bustling metropolis (go with the sobriquet, would you), bound post-haste for greener pastures AKA suburbia.
But today, the residential quarters of the city's periphery are among the noisiest places on the planet. And if you think I exaggerate, try standing at our street corner on an average work-, school-, domestic enterprise-, consumer-affairs day – and you'll soon see what I mean. No, you will hear it, dears! That is, if you can bring yourself to hear your own noisy, annoyed, thoughts above the din and cacophony of a Jericho of car horns, police whistles, dogs barking at car horns and police whistles, ice cream vans, bakers' dozens of jalopies selling jam tarts, and souped up trishaws piled to the plimsoll line with cakes and sweetmeats masquerading as mobile torture chambers. I mean trishaws masquerading as mobile torture chambers, not cakes and sweetmeats masquerading as… but you know what I mean… TUM-te-tum, tum-te-TUM, TUM-te-te-TUM! (Repeat ad nauseam etc.)
Note that I am not alone in my annoyance. Sound citizens of tomorrow such as GCE A /Level students are now known to have had their delicate constitutions upset by egregious noise. Bad enough these poor scholars had to stomach bungling bureaucratic oafs who couldn't compute a Z-score with any more accuracy than they could teach their grand panjandrum to lay eggs (Do I mix my metaphors? Very well, then, I do! So sue me.).
Now, on top of botched exam papers, they have to suck it up and hear pointless political ogres campaigning loud and long for preferential votes – while they sit their exams. A noise annoys, dears! Especially if you're in the middle of your all-important A's and couldn't give a tinker's curse for which curmudgeonly politico was brazenly blowing his own chauvinistic trumpet. That's all these provincial polls are turning out to be: a race to elect the bigger bigot. Oh, pipe down, will you!
Where can one go to avail oneself of some soothing decibel levels so vital for vim and vigour in our modern fast-paced life amidst the hectic hurly-burly? Nowhere, really. The hustle and bustle of pedestrianism is counterpointed almost everywhere by the plebeian groans of crowded buses and the proletarian creaks of commuter trains. Even patrician convoys and luxury sedans and saloons drive on their horns and sirens, and the silent threat of safety-off machine-guns waiting to start a death-rattle in offenders' throats. Stop at a crossing for a taxpaying zebra user, and the diplodocus in the SUV just behind you will stand on his klaxon no sooner the light goes green.
Walk in a park or lightly forested enclosure – of which we have some nice ones now – and be bombarded by ghetto-blasters or gibbering baboons monkeying around on loud smart-phones. Work can be a cachinnating chat shop when the boss is away – or worse when he or she is in, and in on the din. Rest is impossible on a Sabbath even because of the burgeoning construction boom that is gripping suburbia in an epidemic.
And as for outer space, what with Rover poking around curiously on Mars and Voyager inquisitively beeping its way beyond the solar system into the galactic void, all the while tweeting its findings back home to humming, strumming, singing humanity, there's no sound of silence anywhere in the universe. There goes the cosmic neighbourhood!
Follow @timesonlinelk
comments powered by

Disqus