Eating out tonight? Beware of the water you drink
By Nadia Fazlulhaq
Shallow tube wells and corroded sewer lines contaminating Colombo city's water, warn health officials
View(s):
About 1.5 million people comprising both residents of Colombo city and those who visit it, are at risk of contracting typhoid and other water-borne diseases due to sewer water contaminating tube wells and even chlorinated pipe-borne water, health authorities warn.
Colombo Municipal Council Chief Medical Officer Dr. Pradeep Kariyawasam said the increase in the number of toilet pits was the main reason for contaminated ground water in the city.About 830,000 people come to the city daily while 700,000 are residents.
"Unfortunately, tube wells are used at hotels, restaurants, tourist guest houses, small eating houses and places that prepare lunch packets. As the tube wells are not dug deep enough and since most of the city's sewer lines are corroded the water gets contaminated," he said.
He said even the domestic water supply lines in the city were damaged and it was difficult to trace the fault as construction takes place over these lines.
"The quality of the main drinking water has improved. But the ground water is polluted; therefore even if the main supply water is clean, the individual lines cannot be checked once the water is released," he said.Dr. Kariyawasam said last year 38 tube wells were disconnected and some of the five star hotels that were using them had voluntarily disconnected their lines.
"We have done health checks on employees at some food outlets and despite warnings some food outlets have failed to vaccinate their employees who are possible carriers of bacteria," he said.
He asked the public to avoid drinking water at eating houses and instead consume bottled water and have more home-cooked meals.Meanwhile, National Water Supply and Drainage Board's Chief Chemist H.A.K. Amarakoon said about 1000 samples of water are collected from the city and tested monthly. In addition the samples are cross checked with the CMC Microbiology Unit. He said similar tests are carried out in 25 laboratories around the country.
"We also monitor the quality of the water transported to residences but only at some points," he said.
Water to Colombo city is supplied from Ambatale, Horana, Kalatuwawa, Labugama and Kelaniya South Bank treatment plants.
"The treatment process has five steps and the final ones are filtration and disinfection. This is called chlorination and chlorine gas-an oxidizing agent-is used to disinfect water and destroy organisms like bacteria. This is safe to drink as only a small percentage of chlorine is used," Mr. Amarakoon said.
He said tube well water is contaminated in the city as many of them are only 20 feet deep though it should be at least 50-60 feet.
"At 20 feet, the surface water is contaminated mainly because of old and damaged sewer lines. Therefore tube well water is not suitable for consumption or even to wash cutlery," he said.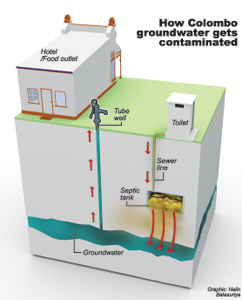 A senior official of the Water Supply Board said that some hotels claim they use tube well water for laundry purposes while some use a combination of both tube and tap water to wash cutlery and to cook."We can conduct awareness programmes but cannot take action. Only the health authorities can check and take action if the water is contaminated," he said.
According to the Health Ministry's Epidemiology Unit, annually about 1500 cases of typhoid are reported to state hospitals while about 3000 cases of hepatitis and dysentery are reported. But many cases are treated privately therefore the numbers could be higher. Typhoid and paratyphoid diseases are caused by the salmonella typhi bacteria and transmitted by the ingestion of food or water contaminated with the faeces of an infected person.
"Majority of the working youth in the country fall prey to typhoid and other water-borne diseases due to contaminated water, especially obtained from tube wells that are used at food outlets," Dr. Manjula Ratnabharathie who is in charge of community medicine at the Epidemiology Unit said.
She said persons with typhoid fever carry the bacteria in their bloodstream and intestinal tract and and become carriers of the disease. The bacteria is released in their stool.
Dr. Ratnabharathie said, one can get typhoid fever if one consumes food and drinks handled by a person with the bacteria or if the sewage contaminated with bacteria gets mixed in the water that is used.Mild to high fever, malaise, severe headache, nausea, diarrhea or constipation, anorexia (loss of appetite), enlarged spleen and liver, rose-coloured spots on the body are the symptoms of the disease.
Ministry of Health Deputy Director (Public Health) Dr. Sarath Amunugama said guidelines have been issued to provincial health authorities to check the quality of the water and food hygiene in places where tube wells are used.
Follow @timesonlinelk
comments powered by

Disqus