It's business as usual on the campaign trail!
View(s):

Mrs. Anumaana says elections give her a headache, because every time they take place the politicians and candidates go into a frenzy with their campaigning activities. With elections being called every few months, her headaches have predictably become more frequent. With three Provincial Council polls coming up in the Sabaragamuwa, North Central and Eastern provinces, she's having an especially trying time, because Sunil has got heavily involved in 'election work.'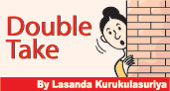 Sunil says his mother doesn't understand at all why elections are important. He has tried several times to explain to her how everyone benefits from an election. It's a win-win situation, he argues. Take for instance, the poster and cut-out artistes – their business doubles and triples at election time. They can even put up a cutout on a mountain or in a paddy field, as long as there's a small hut close by with a board saying 'election office.' The poster printers just can't keep up with the demand, with posters being pasted in every nook and corner of the town and countryside. Even the goats who chew them up off the walls on which they are pasted, can't keep up with the replacement rate.
Most schoolchildren love election time, Sunil explains, because their teachers are out on campaign work for one candidate or another. So classes are not held and they can go out and play cricket or cut school. At any given time, if they are not currently enjoying an 'election break,' the students are in a state of eager anticipation waiting for the next set of elections.
"Doesn't the principal know about this situation…?" asks Mrs. Anumaana, frowning disapprovingly.
"Aiyo Amma! You don't understand anything!" Sunil says with a longsuffering look.
"The principals are the TEAM LEADERS. They are the ones who hand out the packets of campaign leaflets to the teachers for distribution." The teachers and principals don't grumble about having to attend meetings and go here and there for election work, he says, because there are so many vehicles belonging to the Provincial Education Department and Zonal Education Office for them to use.
Recently Sunil has been doing election work in Ratnapura with the Health Ministry. He feels really important going about in the Health Ministry jeep. "People usually get a little anxious when we go into their premises to inspect them for mosquito breeding grounds," Sunil says. "They think we have come to impose a fine. But then when we start distributing leaflets they are very relieved. When we leave they always promise to vote for us" he says, with a hint of pride.
"You are sure to get into trouble with the police, going into people's houses like that," Mrs. Anumaana says, looking worried. Sunil is very amused at this remark. "Don't you know I am working with Mrs. Aandupaksa?" he asks, as if he is explaining to a little child. "Hasn't she told you many times, that after the 18th Amendment was passed in parliament, there is nothing to worry, because she can easily 'look after' the police?" So this is why Sunil is so cock-sure about his side winning the elections, Mrs. Anumaana thought. Why bother to hold elections at all, at such a colossal expense, she pondered.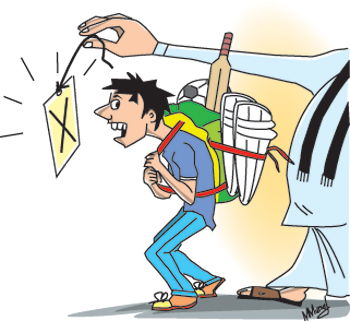 Another reason why Sunil likes election time is that it makes him hopeful of finally getting himself a job. During this period he finds that all the government ministries and departments are 'recruiting' for something or the other, at District level and Provincial level, with very attractive perks and benefits on offer. He has already been to several job interviews. "See how busy I am already, with all this work!" he exclaims. He is even contemplating putting up a small election office down the road. He is considering using the post office, for convenience.
"When the election is over what will you do?" his mother asks."Not to worry Amma," Sunil says. "In another three to five months there will be another election." According to his arithmetical calculations there have been six elections within the last 32 months, which works out to an average of one election every 5.3 months. He says Mrs. Aandupaksa hopes to accelerate the pace to about once every three months.
With an election every three months Sunil figures he will be quite well off. He has collected many items already. Listing the inventory to his mother, he says so far he has collected a mammoty from Anuradhapura, a water filter from Polonnaruwa, a cricket bat from Batticaloa and a Korean job application form from Kegalle. Tomorrow he is off again to Anuradhapura. Sunil is already thinking about what bribes may be on offer this time around. He suddenly asks "By the way Amma, do you need any cooking utensils ….?"
Follow @timesonlinelk
comments powered by

Disqus