Brandix extends Gap Inc programme for garment workers
Pic shows Gap Inc.'s Train the Trainers programme in progress
View(s):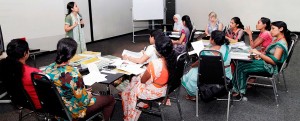 The Brandix Group said last week that it planned to extend the Gap Inc. Personal and Career Enhancement (P.A.C.E.) programme for female garment workers in the Group's facilities in Sri Lanka. GAP is a well-known clothing retailer from the US. The Gap Inc. P.A.C.E. programme is a life and work skills education programme designed to positively impact female garment workers in factories that make Gap Inc. product. The programme provides workers with foundational skills, technical training and suport to help them advance in the workplace and in their personal lives, the company statement said.
Female garment workers participating in the programme take part in eight modules of life skills education including communication skills, problem-solving, time and stress management, health and nutrition, financial literacy and gender equality. Programme participants also receive enhanced technical skills training. Research shows that Gap Inc. P.A.C.E. graduates are more productive, have lower rates of absenteeism and are promoted faster than factory workers who do not participate in the program.
"Brandix is happy to undertake the implementation of this valuable empowerment programme," said Anusha Alles, Head of CSR for the Group. "Implementing the Gap Inc. P.A.C.E. programme and integrating it into our internal learning curriculum reinforces Brandix's commitment to bettering the lives of our associates."
Ira Puspadewi, Gap Inc.'s Director of Social and Community Investment said, "We are very happy that Brandix has chosen to expand the Gap Inc. P.A.C.E. programme to their facilities in Sri Lanka.  P.A.C.E. is successful in part due to the commitment vendors such as Brandix have made to integrate the programme into their on-going factory trainings."
As a first step, nine selected trainers from Brandix Casualwear are to be trained as trainers for the P.A.C.E. programme. These trainers will in turn train 210 Brandix associates from Brandix Casualwear, Ratmalana, beginning in August and September this year. The training will thereafter be rolled out across all business units of the Brandix Group, Ms. Alles said.
In 2007, Gap Inc. launched a pilot phase of the P.A.C.E. programme in India. Gap Inc. has since further developed the training content, and with vendor partners, has scaled up and replicated the P.A.C.E. programme in Cambodia, Vietnam, Bangladesh, China, Indonesia and Sri Lanka. To date, more than 10,000 female garment workers have participated in P.A.C.E. programme trainings. In September 2011, former U.S. President Bill Clinton recognized Gap Inc. for its commitment and model approach to addressing challenges in economic empowerment through the P.A.C.E. programme.
Brandix, Sri Lanka's single largest apparel exporter, has 38 manufacturing locations in Sri Lanka, India and Bangladesh. It provides direct employment to over 40,000 workers in total, while providing indirect employment to at least an equivalent number.
Follow @timesonlinelk
comments powered by

Disqus