Vocal Enigma unites singers from all walks of life
By Tahnee Hopman
Sri Lanka's newest vocal group promises to make waves with their debut show ''from a distance''
View(s):
It goes without saying a choral group that constantly makes an apparently easy shift between musical genres of the 18th and 21st centuries, is something of an enigma to its audience.
It is on this strength that Sri Lanka's newest choral group- Vocal Enigma- plans to make waves in the choral music scene, beginning with its debut performance- ''From a distance'', which will take place on September 1 and 2 at the British School Auditorium.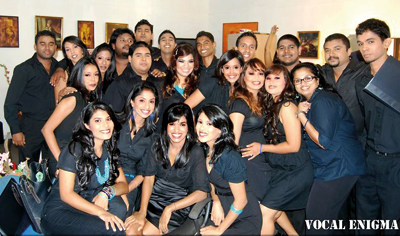 Established two years ago in Bangalore by Maneesh Dasanayake- then a university student- the group soon became Bangalore's number one choral group in the city's largest choir competition. On returning to Sri Lanka Maneesh initiated the Sri Lankan branch of Vocal Enigma in April. The group has hosted three charity fundraising shows in India titled 'Humanitas'. This show will be the first charity fundraising show hosted in Sri Lanka for the group.
"The show will feature works of many contemporary artists as well as a couple of classical pieces; and the overall repertoire includes the works of Vivaldi, Queen, Green day, Nickelback, Grease, Disney, and many more artists," says Shehan Wijemanne, a member of the choir.
"At the start the name of the group was quite random however as the name suggests "Enigma" is something that cannot be understood," he continues. "The fact holds true for us since our style cannot bedescribed and we are always on the lookout to astonish and amaze with innovative types of music and performance."
The 30 choristers of Vocal Enigma hail from diverse musical backgrounds, underscoring the group's penchant for performing several different genres.
"The group also consists of members who have a theatre and dance back ground and therefore using their expertise we are able to formulate interesting choreography routines into our lineup. We are a gathering of diverse people united by one common passion- music. This is our driving and binding force as we grow as musicians, entertainers, friends and family," elaborates Shehan.
Tickets for 'From A Distance', priced at Rs, 1000, 750, 600 and 300 are available at the British School Auditorium.
comments powered by

Disqus