The kids are alright
By Duvindi Illankoon
While both choirs made 'Call It What You Want' quite entertaining 'the little ones' stole the show
View(s):
The Piccolinis-literally translated as 'the little ones' stole the show recently at Peshali Yapa's 'Call It What You Want'. The kids were absolutely adorable, clutching teddy bears and seated cross-legged on the floor. One knows that when you put adorable kids into the equation their singing capabilities hardly matter-but the Piccolinis rose to the task magnificently, delivering a flawless rendition of their item in well pitched voices.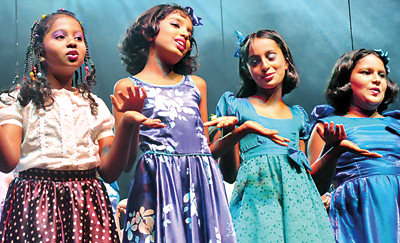 They were joined by their seniors, the Coro Cant Amici, and collectively the choristers invited the audience to enjoy the show. The senior boys took over the stage next with a lively version of 'Uptown Girl' and the choreography was quite good here, with the girls striding across the stage setting hearts aflutter.
The ladies were up next, with a rather somber rendition of 'It's Raining Men'. The vocal rendition didnt quite capture the gaiety and joy of The Weather Girls' hit. They followed this up with Ma(He's Making Eyes At Me); and the audience loved this. While not one of the more familiar tunes, the girls played it to perfection, with some help from the guys. Throughout the entire show, such numbers where the entire choir got involved on stage were pretty interesting-and very entertaining. 'Right Here Waiting' was one such item, with the two groups blending their voices beautifully.
Coro Cant Amici have certainly got the talent. However, at times the choreography detracted from the choir's excellent vocal forte. On a side note, mention must be made of Asitha Tennakoon, Shevon Rajasekara, Christopher Prins and Tilanka Jayamanne for their lovely backing of the choirs as the accompanying instrumentalists.
The choirs did well in replicating the performance styles of the era and dealt well with the challenging numbers. Kudos to Peshali and her team for pulling off an entertaining show, and the intriguing title certainly lived up to expectations!
comments powered by

Disqus