Step back into the 90's
By Duvindi Illankoon
View(s):
Whizz back in time to the last two decades of the former millennium this Friday at 80's and 90's night at the Colombo Swimming Club.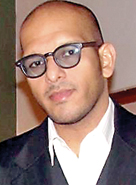 Organizers Anil Balasuriya and DJ Nitesh Ghavri are looking forward to take what they call a 'non-clichéd'  trip back in time, with music that is both nostalgic and original from the two past decades, best known for their catchy tunes remembered by a generation.
"We're all either 80's or 90's kids right now,"  says Anil, adding that these songs have defined today's generation of party-goers.
With the right atmosphere, great people and amazing music; they're all set to take Colombo by a nostalgic storm.
Tickets for the event, priced at Rs. 1000 will be made available at the gate and also prior to the event at the Colombo Swimming Club. The event is open to members and non-members alike. The organizers hope to make this one a regular, so keep an eye out for more to come
comments powered by

Disqus