Sri Lankan talent in Japanese cinema 'Final Judgment'
By Susitha R. Fernando
View(s):
Featuring young Sri Lankan actress Umali Tillakaratne in a leading role, one of the newest Japanese movies 'Final Judgment' is to be released in Sri Lanka from August 30.
The film is to be released at Liberty cinema Colombo while two other copies subtitled in Sinhala and Tamil are to be released in Colombo and Jaffna.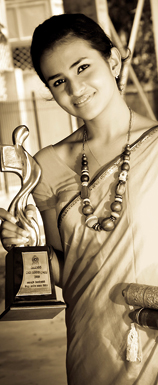 In a rare feat Umali, who has had few appearances in Sri Lankan silver screen and television and went to Japan for her higher studies was selected along with Japanese stars like Kota Miura, Ken Kaito, Jo Shishido, Shiro Namiki and Ryo Tamura.
Directed by Japanese director Masaki Hamamoto and produced by a religious group called Happy Science, the film was released in Japan last June.
Set in 2009 an Asia superpower called the Ouran is planning a military invasion of Japan. Two Japanese young men, Shogo Washio and Kenzo Nakagishi attempt to warn the government by getting their "Future Restoration Party" placed in the House of Representatives. However, their bid is ultimately unsuccessful.
Years later, the Ouran's invasion takes place with shocking efficiency. Japan is quickly defeated and the citizens are put under the tight rule of their new totalitarianism overlords.
Shogo joins an underground religious organization called ROLE which shelters its believers. The group is led by Kenzo's father, who tells Shogo that faith in God will be their only salvation from a hopeless future and that they must wait for a new saviour to bring them salvation.
Playing the role of a girl named 'Lin', Umali Tillakaratne has become the first Sri Lankan actress to star in a major role of a world renowned Japanese film. Starting acting at the age of 14, Umali made her debut in the film Rosa Vasanthey directed by Udayakantha Warnasuriya.
Umali, who is currently studying at the Ninon University in Tokyo, has been in Japan for a long time. Before joining 'Final Judgment' Umali has played in several Sri Lankan films including Lalith Rathnayaka's 'Arungal' and a few teledramas.
comments powered by

Disqus