More than words
Sri Lanka Scrabble League members tell the Mirror Magazine why they are never short of words when it comes to their love for the game
View(s):
"Good words are worth much, and cost little" –  George Herbert said that. Now this might hold true in most situations in life, but when it comes to Scrabble, there is no such thing as words costing little. In fact, the players will squeeze every last possible point out of that word. Welcome to a world where seven letter words are the epitome of excellence.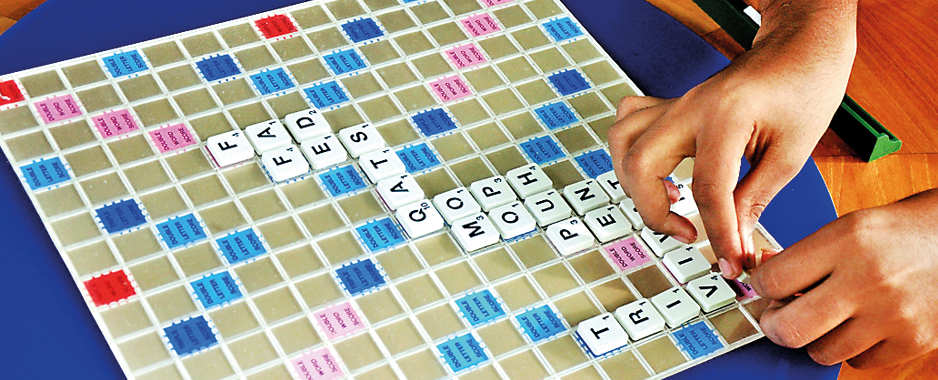 Enjoyed by millions across the world, Scrabble is the perennial crowd pleaser on a rainy afternoon. The game was dreamt up by an Alfred Mosher Butts during the Great Depression era as a combination of some of the most enduring games in history(board games, number games, and letter games). More than 150 million Scrabble sets have been sold in 121 countries since its creation.
Scrabble, unlike many board games is not too simple. To summarize the entire process, though, it's a word game in which two or four players score points by forming words from individual lettered tiles on a game board.
It requires strategy and clever thinking, but above all a vocabulary a dictionary would be proud of, laughs Yasiru Fernando, Nimalan Premakumar, Jayaska Baranage and Yeshan Jayasuriya, four accomplished young Scrabble players who are determined to take the game to the next level in the country.
The four boys are part of the Sri Lanka Scrabble League (SLSL), the official governing body for Scrabble in Sri Lanka. They are mentored by President of the Sri Lanka Scrabble League Shaila Amalean along with senior scrabble player and Sri Lanka Scrabble Champion Lakshan Wanniarachchi.
The Sri Lanka Scrabble League is roughly twenty years old; from its very humble beginnings in 1989 it has come a long way in taking Scrabble from its status as a parlour game to a competitive one. Did you know that they were among the first to take Scrabble into schools? The League is responsible for the many international-level Scrabble players Sri Lanka has produced, with Shaila herself having coached some of these schools.
The first ever junior members of the Scrabble League were from Royal College, and from then on it has been a steady climb upwards. Today, the SLSL has a membership of about 100 committed and competitive players, including junior members. They hold sessions at the Women's International Center every Sunday from 1-6pm, where members can play four to five games-some of which are for practice and some just for fun!
It's a very relaxed environment that belies the silent competition among the players, says Lakshan, who has been playing Scrabble for a while now. "You never get too old for it," he enthuses, adding "Some of our players are pushing 70." In a rather morbid, but interesting turn of events, they also reveal that some older members had played a game of scrabble on the very day they passed away. "Like I said, there are no age barriers to it," says Lakshan.
The young players have their own two cents to throw in, too. "My English vocabulary just grew in leaps and bounds once I started playing Scrabble," says Jayaska, who is now 26. "And it's not just your vocabulary, your spelling skills greatly improve, for very obvious reasons." "As part of the Scrabble League, your conversational skills really improve," adds Shaila. "You meet people from all walks of life, of all ages and I think that's really important for schoolchildren. It's not just any sport either-Scrabble is for life. Like we said earlier, you could be 90 and still playing the game."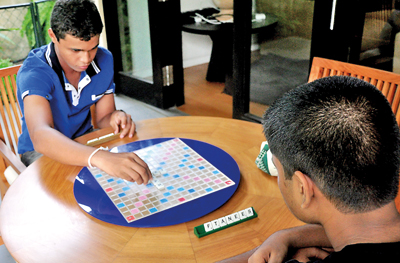 No doubt it's an invigorating activity to be involved in, no matter what age you may be. That competitive spirt in us humans never does die; and Scrabble is certainly a game which needs you to constantly evolve, adds the young players. "You read as much as you can, study words, and play as much as you can."
As the Scrabble League gets ready to host the World Youth Scrabble Championships, remember that Scrabble is a game for the champions. Madonna, Martha Stewart, Bill and Hilary Clinton, Barack Obama, Keanu Reeves and Queen Elizabath II are all self-confessed Scrabble freaks. And if you still think it's not worth the time? It's their word against you critics, and they certainly score the most points for making a case with this one!
Find out more at www.srilankascrabble.org
comments powered by

Disqus