Mad about Muesli?
Check the net for a family company that delivers the healthy blend made of 100% organic ingredients straight to your doorstep
View(s):
"It's a family business," says Thamara Yasmin Spitzner, using her gloved hands to combine an assortment of ingredients in a bowl of muesli. Into the mix go all sorts of good things – sweet, chewy dried pineapple, crunchy walnuts, hazelnuts and almonds, honey coated banana slices, sour little cubes of dried mango and pieces of dark, organic chocolate all on a base of oats, rye and wheat flakes.
These are familiar flavours for Thamara – she and her sister grew up eating muesli for breakfast and the whole family admits to being more than a little mad about muesli. Now, they've turned it into a business, importing gorgeous 100% organic ingredients, bio-certified in Germany and selling them on their website www.mueslimix.lk. The idea is that you can make your own custom mix – choosing not only the base but which fruits and nuts you'd like to throw into the bowl for your breakfast.
Muesli, whose invention the Swiss are usually credited with, is popular in Europe. It's sometimes even eaten for dinner, and is said to have a number of health benefits. High in fibre and protein, it's also rich in essential vitamins. Lilani Wieprecht, Thamara's mother, says she loves hers steeped in some cold milk and yoghurt.
Thamara's father is German and Lilani is Sri Lankan – the two met when he first came to work in Sri Lanka. They chose to start their fledgling business here in Sri Lanka last January to cater to a niche market.
The muesli sold locally is expensive and doesn't always deliver the quality muesli aficionados expect but by importing everything and ensuring it's all organic, Thamara and her family hope to win picky customers over.
Fortunately Muesli Mix delivers for free – if not customers would have to brave three security checkpoints just to get to Baurs building, where they're based.
The old apartment complex occupies a big block at the end of Chatham Street and has the Navy headquarters and the Central Bank for neighbours. There, they operate out of a small room which serves as both the storage and mixing area. It's kept air-conditioned all the time and the shades on the broad windows are never opened – but it's not for the benefit of the people who work here but to ensure their prized ingredients don't spoil, Thamara explains.
Aside from their custom blends, they also offer premixes. The 'Fruity Crunch' with barley flakes, spelt flakes, oat flakes, apple bits, apricot bits, hazelnuts and walnuts costs Rs.1,415 for 575gr., while the 'Nutty Fusion' with wheat flakes, oat flakes, rye flakes, spelt flakes, barley flakes, raisins, walnuts, hazelnuts and almonds costs Rs.1,315 (575gr.) The colourful 'Tropical Blend' with barley flakes, oat flakes, cashew nuts, honeyed banana chips, mango, pineapple and coconut chips is the most affordable at Rs.1,175 for 575gr.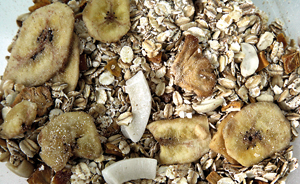 Two premixes for children – the Apple Pie Twist with oats, apple bits with skin, raisins and cashew nuts and the Hazelnut Chocolate Delight with oats, dark chocolate chips and crushed hazelnuts cost Rs.1175 and Rs.1100 respectively for 575gr. You can try their honey dipped banana slices at Odel where they're sold and Thamara says they offer individual ingredients to other businesses at whole sale prices as well.
When making your own blend, Thamara urges you to keep it simple. She recommends the 'Tri Combo' with wheat, oat flakes and rye flakes (Rs.650 for 575gr.) and suggests you pick only two types of fruits, two kinds of nuts to go and perhaps one extra to go with it.
Call MuesliMix for more details: +94-77-3515081
comments powered by

Disqus