Full on festival
Part carnival, part pop extravaganza, we are spoilt for choice at the 'Senses and Soul' Colombo Music Festival
View(s):
With the 'Senses and Soul' Colombo Music Festival just days away, festival founder and director Haadia Galely tells the Mirror Magazine that everything is falling into place. It's an exciting time as artists begin to arrive and the last of the tickets go on sale. A festival on this scale is still something so new to many Sri Lankans and Haadia believes it hasn't quite sunk in yet, but hopes to see local audiences come pouring in anyway. The grand opening concert on August 24 with the Gypsy Kings All Star Band at Water's Edge at 6:30 pm marks the beginning of four days dedicated to music across 16 locations, featuring over a 100 artists from 17 countries.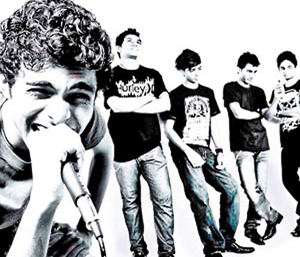 We are spoilt for choice and it's hard to pick the must see events, but the Nelum Pokuna will host some great concerts – keep an eye out for a pop extravaganza at 'Living Legends in Popular Music' on August 24 and 'Mesmerizing Melodies of the Mahabharath' on August 25 featuring the award winning Rahjesh Vaidhya on the Veena with Kaushiki Desikan. The calendar is packed full of dazzling artists and performers. Events are happening all around the main concerts. Aside from a series of workshops designed to up the skills and knowledge of musicians – amateur, semi-professional and professional – there are also fun activities for children and their families and lots to see, do and eat. (Buying a ticket to a concert at Water's Edge gives you access to the fun activities on their grounds.)
"It's a carnival basically," says Haadia, "it's a little bit of everything." It's easy to imagine how a festival this ambitious might be hard to pull together, but executive committee member Arun Dias believes Sri Lankans will simply love it. Like summer music festivals held abroad, he hopes this one too will introduce listeners to new music and a whole new approach to concerts. Unlike traditional shows where you pay to hear one person alone, "this one has so much variety that even in the space of two hours you could have heard three acts," says Arun. "It's never been done here before and certainly not on this scale," he adds.
The festival has found many enthusiastic supporters. "We've been rewarded by a fair number of volunteers who've come forward," says Arun. "Once they understood what needed to be done, they just take the ball and run." Support has also poured in from foreign embassies and institutions such as the Fulbright, who have encouraged their musicians and teachers to participate. Composer, arranger and former trumpet player Evan Solot was a Fulbright Scholar and has been in Sri Lanka for the last week. He will be one of the visiting lecturers conducting workshops during the festival.
Evan, who is currently the head of the composition department at the University of the Arts in Philadelphia, has toured with Bette Midler, Burt Bacharach and Frank Sinatra, and played the lead trumpet in the orchestras of more than 50 Broadway shows. "I write in a lot of different styles," he says, explaining that his work covered the spectrum from pop records, to advertisement and right up to classical compositions. In each of his workshops, he'll be focusing on different genres of music, including Pop, R&B, Jazz and Classical. Using his own music as an example, he hopes to walk participants through the process of creating and marketing their own compositions. "Six weeks ago I had no idea I was coming to Sri Lanka," Evan says, but never having been to South East Asia before, he's pleased to be here.
The festival has generated excitement outside the circles you'd expect as well. Sixty four members of the Photography Society of Sri Lanka (which has been around since 1906) will be covering every angle of the event. Panduka de Silva, the Course Director of the society says his members have enjoyed photographing the Festival's Spirit competition. While the competitions organisers have been unearthing new talent, the photographers have been conducting experiments with lighting and learning how to shoot in less than perfect conditions. "So far so many have come in for the Spirit competition and the semi-finals and they have gained a lot," he says. "I'm sure that it's going to be a fantastic event where the photographers will be coming out with a new perspective of the whole event."
The spotlight, however, is on the performers. Sri Lankan singer Ashanthi will be launching her cross over international album – Rock the World – under the aegis of Universal Records on August 24. "I think it's going to be a really cool experience, with so many different musicians within so many different genres of music taking part at the Colombo Music Festival," she tells the Mirror Magazine. "I think it's something brilliant." She's excited about what it means for her country as well: "It's my first music festival, especially in Sri Lanka. It's on home ground and it makes me really proud to be a part of it, we're really showing the world what Sri Lanka has in terms of talent."
See the complete programme and the full list of artists visit-thecolombomusicfestival.com Tickets are available at Park Street Mews, Harpo's Dutch Hospital, Hilton, Galadari, Dwellings and Waters Edge from August 7 onwards .
comments powered by

Disqus