Discover the reality of life at Cocoon
By Wasantha Siriwardena
View(s):
Over a hundred years ago, the hill in the midst of the former cinnamon plantation was given a name by the local inhabitants. They christened it, 'Sumanagiri'- the silent mountain. Today, this land of Sumanagiri, stretched over 8 ˝ acres has metamorphs into Cocoon Resort & Villas. This flagship property is tucked away in Induruwa, 65 km from Colombo and is immaculately landscaped greenery.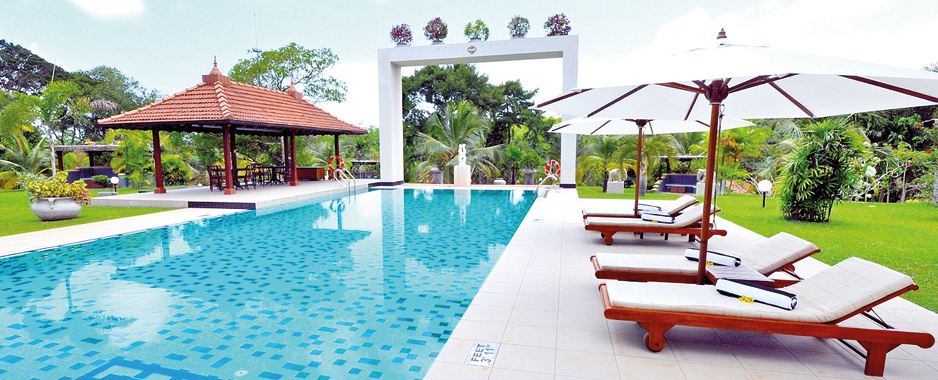 The resort positioned on Kaikawala Road, about 1.5 km from Galle Road, accentuates visions of extravagance, quality of service and abundant 'space', creating an unforgettable escape to an oasis of tranquility, privacy, warmth, lavish care and luxurious comfort.
Designed by its Chairman and Architect U. K. Sharma – a pioneer in the hotel industry and the previous owner of the Ceylon Continental Hotel, the resort comprises of three Grand Villas, five Extravagant Villas, two Luxury Villas with large gardens and sixteen Silk Rooms.
Grand Villas – the family villa with a large bedroom, living room, patio and a private pool featuring massage jets. Five Extravagant Villas, boasting of a Jacuzzi in the private open terrace. The Silk Rooms are also complete with a Jacuzzi, large sitting area and very spacious terrace and a balcony.
Mr. Sandesh Shama, Deputy Chairman of the Cocoon Resort, who is a real perfectionist, said that he attended to every minor detail of the property to make sure their guests got the best service for their money. 'We treat them as our friends and try to build up a friendship by providing everything they want to make them happy and feel comfortable in a natural environment'.
'We are pleased to offer our facilities to foreign and local guests at a very reasonable rate. They can book online through our website, http://www.cocoonresorts.com'.
'The Bath' known as the House of Spa is found in the depths of the garden, which offers exhilarating treatment to rejuvenate your body and mind with a whirlpool, steam rooms and sauna, a gymnasium.
'The Stage' opens up as an indoor relax pool which is built like an ancient Roman bath with steps leading to it. After a work-out at the Gym or a body massage, guests are invited to sit and relax. Later in the evening, the area changes into a cultural centre, where local dancers and drummers showcase their talents. A water curtain sprays down creating an unique hydro backdrop for dancing and singing.
The resort also boasts of a large swimming pool with stunning water features. Right next to the pool is the Lounge Bar, with an exclusive beverage library. At the Cocoon Resort, one is spoilt for choice in gastronomical delights. The Signature 'Khana Pina' Restaurant offers exceptional multi cuisine, in addition to a wide range of authentic Indian cuisine made by chefs from India. Their team of expert chefs prepares healthy meals, under the guidance of veteran Executive Chef Lukashman, who started his career in 1974.
Cocoon Sea Resort – Kosgoda
The latest addition to the Cocoon Resorts portfolio is the Cocoon Sea Resort, located in the southern city of Kosgoda nearly 70 kms from Colombo. The newest Resort boasts of 7 luxurious double bedrooms with a commanding view of the Indian Ocean. Its secluded and tranquil beach enables guests to indulge in a range of beach activities or take a dip in the sparkling turquoise blue waters.
The Resort's Beach Restaurant, which overlooks the sea, offers scrumptious cuisine for all-day dining, in addition to a well-equipped Bar to quench all your thirsts.
Cocoon Hills – Nuwara Eliya
180 km from Colombo will bring you to the city of Nuwara Eliya – meaning the "City of Light"– with its picturesque landscape of breathtaking views of valleys, mountains and waterfalls. Cocoon Hills is situated at the heart of Nuwara Eliya, in close proximity to the Race Course, and is also accessible from Colombo by sea plane.
Cocoon Hills is an exquisite 6 bedroomed English Mock Tudor Bungalow, nestled in the hill country amidst tea plantations and verdant mountains, which exudes its personal charm within a setting of refined elegance. Cocoon Hills offers accommodation on a bed and breakfast basis.
The main Bungalow offers 4 bedrooms with a large living room/lounge, complete with a 6-seater dining area and 2 bedrooms in the adjoining annex (the Family Suite), with a cozy living room with 4-seater dining area.
comments powered by

Disqus