'Boralu Para' A plot on a policeman with principle
View(s):

At a time when the police service and the role of the policeman has been often criticised, a teleplay portraying the humane nature of those dressed up in khaki uniform will be highlighted in 'Boralu Para' which is directed by an award winning director Janaka Suranjith.

Telecast at 9 pm from Sunday to Thursday from August 26 on Rupavahini, this teledrama is being played by an experienced cast such as Suminda Sirisena, Jayalal Rohana, Paboda Sandeepani, Wasantha Kumarasiri, Jagath Manuwarna, Nalin Pradeep Uduwela, Madhani Malwatte, Lionel Wickrema, Avanthi Aponsu, Thisuri Uwanika, Kasun Chamara, Sumith Ratnayake and a few others.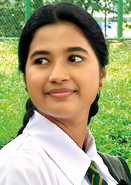 The story of 'Boralu Para' revolves around Victor Wendakaduwa, who plays the role of officer-in-charge (OIC) of a police station. He is a man of principle respected by many. He lives with his daughter after his wife Thauja, divorced him, the reason being his unyielding nature in everything he did. Living to his middle age OIC Wendakaduwa did not allow his duty be affected by the problems of his personal life.
A sensitive human being though looked a tough policeman, Wendakaduwa tries his best to carry on his family life well and looks after his young daughter in his home situated in a housing scheme. He also maintains equally strict discipline in his neighbourhood which resulted in that no newcomer could live for long in his vicinity.
This practice continued until a young couple- Ayesh and Pinki occupy the house next door to Wendakaduwa. It was Pinki's influential father, a businessman, who found the place for the newly married couple. Ayesh who is used to an easy going life spends his time in the night clubs. A clash occurred between Ayesh and Wendakaduwa which ends with the young man realising his faults and changes his lifestyle accordingly.
But OIC Wendakaduwa is punished by a politician of the area for merely not becoming his henchman. It is anybody's guess. What would happen to Wendakaduwa and also Ayesh and Pinki?
The technical crew for 'Boralu Para' comprised of Roshan Pathiraja as make up artiste, Ajith Balangoda as cameraman, Samantha Perera as music director, Jagath Weeratunga as editor and Rasika Suraweera Arachchi as screenplay writer for television.
comments powered by

Disqus