Kandy wins rib-bruiser over Havelocks
By Aubrey Kuruppu
View(s):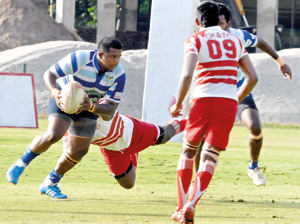 It was unyielding, tough and even brutal at times. But this was to be expected as the top teams were going for it hammer and tongs. At the end of a rib-bruising encounter, Kandy SC emerged victors by 20 points (1 goal, 2 tries and 1 penalty) to 15 by Havelocks (a goal, a try and a penalty) at Nittawela last evening. In doing so Kandy SC usurped the position of table-leaders – something that had eluded them for six weeks.
The defense of the teams was teak-hard and well nigh impenetrable. Thus it came down to what happened in open play. Here Kandy SC was decidedly superior, running at the defense at speed and passing faultlessly. Marija, the play-maker, made the difference, thinking on his feet and switching direction as befits the experienced fly half he is.
The game had barely got underway when Havies center Viliami made a delightful chip over the defence and play had been taken near the Kandy line. When the ball came out; Aitul Nissan was there to weave his way through the defense. Sheriff converted and Havies were in the lead. Sheriff then kicked astray a more difficult forty yards penalty.
Marija's attempted drop sailed wide of the posts. But the home team was not to be denied. Weeraratne made good with the second penalty offered to him. (7-3). Kandy spun out some good moves and their accent was on attack. Sadly, a pass to the unmarked winger Oshan Perera went astray. Kandy camped themselves near the Havies line and off a second phase move Marija went over for a half time score of 10-7.
Havies missed out on a forty five yard penalty at the start of the second half. Kandy was playing to their strength and play was near the opposing line. The champions used their immense power for a push over try with Sean Wijesinghe doing the honours. (15-7).
Havies wisely made use of a simple penalty to cut the deficit (15-10). Sandun Herath got the try of the match when he booted the ball down the ground from his own twenty two, followed up, outpaced two defenders and scored. (15-15).
Fazil Marija took charge and spear headed the search for the winning try. A possible try was averted when winger Dayan was pushed out just short of the line. Desperate Kandy got the try that mattered when Marija slipped a pass to Liyanage a few yards short of the line. Liyanage was able to take a couple of defenders over the line with him, for a final score of 20-15.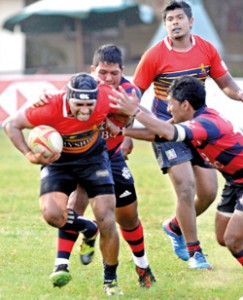 Goal kicking was poor and both teams were guilty of this.
Referee Nizam Jamaldeen.
Air Force pummel CH
Air Force pummelled CH&FC by 45-19 in their Dialog Division A club rugby match played at Ratmalana. Air Force was vigorous during the first half as they went on to enjoy a commanding 31-7 lead at half time. However the game was evenly poised after the turnaround as the Airmen were countered well by the CH men. Despite it CH ended on the losing end sans a victory under their belt this season. Air Force scored from six converted tries and a penalty against three tries and two conversions posted by CH.
Up Country Lions thrash CR&FC
The Upcountry Lions ran riot against a hapless CR&FC to thrash them by a commanding 34 (6 tries, 2 conversions)-  7 ( 1 goal) scoreline, during their Division A club rugby clash at Longdon place yesterday.
The Lions dominated play during both halves of the game with Fullback Rajitha Sansoni, Three Quarter R. Mohammed, Fly Half Vishwamitha Jayasinghe, No .8 Sajith Saranga, Three Quarter Srinath Sooriyabandara and Veteran Three Quarter Radika Hettiarachchi all sailing over the line for tries. Meanwhile, CR&FC could only produce a single try from Fly Half Prasad Devinda.
The Up Country Lions gave the hosts very little room to settle as they took an unassailable 22-nil lead at half time. CR scored first after the resumption through a converted try from Devinda but it was the only opening they received to fill up their empty bowl. The Upcountry Lions went on to add more points to their tally running away to a resounding victory.
comments powered by

Disqus