Asanka wins Arugam Bay Surf Classic
View(s):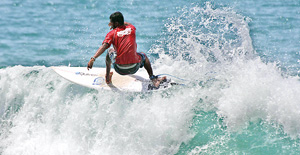 Hometown star Asanka emerged the winner of Arugam Bay Surf Classic 2012, defending his title from last year in the surfing competition dedicated to the local surfers which was hosted at Arugam Bay. Prenith Kalu clinched the second place while the third place was won by Cyril Prenith.
Arugam Bay Surf Classic 2012, which is presented by Arugam Bay Beachwear in partnership with Arugam Bay Surf Club, has already carved a niche as Sri Lanka's only island wide surf competition with participation from around the island. Along with Arugam Bay Beachwear, Sri Lanka Telecom, SOL, ONDA and Stick It partnered the event as sponsors. The organisers have already made effective plans to expand the event and add more professional surf contests in the region.
"It's logical and quite natural that Sri Lanka should have one of the best surfing competitions in Asia. We are committed to it, so that the sport of surfing gets the boost, as well as the local community and surf based tourism. We started this last year and by Gods grace it's already taking shape," Ajai Vir Singh, the CEO/Director Arugam Bay Beachwear said.
Like last year, Arugam Bay Surf Classic 2012 boasted of an international bench of qualified judges and professionals from Hawaii, Australia and the United Kingdom.
First place: Asanka was awarded by Ajai Vir Singh of Arugam Bay Beachwear and Dirk Flamer Caldera.
Second place: Prenit Kallu was awarded by Cody Carothers, Ajai Vir Singh and Dirk Flamer Caldera.
Third place: Cyril Prenith was awarded by Greg Young of Sri Lanka Telecom and Ajai Vir Singh .
comments powered by

Disqus