Can Sri Lanka clinch their first post-Murali series win?
By S.R. Pathiravithana
Thisara Perera and Dilhara Fernando likely to make it into the playing XI
View(s):
Can Sri Lanka register their first Test series win in their cricket history's post Murali era? During the present series the Lankans roared in their first Test win and played like a real champion outfit. In the second they were a bit circumspect – a wrong decision put them under stress, but the rain gods were more than kind to them and the game petered out into a draw.
This morning the scene shifts to the virtually unknown territory of Pallekele. There have been two Tests played at this venue before. The first against the West Indies was not a worthy christening as persistent showers took away all the glory. In the second game against Australia, after a mediocre batting display in the first innings and a huge Australiann first innings total, the Lankans hung on to force a draw thanks to intermittent showers.
Once again the third Test against Pakistan will be played in a wet weather period. But what the weather gods have in store for us up there is a mystery and please do not ask the weather bureau in Colombo for their forecast.Sri Lanka's last Test win was in 2009 when they beat New Zealand 2-0 in a two Test series where off spinner Muttiah Muralitharan bagged seven wickets in the first Test and Herath, coming into the second test, bagged eight wickets against Muralitharan's match bag of six.
Playing at home, the Lankans can expect some home advantage even in the preparations. With a 1-nil advantage one would clearly expect this track also to be a belter and even more docile than the track at the SSC. With a TV deal coming round the corner, the Lankans have everything to gain from a series win and go a notch up in the rankings at the expense of their match rivals Pakistan. According to Chief Selector Asantha de Mel it is very unlikely that there would be a change at the top in spite of Tharanga Paranavithana struggling to settle into his normal stride. He said, "It is very unlikely that there would be a change at the top. We wonder as to how long Dilshan will remain in Test cricket. If we make a change now it will mean that we will have two new openers at the helm. That is not a very healthy scenario. We even tried Lahiru Thirimanne as an opener, but his response was not encouraging. Besides that the performances of the 'A' team batsmen also are not good."
De Mel added, "Even though Paranavithana did not make a big score, he put on two fifty run stands in the first Test, and in the second Test after failing in the first innings, he got out after Dilshan when they had put on 48 runs for the first wicket."
It was also pointed out that Kumar Sangakkara, Mahela Jayawardena and Thilan Samaraweera are solid players and have overall averages of over fifty in Test cricket, while both Sangakkara and T.M. Dilshan have been scoring heavily during the two finished matches.
Sangakkara, who moved to the top slot in the ICC's Test batting rankings, has scored 422 runs in just four innings. In the first Test he made 199 not out while in the second he hit another 192.  If he could make a double century in this game he has the opportunity of joining the select 10,000 run band.
The Lankan Chief Selector added, "The normal scenario is that two or three batsmen click in a series. In this one Sangakkara and Dilshan are scoring. Besides that, Mahela, Prasanna and Mathews have had assuring knocks in the middle."There may be two changes in the bowling department. De Mel feels that medium pacer Nuwan Kulasekera, who has a gruelling limited overs series against India later this month, could be rested, paving the way for all-rounder Thisara Perera. "Kulasekera has a lot of work at hand in the near future. Perera, who bagged six wickets on this wicket during the ODIs against this same opposition, could be effective once again." He also feels that in spite of keeping Nuwan Pradeep in the loop for the future, he may make way for fast bowler Dilhara Fernando in this game.
In the Pakistani camp it is very likely that Umar Gul, who missed the second Test, will be back in the side at the expense of Aizaz Cheema who went wicketless. But De Mel has his own reservations.  He is of the view that the Pakistani bowling attack is more potent than the Lankan attack. He feels that given the slightest encouragement, the Pakistani bowlers could wrest the initiative away from the home side. He says, "It is up to the Lankan batsmen to out-bat their opponents and make sure that they will not give the Pakistani bowlers the slightest chance." Finally he says, "Can you remember in the final day, with very little encouragement, they bagged five Lankans wickets on a track that had more batting left on it?"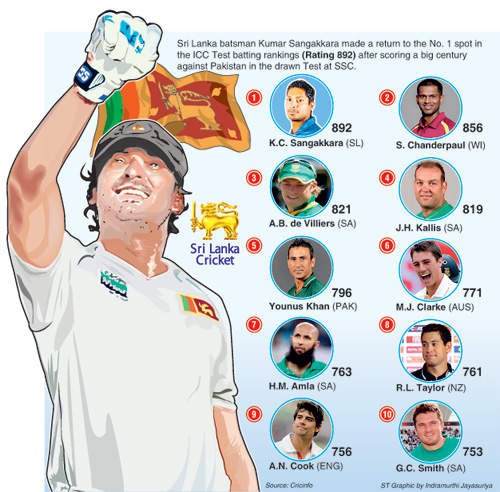 comments powered by

Disqus