Appreciations
View(s):

My friend, counsellor par excellence

Priya Kodippily

The last time I saw her, Priya looked her usual vibrant self. In 2009, a mutual friend and I visited Priya in her spacious new apartment with its view of green grass and trees.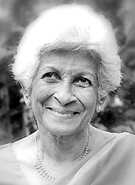 She was due to leave for Canada and the United States in a few weeks and was excited at the prospect of attending a granddaughter's wedding and of spending time with her daughters and their families. We little dreamed then that it was to be the last time we saw her.
It's hard to summarise Priya's many and varied activities as a counsellor par excellence, in few words. So I shall cut out all embellishments and tell you as briefly as I can, a little of Priya's background and more about her immense contribution in counselling.
Long before I met her, Priya Samaraweera was a household name, a popular broadcaster who had a definite flair for presenting programmes and news over the air-waves. This was in the days of the old Radio Ceylon and later, over the SLBC.
But there was a little known facet of her personality. I knew that she enjoyed singing with the Philharmonic Choir and the Cathedral choir, but her daughter Renuka tells me that music was a lifelong love with Priya and that, armed with her LRSM certificate, Priya's first paying job was as a piano teacher.
A self-taught organist, Priya sometimes substituted for the regular organist at the Kollupitiya Methodist Church. Decades later, when she resided in Canada for a few years, she had the satisfaction of taking formal lessons under a well-known organist. So, a musical event such as the organ recital that David Ratnanayagam gave last year in her memory seemed very appropriate.
Priya's happy marriage to Dr. Lakshman Kodippily produced two daughters, Renuka and Nirupa and later, she had the joy of four grandchildren whom she visited every year.
Priya did her counsellor training under Fr. Francis Xavier who, in 1981, took over as Director of the NCC Counselling Centre set up in August 1975. It was her husband Lakshman, who had urged Priya to enrol for this course, because he had noticed that friends often came to confide in her and she proved a good listener. I believe Priya found her true calling then. About the time the course ended, Priya applied for and was awarded a scholarship to follow a course of her choice in Australia. Since she had opted to go to an Aboriginal settlement, she landed in Brisbane where her mentor was Rev. Eric Stevenson of the Uniting Church.
It was here that she was given a comprehensive insight into the issue of alcohol addiction, which made her ideally suited for work she later undertook in Colombo.
Rev. Stevenson also exposed Priya to other experiences and influences such as workshops conducted by eminent people such as Elizabeth Kuber Ross and David Mace. "Australia was a great learning experience," she wrote at the time.
Back in Sri Lanka she joined Fr. Xavier at the NCC Counselling Centre where she worked full time for a couple of years. Priya also functioned as counsellor at her old school, Methodist College, with great acceptance.
I'm not sure of the dates, but the indefatigable Priya also presented over radio a popular monthly counselling programme, in which she dramatised a family problem each month.
It was in 1992, when she was about to return to Sri Lanka after a long stay in Canada, that Priya was contacted by Nalini Ellawella who invited her to join Mel Medura, the Drug Rehabilitation Unit of Sri Lanka Sumitrayo. During the 3 1/2 years she was Director of Mel Medura, Priya used the experience gained in Australia, and her considerable counselling skills, to help rehabilitate scores of drug and alcohol dependent persons.
In 1995, the Salvation Army invited her to train its young officers in counselling and she accepted the task with alacrity. Her parents had been dedicated members of the Salvation Army and she had grown up in its ambience. She initiated a counselling centre at Hope House with the officers she had trained and there was no dearth of clients.
During this time, she also went to Ladies' College one afternoon a week to be of service to any student or member of staff who sought counselling. After five years at Hope House, she decided to work on her own, from home and was much sought-after by private clients. With her inherent zest, she also planned and carried out various workshops, seminars and training programmes – one such being a successful six-weeks course on parent education. She also conducted a course on "Personal Development and Communication" at the Ladies' College Department of Vocational Studies. It continued until she left for Canada in 2009.
She was also a trustee (counsellor/physiotherapist) of the Prevention of Child Abuse Trust set up in 1996.
Finally, Priya was a founder-member of the Sri Lanka National Association of Counsellors founded in September 1985. She served as its first secretary and later as president. It was my privilege to have worked with Priya and to have known her as a valued colleague and friend. The memory of her bright and vivid personality will live on in our hearts.
Anne Abayasekara
Great gurus like him come but once in a lifetime
K. A. Perera
It is with great sorrow that we note the passing away of our beloved 'Guru', K.A. Perera. He was a very reputed English teacher in and around Kandy for several decades.
He hailed from a well-to-do family in Asgiriya, Kandy, and studied at Trinity College. He was a contemporary of such outstanding students as Dr. Jayantha Dhanapala and the late Mr. Lakshman Kadirgamar, who also studied at Trinity.
Mr. Perera was well versed in the Greek classics, Shakespeare, and the writings of D. H. Lawrence. He was a champion to the many students who took English language and literature in their higher studies. When financially disadvantaged students came to him, he provided them with the required educational materials out of his own pocket. Such was his magnanimity.
One of Mr. Perera's outstanding qualities was his maintenance of close and cordial relations with his past pupils, regardless of the age gap.
He never missed a wedding, a funeral and other milestones in the lives of his former pupils. He had a remarkable memory. He remembered the names of each and every student who came to him.
He was a simple, pleasant and humorous person, his face always lit up with a very compassionate smile. He had no enemies, only friends and well-wishers.
As an English teacher, Mr. Perera served mostly at Vidyartha College, Kandy, where he later became vice principal. Among his ex-pupils were a large number of professionals and academics who have served the nation.
He died at the age of 83. Up to the last, his mind was razor sharp and he was up on all the news and developments. He was a regular visitor at all the libraries in Kandy. You would see him with a bundle of books under his arm.
In the last stage of his life, when he was feeble, his daughter Purnima would accompany him when he visited the libraries and other places.
His beloved wife, Hemalatha, passed away when their children were small. Alone, he raised his children to become responsible and useful citizens. His elder son Jayantha is a medical doctor and the other son, Major General Mano Perera, is a war hero.
During his latter years Mr. Perera was well looked after and cared for by his younger daughter Purnima.
Great gurus like Mr. Perera are rare.
May he attain the Supreme Bliss of Nirvana.
Susantha Kodituwakku
comments powered by

Disqus