Two-time Olympian
Mathisha Panagoda was a choir soloist at the Sydney games in 1999
and will play the cello in London as part of the Aldeburgh World Orchestra
View(s):
Mathisha Panagoda's earliest memories with his cello are of the concerts he used to stage for his family around Christmas time. "I'd organise the programs, tickets, write the music and of course play. The whole thing was staged in our family living room, usually for an audience of two – my parents," he says. Now 25 years old, Mathisha is still in love with his instrument and it has taken him places. The young musician has performed at the Royal Albert Hall for The BBC Proms and Beijing's National Grand Theatre. Together with some friends, he even started his own orchestra – the Sydney Camerata.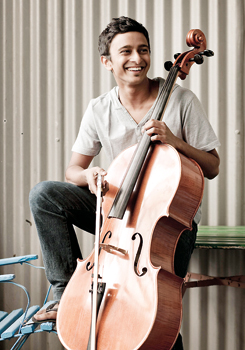 More recently, a YouTube audition earned him a ticket to London and spot in the Aldeburgh World Orchestra. The orchestra boasts 124 young musicians from 30 different countries – and they're slated to play at the upcoming London Olympics 2012. Mathisha is particularly excited about their performance at the BBC Proms in the Royal Albert Hall on July 29 (not to mention the chance to actually watch the Olympics themselves – ideally one of the athletics, swimming or hockey events.)
Acclaimed British conductor Sir Mark Elder will lead them in performances of Britten, Mahler, Shostakovich and Stravinsky, as well as the world premiere of a new commission.
This won't be Mathisha's first time at the Olympics – in 1999, he was a member of the Sydney Children's Choir, and the first soloist to perform in the newly inaugurated Sydney Olympic Stadium. The piece he sang was called One Voice. "It began as a solo then I was joined by a friend as the piece evolved into a duet and eventually we were singing supported by a 1000-piece choir behind us," Mathisha says explaining that with the crowd hidden from view by the bright lights, "it's easy to forget there are tens of thousands of people watching."
To earn his spot this time around, Mathisha had to video himself performing and upload it onto YouTube. He chose to perform the first movement 'Prelude' to JS Bach's Sixth Suite. "It's a difficult piece but I recently spent time in Canada working on it so I felt confident enough to record it for the audition," he says.
This wasn't Mathisha's first such audition though – last year he went through a similar process to get into the YouTube Symphony Orchestra. "I was very fortunate to gain a place in this orchestra for an exciting project that culminated in a performance at the Sydney Opera House," he says. "I think more often YouTube is being utilised for auditions as it allows people from all over the world an equal opportunity to be considered for these exciting projects."
Today, Mathisha continues to enjoy exploring the wide range a cello is capable of – "it can play beautiful soaring melodies up high as well as deep, rich bass lines down low. It is a very expressive instrument and can play almost any style of music I've come across in a variety of different ensembles from string quartets to symphony orchestras," he says. It's clear though that he thrives on the social interactions his work demands: "I really love to travel, learn about new cultures and meet like-minded people – being a musician has definitely fulfilled that," he says. "I feel being a musician also allows me greater opportunities to understand myself and the world around me. It's closely linked to philosophy and one can spend a lifetime and still have more to learn."
Alongside a Bachelors of Music in Performance Mathisha has also studied philosophy, sociology and law. "I really enjoy studying and while currently much of my life revolves around music, I think it's important to have other skills and knowledge about the world," he says explaining why chose to extend himself.
"They already help me enormously in managing my work as a musician and teacher. I have ambitions beyond being a performer that include options pursuing my legal career and managing my own orchestra," he says.  Will we have a chance to watch him perform? Having last visited Sri Lanka in 2009, Mathisha feels he's overdue for a trip, a situation he's determined to remedy. "I have performed there when I was younger but it would be great to perform again for Sri Lankan audiences in the future," he says.
Cover picture of the Magazine courtesy – Australian Youth Orchestra
comments powered by

Disqus