Sunset Cruise: Party onboard
By Sanath Weerasuriya
View(s):
'Jetliner Sunset Cruise', the latest addition to Colombo's entertainment industry, has set sailed its second voyager, last Sunday.
'Jetliner', Sri Lanka's only cruise ship operated by the Navy in and around Colombo Port, has now opened its doors to all Sri Lankans with their monthly party on aboard package.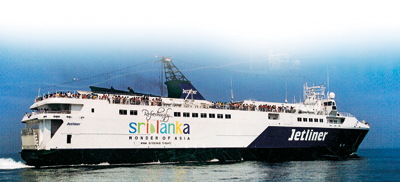 This premier ocean entertainment ship will drops its anchor for their July voyager on Saturday, 21 July. 'This will be a monthly affair. We will be organizing this sunset cruise on a Saturday on a monthly basis so that families, groups or even an individual can join the evening floating fun for a nominal package' said Captain Anura Danapala, the skipper of the cruise.
This package includes the sunset cruise setting at 5.00 pm, a buffet dinner, DJ music for entertainment, magic shows, face painting and cartoon movies for children and the Dreamron professional fashion show.
Jetliner Queen of the month and best dancing couple are some of the attraction of the cruise. The cruise tickets are priced at Rs.3900/= for adults and Rs.2, 000/= for children (between the age of 3 to 12 years).
Jetliner ship starts its sunset cruise at 5.00 pm and returns to the harbour after 1 ½ hours of cruising. Music and other entertainment will continue while sailing and the dinner by Siam House will be served after it enters the harbour around 7.30pm.
Captain Danapala of Sri Lanka Navy is the Project Manager for Jetliner Nautical Enterprise, the authority of the Jetliner cruise ship.
The 'Jetliner' is a water jet driven fast passenger ferry, which has been designed to accommodate 600 passengers and 160 cars at a time.
Amenities available on board will include a banquet area for 250 guests, mini conference facilities for 50 participants and ballroom facilities for 100 guests with exclusive bar facilities. There is an observation salon that can accommodate 50 guests and a deck area which has the capacity for 250 guests.
It is being used for corporate and private functions, weddings and other social events organized by private parties. It was a closed door to the ordinary folk and our new 'sunset cruise' can be enjoyed by anybody, who like to have a fun filled entertainment during a weekend. It will be like visiting a hotel or resort for dinner, but with a new experience; Captain explained.
'Simply anybody can buy a ticket and join the fun. This is a rare opportunity as Jetliner is the only ship where the public are given the opportunity to witness the sunset, amidst song and dance.' he added.
Apart from this evening package, the Jetliner Ship can be booked for various functions. Jetliner Night Package, Corporate 'Sunset Cruise' Package, Jetliner Touching Negombo Package, Jetliner Cruise to Bentota Package and Day out to Galle Package are some of the popular packages for private functions. The price per package ranges from Rs 300,000/=  to Rs 2,522,490/=.
The Jetliner was one of Sri Lanka Navy's largest passenger craft served the North and East as a life line during the war till May 2009.
'The 'Jetliner' could be hired on a hourly or daily basis and for weekend cruises by individuals, tour operators and corporate clients. Tailor-made packages could be arranged to suit the needs of clients' Captain Danapala emphasized
For more details contact 0718622622, 0777304182 or visit the website jetliner.navy.lk
comments powered by

Disqus