'Pini Wessak' falls on miniscreen
View(s):

Popular teledrama director Jayaprakash Sivagurunathan's latest direction 'Pini Wessak' will be telecast three days a week on Monday, Tuesday and Wednesday at 7 pm starting from July 9 on Swarnavahini.

Sivagurunathan who is famous for his dramas like 'Nonawaruni Mahathwaruni', 'Athuma' and 'Alu Pata Heena' presents this story which is a triangular love story of Venuri, a beautiful young girl and Pasan, a young man with hardly any career success but won her heart from Rahul who become a broken-heart successful businessman.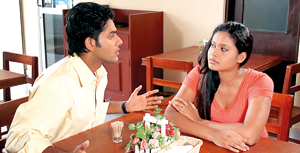 The cast for this teledrama will consist of a number of young stars namely Amila Abeysekara, Shiromi Romeshika, Saranga Disasekara, Robin Pranandu, Udayangani Kulatunga, Rex Kodippili, Lucian Bulathsinhala, Sampath Jayaweera, Giriraj Kaushalya, Hashinika Karaliyadda, Susantha Chandramali, Gayana Sudarshani and Mihira Sirithilaka.
Hailing from an industrial business family Rahul Vijayabandara is expected take the responsibility of the family business. Though he becomes successful with the business, the failure in his love for Sayuri hurts him grievously. Yet he is mature enough to ensures that his personal emotions do not interfere with the business activities.
The yearn for a fresh love is rekindle in Rahul when he sees Venuri at a dancing festival conducted by one of his friends. Yet Venuri too is already in a relationship with Pasan, a graduate who is searching for employment.
While complications arises between one another, Rahul is trying to get involved with Venuri, however she disapproves him and hates him. Asela too is trying to grab her attention, but sadly her love and emotions are strongly attached to Pasan. During this complicated love triangle, Venuri faces a tragedy. She loses her parents due to an accident and it's a mystery. Her father Sarath was working as a security officer at the factory owned by Rahul.
Assuming that Rahul was creating all the complications in her life, she gets married to Pasan. Unable to find a proper job, Pasan too becomes a employee of Rahul. This creates more complications to Venuri's life. In the technical cast J. Nandasena handled camera to the script of Chinthaka Peris and the teleplay was edited by Thisara Samantha Bandara. Art director for 'Pini Wessak' was K. K. Chaminda while Shehan Iddamalgoda played the role of assistant director.
comments powered by

Disqus