Zen captures the Ridgeways in style
View(s):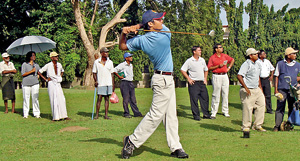 Young golfing sensation Zen Dharmaratne, ironically a citizen of Malaysia produced a scintillating performance in the traditional South West Monsoon Meet at the Royal Colombo Golf Club Ridgeways Golf Course over the last two weekends.
Ever since the late Pin Fernando arguably the best Amateur Golfing member Sri Lanka has ever produced, won the Aggregate Gold Medal and Squadron Cup in 1978 off a 'scratch' handicap Zen Dharmaratne is the first to equal this feat by winning the double of returning the best 4 round total gross score as well as the total nett score off a 'scratch' handicap defeating the entire field playing off competitive handicaps.
In 1978 the late Champion Pin in addition to the Aggregate Gold Medal and the Squadron Cup also won the Victoria Cup for the 2 Saturday rounds (1st and 3rd) best nett score total and nearly completed a clean sweep when he was runner up in the Calcutta Medal.
However Zen's performance is outstanding with the progress of the game and at the age of 21 to win the double of 4 round gross and nett off a '0' handicap is spectacular furthermore Zen won the 4 round Aggregate Gold Medal by a staggering 40 strokes from the 2nd best Damindra Fernando and the other promising youngster Sachin de Silva a further 6 strokes behind in 3rd place. In the competitive Squadron Cup 4 round Aggregate nett score off handicap Zen was 6 shots clear of the runner up Gerard Fernando on 286. It also maybe fair to say that Zen Dharmaratne's 4 round total for the Gold Medal at 4 under par is possibly the best Gross score returned in its history.
The Calcutta Medal for the best nett score in the 1st round was won by Sanka Mediripitiya with a nett 67 by 1 stroke from the runner up Gerard Fernando. Lalin Samarawickrama who played some consistent Golf over the 4 rounds to finish 4th in the Squadron Cup returned the 3rd best score of 69 in the Calcutta Medal. Harsha Abeywickrama and Lalith Ramanayake are the only others who returned sub-par score of 70 in the 1st round.
The Victoria Cup was won by Nishan Navaratne who tied with Zen Dharmaratne on a 2 round total of nett 138 by virtue of a fantastic nett 64 in the 2nd round to pip Zen on the post.
The Havelock Trophy which was played in May is a 2 ball better ball Foursome partnership tournament conducted on a Stableford points score basis attracting several teams of 2 including mixed pairs (ladies and gents) turned out to be extremely competitive and very high scoring. The partnership of Nihal Keppitipola and Ranjith Thabrew totaled a fantastic 46 points to defeat Nimal Perera and Sarath Piyaratne who scored 43 points.
Royal Colombo Golf Club South West Monsoon Meet 2012  Competition Detailed Results
Calcutta Medal
Winner-  Sanka Mediripitiya 67 Nett
Runner Up – Gerard Fernando68 NettLalin Samarawickrama    69 Nett
Harsha Abeywickrama/Lalith Ramanayake 70 Nett
Victoria Cup
Winner -Nishan Navaratne138 (74,64)
Runner Up- Zen Dharmaratne38(71,67)
Damindra Fernando/Gerard Fernando 140 Nett
Squadron Cup
Winner- Zen Dharmaratne 280 (71,72,67,70)
Runner Up- Gerad Fernando 286 (68,76,72,70)                    Chamath.J.Kulasinghe 289
L.T. Samarawickrama 290
Harsha Abeywickrama 292
Aggregate Gold Medal
Winner-  Zen Dharmaratne 280 (71,72,67,70)
Runner Up-  Damindra Fernando 320 (78,80,76,86)
Sachin de Silva 326
Zhuang Lizhon 327
Harsha Abeywickrama 328
Bandula Weerasinghe 329
Dr .C. Thurairaja 331
Results of the Monthly Medal  June 2012
Division A – Handicap 0 to 09
Winner: Zaffar Sikkandar73 Nett B/B 9
Runner Up: Lallith Rohith 73
Division   B -  Handicap 10 to 18
Winner: Ceasar Fernando70 Nett B/B 9
Runner Up: Wasantha De Silva 70
Division   C -   Handicap 19 to 28
Winner: Chamath Kulasinghe 70 Nett
Runner Up: A. I. Gooneratne73 B/B 9
Seniors
Winner: A. S. Abdeen 65 Nett
Runner Up: P. B. Kalugalagedera        70 B/B 9
Master
Winner: Mahasena Jayathilake        68 Nett B/B 9
Runner Up: Rahula Senaviratne 68
comments powered by

Disqus