Moratuwa SC, Army and Air Force upset fancied teams
By M. Shamil Amit
Under 23 Cricket
View(s):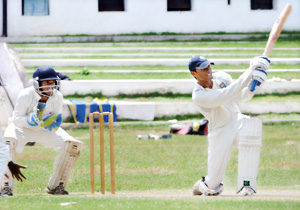 Six fourth round matches of the Under 23 inter-club cricket tournament which is in progress now saw six teams – Moratuwa SC, Bloomfield, Moors, Ragama CC, Army and Air Force – take first innings lead when play ended on day two in the matches played around the metropolis.
Moratuwa SC's lead was initiated by Chathura Hemakumara who on the first day cracked a ton to guide his side to a modest score of 239. Chathura's 107 ball knock comprised 17 boundaries and NCC in their turn ended the day on 111 for 6. NCC resuming on their overnight score lasted only 19.1 overs as they were restricted to 172 with Malshan Mendis along with Anushka Perera and Shanuka Dulaj doing the damage. Moratuwa SC batting the second time ended the day on 243 for 6.
Navy fought back after Moors had dominated the proceedings at Welisara. They had Moors chasing a target of 137 runs on the back foot on 87 for 6 when play ended on day two.Earlier in the day Moors resuming on their overnight score 204 for 9 added a further eight runs being bowled out for 212. Navy batting the second time, thanks to half tons from Duleeka Tissakuttige, Yoshan Kumara and Chanaka Ruwansiri, made 283.
Bloomfield managed to secure a close first inning lead over Tamil Union at Reid Avenue. Bloomfield restricted Tamil Union, resuming from their overnight score of 56 for 2, to 173. Army too got the better of Colts at Panagoda. Army in reply to Colts score of 115 was struggling on 97 for 7 but came back to make a score of 146.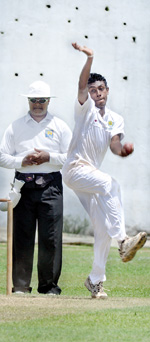 Air Force resuming from their overnight score of 88 for 2 was helped by Angelo Emmanuel (102) and Supun Navaratne (75) who together put on a valuable 174 runs for the third wicket enabling them  to take a comfortable first lead over Chilaw Marians in the match played at Rifle Green.Air Force resuming on their overnight score of 88 for 2 went on to make a mammoth score of 394 in reply to Chilaw Marians score of 280.
At Moratuwa
Moratuwa SC 239 (Chathura Hemakumara 100, Shanuka Dulaj 37, Hashan Perera 23: Aamil Anaz 3 for 37, Irosh Samarasooriya 3 for 46, Imesh Udayanga 2 for 58) and 243 for 6 (Pawan Devinda 57, Kusal Mendis 53, Chathura Hemakumara 31, Hashan Perera 23, Anushka Perera 23: Imesh Udayanga 4 for 38, Dushmantha Chameera 2 for 44)
NCC (111/6 overnight) 172 (Imesh Udayanga 92, Lahiru Udara 22: Malshan Mendis 3 for 51, Anushka Perera 2 for 4, Shanuka Dulaj 2 for 17)
At Welisara
Navy 65 (Buddika Alwis 22: Maduka Liyanapathirana 5 for 17, Shehan Jayasuriya 4 for 27) and 283 (Duleeka Tissakuttige 87, Yoshan Kumara 68, Chanaka Ruwansiri 67: Lakshan Rangika 3 for 53, Maduka Liyanapathirana 2 for 64, Shehan Jayasuriya 2 for 68)
Moors (204/9 overnight) 212 (Shehan Jayasuriya 71, Maduka Liyanapathirana 38, Chamikara Edirisinghe 29, Ashan Priyanjana 21: Dulanjana Mendis 4 for 58, Dilan Chandima 3 for 47)
At Reid Avenue
Bloomfield 178 (Sheshan de Silva 23, Nipun Karunanayake 23, Tharuka Silva 19: Madusanka Ekanayake 4 for 53, Chathuranga de Silva 2 for 11, Mateesha Perera 2 for 40, Dinuk Jayasinghe 2 for 43) and 166 for 7 (Sheshan de Silva 49, Ruvinda Shamen 31, Nipun Karunanayake 26: Chathuranga de Silva 3 for 30, Mateesha Perera 2 for 24)
Tamil Union (56/2 overnight) 173 (Kithruwan Withanage 75, Ashen Silva 19, Chathuranga de Silva 19: Shaluka Silva 4 for 48, Koshan Dhanushka 3 for 33)
At CCC
Ragama CC 204 (Dananjaya de Silva 91, Charith Fernando 40, Lahiru Milantha 21: Prabath Jayasuriya 4 for 58, Sachin Peiris 3 for 65) and 275 (Dananjaya de Silva 76, Lahiru Milantha 38, Udara Jayasundara 33, Rumesh Buddika 30: Sachithra Perera 4 for 72, Duhan Vimukthi 3 for 69, Sachin Peiris 2 for 63)
CCC (75/9 overnight) 77 (Sangaran Nandalal 18: Nisala Tharaka 3 for 16, Lahiru Jayaratne 3 for 30, Kaushalya Gajasinghe 2 for 0) and 69 for 3 (Adeesha Nanayakkara 29 .o.)
At Panagoda
Colts 115 (Shihan Kamileen 38, Akila Dananjaya 21, Chthuranga Kumara 19: Janith de Silva 4 for 32, Chathura Damith 4 for 42) and 113 for 6 (Hasitha Wickramasinghe 60 n.o., Imal Liyanage 20 n.o.: Chathura Damith 3 for 29, Janith de Silva 2 for 28)
Army (79/4 overnight) 146 (Geeth Nanaayakkara 49, Suresh Peiris 31: Nilochana Perera 4 for 23, Julian de Zylwa 3 for 27)
At Rifle Green
Chilaw Marians 260 (Waqas Barkath 67, Lahiru Sangeeth 51, Sameera Sandaruwan 33, Chatura Jayan 23, Rukshan Shehan 19 n.o.: Buddika Sandaruwan 3 for 27, Rosco Thattil 3 for 41, Shohan Rangika 2 for 38) and 88 for 4 (Shihan Jainudeen 24: Lasanda Rukmal 3 for 38)
Air Force (88/2 overnight) 394 (Angelo Emmanuel 102, Supun Navaratne 75, Praboda Arthavidu 64, Asanka Gihan 43,Shohan Rangika 33: Chathura Jayan 3 for 61, Shehan Chathuranga 3 for 74, Amila Premasiri 2 for 50, Asad Ajireen 2 for 66)
comments powered by

Disqus